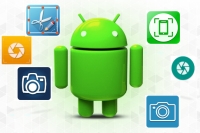 Android, which is developed by Google, is one of the best and popular operating systems on mobile devices. When we are using these devices, we often have the need of taking screenshot on them. Screenshots can help you show others what is exactly on your screen. You can use them to show off great moments in games, ask for guide to using an app, provide images for a how-to post and report bugs.
Though Android enables users to take a screenshot by pressing the "Power" + "Volume down/Home" keys, you may still find it hard to control the timing. Instead of taking a screenshot, you can easily bring up the "Power off" option or turn the volume down. So it is recommended that you use a screenshot app which can take screenshot more easily. Plus, most Android screenshot apps provide additional functions like image editing and sharing. Check the best ones below.
Best Screenshot Apps for Android
1. Apowersoft Screenshot

This app is a free and easy-to-use app for all Android devices. It doesn't require rooting and is able to take screenshot of anything on Android phones and tablets. Other than that, you can also get a lot of other benefits like image editing, instant image uploading and sharing. You can get it now by clicking the download button below.
Once it's installed, you will get benefits of:
Flexible ways to take screenshot. Besides the physical key combo, you can also tap its overlay icon (Android 5.0 and higher) to take a screenshot.
Take webpage screenshots. This app comes with a built-in browser which is for you to take regional, full and current visible webpage screenshots.
Edit screenshots and images. This app enables you to edit any screenshots, images and photos on your device. You can add lines, arrows and texts to highlight important parts and use mosaics to cover private information.
Free cloud space. Being the one of the best screenshot apps for Android, it also provides free cloud space for storing images. You will receive a link to the image once it's uploaded. And you can use the link to insert the image in forums and blogs.
Instant sharing. Once you've finished editing an image, you can use tap on the share icon on the top right of the image editor and send it directly to other apps on your device. Pretty cool!
Change/create directory for saving images. In its settings, you are allowed to change/create saving path for the images so that you can easily manage photos and albums on your device.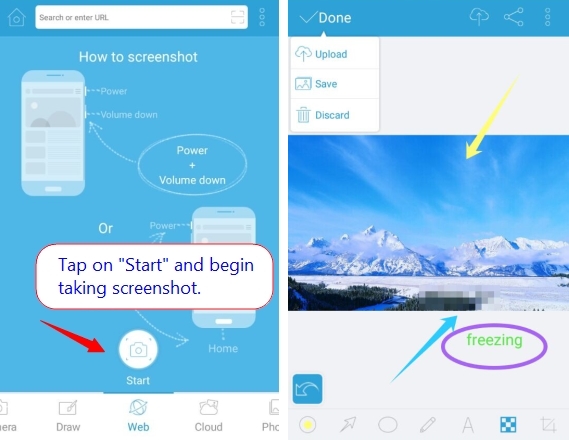 As you can see all the functions illustrated above, Apowersoft Screenshot is undoubtedly the best screenshot app for Android devices.
2. Screenshot Easy

This app provides several ways to take screenshot. You can use the default key combo, tap the overlay icon, click its notification icon, shake, press camera hardware button and so on. Indeed, it's very simple to take a screenshot with this app. However, it has no editing tools. If you want to annotate an image, you have to install another app. And ads will constantly pop up when you use it. You can get rid of them by downloading its pro version.
3. Screenshot Ultimate

Screenshot Ultimate also lets you take screenshot in several ways. To trigger a screenshot, you can use its overlay icon, shake your phone, input audio, click its widget button, etc. Similar to Screenshot Easy, this app also has ads and popups. And you have to buy its pro version to erase them. Anyway, just for capturing screen, it is a great snapshot app for Android.
4. Screen Capture

This is another app that allows you to take screenshot in various ways like the former two do. Aside from taking screenshot, you can also get editing options. It allows you to save the screenshot to any folder you like, not just its own album. What's more, you even share it with friends via Facebook, Messages, Gmail, etc. But the shortage is that it has annoying ads.
5. Capture Screenshot

Capture Screenshot is also capable of taking screenshot in many ways. You can tap on its overlay icon, shake your Android device or click its notification icon. Editing options are also available on this app. You can draw lines and add texts on the image and adjust its brightness, color depth, saturation and the likes.
6. Screenshot

This is also a great app for people who favor physical key combinations of "Power + Volume down". After you take a screenshot with those keys, you can crop it and annotate it with mosaics, lines and texts. When you've finished editing, you can save the screenshot on your phone or just share it with friends via other apps.
Conclusion
Those are the top 6 screenshot apps for Android. You can choose any one you like. But it is highly recommended that you use the first one, because it is ad-free, no-root required and provides a bunch of other useful functions like image uploading and customizable image saving path.