Wallpapers provide you with the best way to customize your desktop, as they can really change the boring aspect of any computer with ease. There are lots of wallpaper websites out there, but only a few of them offer the most original, high quality images you can find on the web. In this article we are going to focus on some of the most important wallpaper websites that provide support for multiple screens, high resolution display and so on.
1. Interfacelift

Interfacelift is one of the most popular wallpaper websites in the world and to no avail. Most of the images here are created by professional photographers and made extra clean using the latest Photoshop techniques. The site provides a wide range of resolutions, has an easy to use interface that allows you to find the mages you want based on multiple categories, and in addition to that it also provides themes and icons. Interfacelift comes with dedicated iOS and Mac applications which are really nice and functional.
Pros: Comes with a large database of original, beautiful images and dedicated iOS/Mac apps
Cons: Doesn't have categories which can make the wallpaper discovery process a lot harder.
2. The Paper Wall

The Paper Wall comes with an interesting concept and a very easy to browse site. The interface is very clean, and you have to sort all wallpapers based on resolution, packages or popularity. In addition to that, you can find a wallpaper of the day and a top of the recently added images, which is certainly a nice touch. The site adds tags and categories which make it very easy to find the desired images fast.
Pros: Good interface, categories that are very easy to browse.
Cons: Many images have a fixed size and won't fit any desktop.
3. 4 Walled

At first glance, 4Wallet might seem more like a wallpaper search engine, as it provides you with a lot of ways to find the images you want, such as keywords, resolution and boards. Once you perform a search with the desired keyword, you will receive numerous wallpapers that are suitable for you. The site's database includes a plethora of images, so there's a lot to choose from.
Pros: The site's database has a lot of images. Great search function.
Cons: Images aren't scalable to any resolution, instead they have a fixed one.
4. Wallpapers Wide
Wallpapers Wide is a complete wallpaper site because it provides you with everything you need. It has a lot of categories, and it allows you to explore the latest wallpapers, the top ones or, if you want, you can submit your own, which is a nice touch. The site provides support for a wide range of aspect ratios, devices and resolutions, so anyone can enjoy it.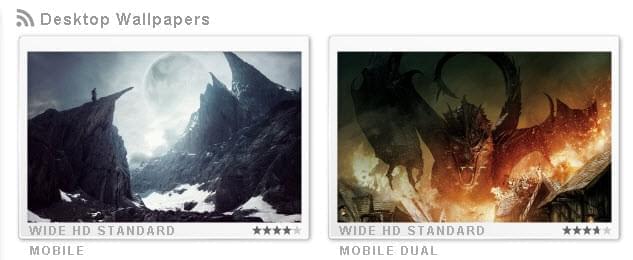 Pros: Lots of images and plenty of categories.
Cons: Interface is a little bulky, there are too many ads.
5. EWallpapers
EWallpapers has been around for a very long time and it has a stellar range of wallpapers that you can download and use. From beautiful images to intricate ones, you will have a blast discovering what the site has in store for you. EWallpapers is definitely one of the best choices for people that want an easy to use, reliable wallpaper site.

Pros: Lots of wallpapers, allows you to sort images based on resolution or categories.
Cons: Interface is full of ads, which makes it very hard to browse at times.
As you can see, these wallpaper sites have a lot of features and they make it very easy for you to find the images you need. From gaming wallpapers to 3D ones, you can find them all simply by performing a search on the sites in this article.