Screenshots are a good way of showing to other people what you are currently working on, or even share a funny thing that you just experimented with or just found on the web. In any case, the screenshot makes is very easy to transfer images from your computer to another one, and it doesn't matter if you use it for business or personal reasons.
One of the most popular items that people take a screenshot of is surely the web browser. The images you take can be used as screenshots for web pages, mails, reviews or just showing a snapshot of the page you are currently browsing to your friends. With so many browsers out there, it's quite hard to find a tool that works with each and every one of them. In this article we will try and cover some screenshot tools for the most popular web browsers, but also showcase a unique tool that enables you to grab screenshots of all sizes from just about any browser.
1. Take Screenshots on Any Browser
The fact is that each browser seems to have a way of creating screenshots, but there aren't that many tools that work on all browsers. Except the Webpage Screenshot Capture, a revolutionary online toolkit that provides complete support for all the web browsers out there. This is the easiest to use and comprehensive way of creating beautiful screenshots from your browser without encountering a problem.
The Webpage Screenshot Capture Free is available to use from above, you will just have to enter the desired URL, select if you want to grab the screen or page and you are good to go. Just press the "thumb it" button, wait until the screenshot is made and processed, and that's it.
The whole process is very fast, and it will take less than a minute. Not to mention the fact that Web Screenshot Free comes with different editing options, but also cloud storage for all your images. I find Web Screenshot Free to be a reliable and very easy to use service that makes the whole screenshot taking process very simple. In addition to that, Webpage Screenshot Capture also allows you to share the images you already have stored in the cloud. This is great for both office and home use, as it allows you to easily send cloud images to any person you want just by sending them a link.
The fact that you don't have to install any browser extensions is great, since you can easily take a screenshot for the desired browser just by using Webpage Screenshot Capture. I recommend this tool to anyone that wants to perform a simple browser screenshot, as it is the best one on the market, and it provides many features that can be found only in this place. However, if you want accurate solution for the browser you're using precisely, please keep reading with the content below.
2. Screenshot on Chrome
First of all, I would like to talk about Chrome. Being developed by Google, it's surely one of the most popular browsers in the world, which offers a great speed and support for an unlimited number of tabs. Chrome is also available on most platforms, including Mac OS X, Windows, as well as iOS and Android, so you can use it without a problem, no matter the device you own.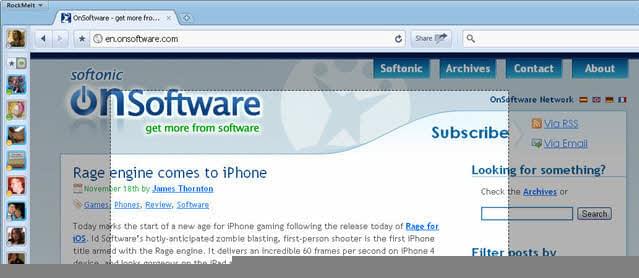 What's great about Chrome is that it allows you to add extensions which greatly enhance the basic functions of the browser. If you want to take screenshots while using Chrome, then the best way to do it is by installing the Awesome Screenshot extension, which can be accessed at here. This particular extension allows you to capture the whole browser window or select any area you need to take a snapshot of. Once you finish taking the screenshot, you can easily edit or annotate it using the tools provided by the extension. After that, you can even save and share the content without hassle.
3. FireFox Screenshot Extension
Firefox is also a very popular browser, developed by Mozilla that can be used on multiple platforms as well. It includes a similar set of features when compared to Chrome, but it has an unique style and it's also quite fast. On top of that, it's the first web browser that provided support for extensions, and, up to this date, has the largest number of extensions out there, developed by both the development team and the community. Screenshots are very easy to take within this browser as well, since there are many tools to choose from.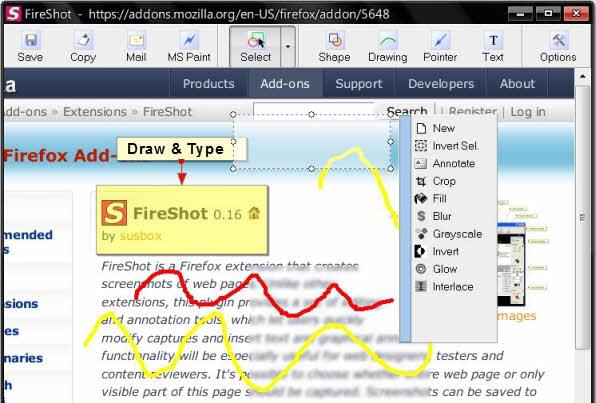 The most popular one is Fireshot, and can be found at here. It allows you to select any portion of the web page you are currently browsing then take a quick screenshot that you can edit or annotate without problems. If you want access to more advanced features, you may want to choose the Pro version of the extension that bring printing and exporting to PDF support, amongst many others.
4. Safari browser screenshot
If you are an Apple fan, or find Safari easy to use, you may already know the fact that this particular browser has a built-in screenshot capability. It allows you to take a picture of the whole screen or a portion of it, if you want. This is very easy to do and doesn't require the installation of any additional software.
5. Screenshot Addon for IE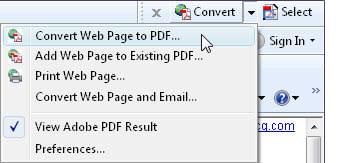 Most Windows fans out there still use Internet Explorer as their default browser. Starting with IE8 and later versions, this browser included a simple feature that enables you to convert web pages to PDF without a problem. These conversions basically imply the creation of a screenshot, but you can't choose the output format, since it will save to PDF as default. Yes, this is not a good solution if you want a certain format, but at least we have a way of doing it.