To make a screenshot in Windows, you just need to press "PrtSc", "Alt + PrtSc", "Win + PrtSc" or "Fn + PrtSc" keys. And to take a screenshot on Mac, simply hit the key combinations of "Command + Shift + 3/4". But all those methods only enable you to capture contents that are visible on the screen. And there must be times that you want to screenshot a scrolling window of Word, webpage or other documents, including the contents beyond the screen. Then how to capture scrolling window? Keep reading and find the answer in the following.
How to Screenshot Scrolling Windows
Apowersoft Screen Capture Pro (Windows)
This is a very powerful program which has 10 screenshot modes, including scrolling window, full screen, free hand, menu, etc. The scrolling window capture mode enables you to screenshot all contents in a window, document or web browser. Aside from various screenshot modes, you can even make automatic screenshots with its "Task scheduler". Aside from taking screenshots, this tool also comes with a robust image editor which provides multiple options for you to edit your images. Other functions like screen recording, uploading and sharing are also available on this tool.
To screenshot scrolling windows with this application, follow the steps below.
Download and install this program on your PC.
Present your scrolling window on the top of other task windows. You can take a Word document for example.
Launch this screenshot tool. You will see various screenshot modes. Choose the "Scroll window" option. Next check "Hide capture interface" in "Settings", then choose "Advanced Editor" in "Output" and click the camera icon on the right side in the end.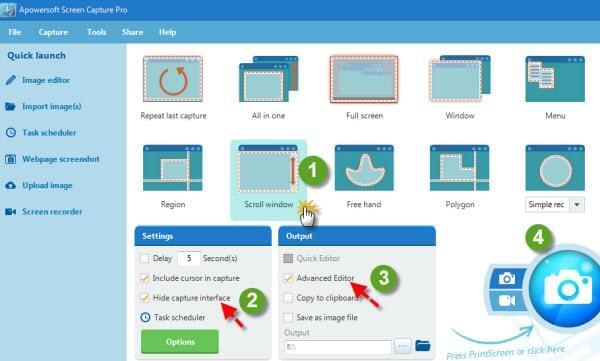 A rectangular capture frame with blue borders will appear. Hover your cursor over the scrolling window and click your mouse. Then, the contents in the window will automatically scroll down, which signifies the scrolling window is successfully captured.
When the scrolling down action finishes, you'll be taken to the advanced image editor with the snapshot of your scrolling window in it. You can crop it, annotate it with lines, arrows, text or add effects to it.
Lastly, hit the "Save" button to store it on your PC. You can also share it to your social networks or upload it to the free Cloud space provided by the developer.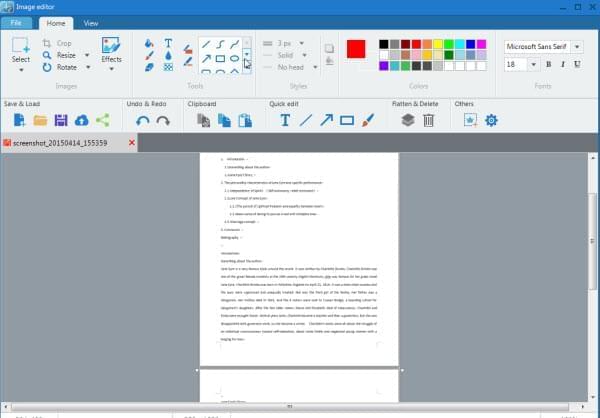 Snagit (Mac)
For Mac users, this is a good tool to take screenshot of scrolling windows. Beyond the basic function, this program has an image editor which enables you to make instructional highlights to the screenshot. Moreover, it also has a function of recording screen. It's a great alternative to Apowersoft Screen Capture Pro for Mac. Here are the steps for you to print screen scrolling window with this application.
Download and install this program on your Mac.
Display a scrolling window on the top of other tasks.
Launch this screenshot application and click the red button.
Move your cursor over the window. If this tool can capture the scrolling area, three yellow arrows will appear within the window.
Click an arrow to take screenshot of the horizontal scrolling region, vertical scrolling region or the entire scrolling area.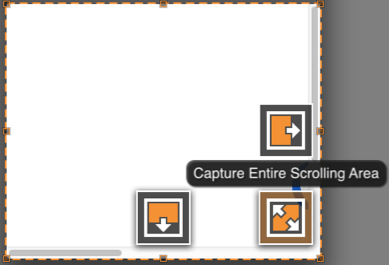 Webpage Screenshot Capture (Windows and Mac)
This is another application that is able to capture scrolling window screenshot, but only for browser windows. It's a free online application that allows you to capture a full webpage just with its URL, and there are no scrolling down movements, which means you'll save a lot of time when you are trying to screenshot a very long webpage. It is also a good choice when you fail to capture some webpages on Mac with Snagit. You can now try this application below.
Summary
This post gives you some advice on how to screen capture scrolling window. The first and the second ones are respectively for Windows and Mac users to capture any application, document and browser windows. The third one is for users to screenshot scrolling webpages on both operating systems.