In many cases, you may need to make a copy of the web page you're seeing as an image file so that you can insert it to your blog, documents or share it via messenger, e-mail and social network. Though there's a default way to press "Print Screen" to capture webpage,  it's really inconvenient and also you cannot capture full webpage. In this case, here provides several hassle-free options for you to capture web page as image.
You can watch the video demo before reading into the contents after it.
I. Webpage Screenshot Capture
This tool is ready to use on this page. Webpage Screenshot Capture, as you'd expected, is a feature-packed tool when comparing with other similar tools. Specifically, this web screenshot capture not only enables you to capture any web page with one click, but also supports you to store this image in cloud space or directly save it in PNG, JPG, BMP or GIF format on your hard disc. The best thing about this tool is that it's bundled with many other functions, including uploading and sharing photos in seconds, editing images, etc.
II. Screenshots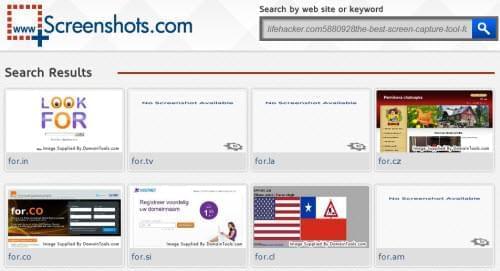 The second surefire way to capture screen online is Screenshots. To get started, just copy the URL of the website you want to take a snapshot and paste it in the bar, then you can click the "Search" button. In this way, it'll display relevant images based on the website you submit. Better yet, Screenshots also serves as a photo hosting website where you can find the photo you want by typing in keyword from 250 million images of this website.
III. Capturefullpage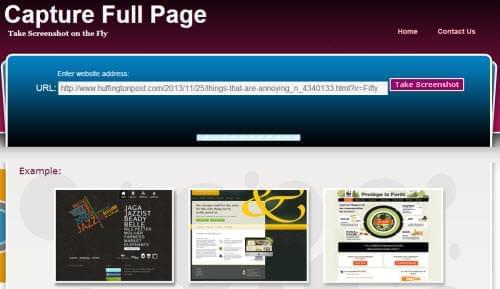 Another solution for capturing full web page is Capturefullpage. Like the webshot tool I have mentioned above, it's web-based tool for you to snapshot the entire web page including the invisible part of scrollable page. Using Capturefullpage to take a screenshot of web page is simple enough. Just enter the website address in the bar and press the "Take Screenshot" button. Once it's done, you're allowed to choose the image size you want (full, large, medium, small or icon).
IV. CTRLQ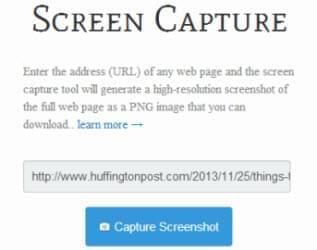 CTRLQ is an easy-to-use tool for you to capture whole web page. Just enter the URL of the web page you want to take snapshot and hit the "Capture Screenshot", then it will generate a screenshot of the specific web page you want in PNG image format. One of the limitations is that you can only capture a maximum of 10 screenshots per hour. And a few websites are not supported by it.
V. Snapito

In comparison to other web service, one of the shining points of Snapito is that it offers you a wide selection of capture size ranging from full size to thumbnail. Plus, it provides you three types of image format for saving your web page screenshots. For those who would like to share screen shots on Pinterest, you can click the drop-down menu on the right of "Snap it" and select "Pin to Pinterest" after taking screenshots. If needed, you can also set to capture windows screen with the delay of time.
VI. Browshot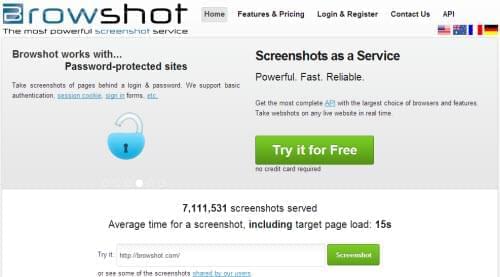 Another application to capture web page screenshot is Browshot. It's a web service to take screenshots of web pages easily on more than 15 desktop browses. Besides, it's also available for using on devices such as iPhone, Android, Nook, etc. After snapshotting the web page with it, you can customize the image size you want by typing the width and height.
VII. Site2Pic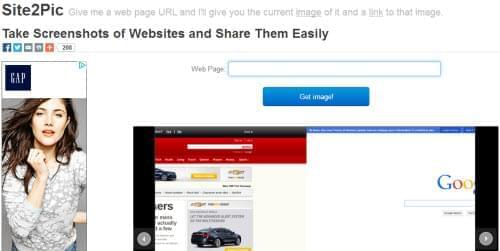 The last option available for you to capture screen online is Site2Pic. Given the simplicity of the user interface, you can have a copy of the web page you want to save by entering URL and clicking the "Get Image" button. Then it will provide you the image of the web page you have captured below the URL field, along with an address link to it for you to share this web page to your friends.
Of all the above services, they all work fine in taking screenshots of web page. But if you are looking for the one that integrated more features like capturing web page, uploading and editing image, then Webpage Screenshot Capture can be a better choice.  Anyway, you can choose the one that best meets you needs.