Twitter is one of the most popular social networking sites. It has grown rapidly and attracted all kinds of people using it since its foundation in 2007. People not only can get to know each other's status via this platform, but also have a chance to know more about celebrities' activities. Being more than a communication platform, Twitter also provides real-time news and information.
As Twitter's news and messages are updating at an alarming rate, if you have seen something important and want to record it down, the best way is to make a screenshot. Then how to take a screenshot of a tweet? Before checking into the reviews of multiple solutions, you can watch the video for a quick workaround.
Keep reading this article and find out how to screenshot Twitter in details.
II. Professional free way for Windows
III. Professional tool for Mac
IV. Using Webpage Screenshot Capture
I. Take Twitter screenshots by keyboard shortcuts
Many users may have already known the default means of using keyboards on Win/Mac to take screenshots. This method is very simple, let's see how it works to take a screenshot on Twitter.
1. Capture Screenshot on Windows
Full Screenshot: Whenever you want to snapshot a twitter page or message, you can immediately press "PrtSc" key to snapshot the whole screen. Keep the page which you desire to create screenshot on top of the other tasks, open Paint ("Start">"Accessories">"Paint"), and press "Ctrl+V" to paste the screenshot on the blank board. You can crop it to the portion you want and click save button on the top bar to preserve it.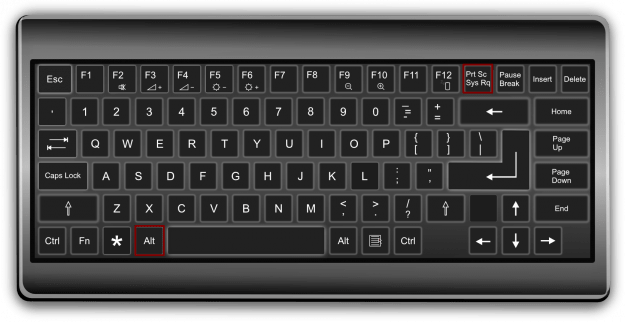 Active Window Screenshot: Press "Alt+PrtSc" to save a Twitter window. Be sure that the Twitter window you want is on the top of other tasks before you press this key combination. The next steps are the same as the above.
If you are using a Win 8 PC, then it will be more convenient as the screenshot will be automatically saved to Pictures folder.
2. Capture Screenshot on Mac
Compared with Windows, Mac makes it simpler to screenshot Twitter because all images created in this way will be automatically saved in PNG format on the desktop.
To take a specific part on Twitter, you should press "Command+Shift+4". After you press those three keys together, your mouse cursor will turn into a crosshair. Then you can drag a region on Twitter page and release the mouse to create a screenshot.
To snapshot a Twitter window, you should press "Command+Shift+4" and then hit the "Spacebar". After that, the mouse cursor will turn into a camera icon. Hover the it over the Twitter window and click to capture it.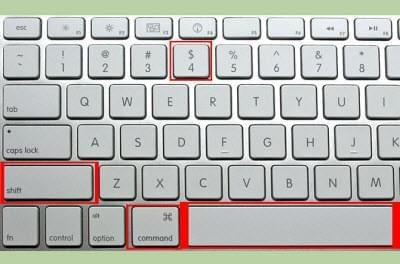 II. Professional tool for Windows
As we can see that the method of using keyboard shortcuts for Windows users is really troublesome. It will be much simpler to take screenshots if we employ a professional third-party tool. In this case, Free Online Screen Capture comes in need. It is a web-based application which allows you to take screenshots of anything on the screen. In addition to taking screenshots, this program also gives you many editing options upon the creation of a screenshot. What's more, you can upload the screenshot to the Cloud or share it directly to Google+, Pinterest and Twitter itself. it also provides a desktop program which works offline.
To take a Twitter screen shot, here are the steps:
Go to Twitter and find the part or the Twitter window you want.
Navigate to screenshot.net, click "Take Screenshot" and run Java Applet to initiate the application.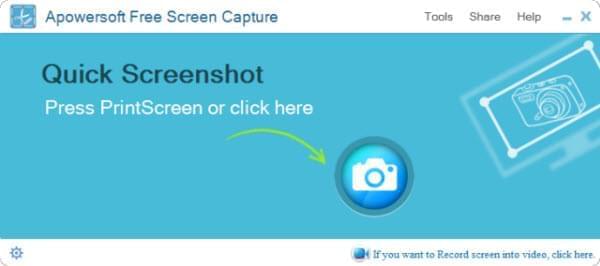 Click the camera icon when the interface of this application appears. After that, your mouse cursor will turn into a crosshair. You can drag your mouse to select an area on your Twitter page, or hover the mouse over the Twitter window and click to capture it when there are frame borders around it. Once you release your mouse, the screenshot is confirmed.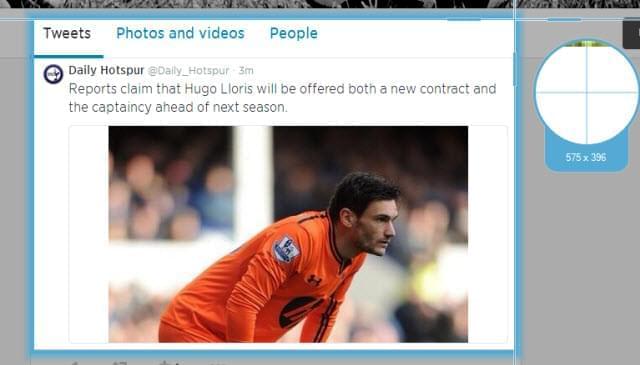 Before saving the screen shot to your local file, you can use the editing options on the horizontal bar to decorate the image with lines, arrows, texts and so on. After that, hit the disc button on the horizontal bar to save it.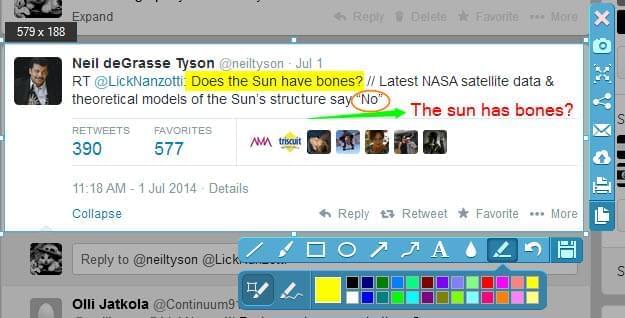 III. Professional tool for Mac
If you're a Mac OS user and want a more professional approach, then use Clarify. This is a screen cap tool that is designed to work and blend properly with the Mac system. By using this app users can instantly take Twitter snapshots without a need to press many keyboard buttons. Adding annotations can also be done with this app, plus it also has a feature of adding note-like text into your screenshots. However, be reminded that clarify saves in a Clarify specific type of file format which is very unusual. So in sharing snapshots online, users can share via Clarify's page.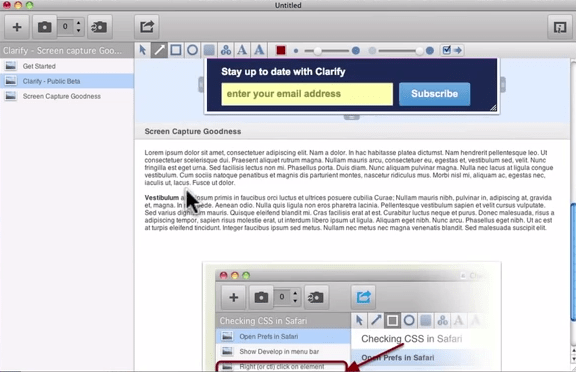 Go to the Twitter post that you want to capture.
Open Clarify and hit the "Capture" function which is shown in a camera like icon.
Grab the cross hair to the certain portion to capture and release the mouse.
Now you will have the option to edit.
Once done hit "Save" or export it to Clarify's site.
IV. How to screenshot an entire Twitter webpage
Those methods illustrated above are all for taking screenshots of visible parts on the screen. What if you want to screenshot an entire Twitter page which contains contents out-ranging the screen? Don't worry, Webpage Screenshot Capture can help you with that. This webpage screenshot tool is ready to use, you can check out the steps below:
Navigate to the Twitter webpage you want to capture and copy its link.
Paste the link into the address bar and click "Take Screenshot". After that, the entire webpage will be captured.
Before you save the webpage image, you can choose its quality and format. Then you can save it online or to your local file as you like.
This post presents three free ways to take screenshots on Twitter. The method of using keyboard shortcuts has its own limitations. The latter two methods give you more flexibility in taking screenshots along with additional options like editing, sharing ,etc. The last one gives you instructions on how to screenshot a scrolling Twitter webpage. With the help of these tools, you can easily screenshot anything on Twitter.