Images provide us with a great way of sharing feelings and information without actually writing texts. People say that images are worth more than 1000 words and they're not far from the truth. Sharing these images in the online world is quite easy to do thanks to numerous uploading websites. From entertainment purposes to work related projects, image sharing is very important and there are many reasons why people need a free site for uploading their images. When we are looking for a site like that, the ability to upload images online and store them in the cloud is also very useful for people that need to quickly deliver images to their colleagues or friends. Images need to be more and more impressive nowadays, so having a reliable image uploader or editor on your side is surely recommended. The free image uploader is able to fulfill all your needs in regard to delivering images via internet, find below the key features of this online app.
Key Features
Free of Charge: Instead of paying for these functions you can easily access them for free. You don't have to pay for uploading or hosting, we take care of everything. You just access to this online image uploader and share it with your friends without a problem.
Great Convenience: Instead of installing an application that allows you to upload images free on your computer, you can easily do this online without a problem. Not only that, but online image uploaders don't need any system resources other than your browser, making them the recommended solution for sharing any image.
Easy Sharing: Nothing can be simpler than uploading an image online and sharing it with friends. We just enjoy making it easier for you to share those images you want with your friends or colleagues. Be it a mind map, college photo or any other type of image, we support them all. You can share them on Facebook, Twitter and any other social media you want just with the click of a button. The whole process is very simple and can be performed by anyone, which is surely great.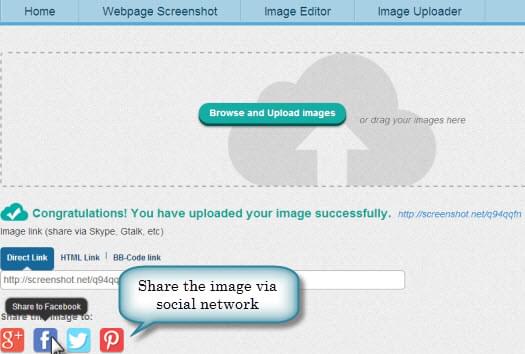 Security Protection: You will be given a personal account to manage all images that have been uploaded. Files in the cloud storage are under great protection and will not be disclosed to others. You may also set a password to the images so that only the visitors with permissions can view them.
Additional Image Editor: We're not only providing an image uploader, but an image editor as well, which allows you to perform lots of modifications to the image without too much hassle, thus making it a lot more suitable for sharing.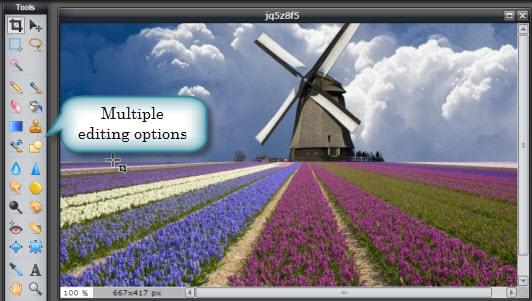 User Guide
The whole process of uploading an image to the website is very simple. All you have to do is drag and drop the image you want to upload onto the main window and wait a few moments to get the link to your image. Below are the detailed instructions.
On the top part of this page, click on "Browse and Upload Images" button to get the image in your computer.
A new window will pop-up allowing you to locate the file in your computer. Once you found the image file, click it and then click "Open".
The image will then be uploaded on the site, giving you the direct link, HTML link and the BB-code link.
You can copy and paste the link in desired form for sharing to social accounts, forums, messengers, etc.
Click on "Edit" which can be found on the lower part of the image if you wish to do some changes on the image.
Under the link you can find the buttons that will help you share the uploaded image to Google +, Facebook, Twitter and Pinterest.
As you can see, using such an image uploader will not only save you time, but it will also make the whole process a lot more convenient as well. And if you're looking for an application to touch up your images after uploading to cloud, then you should definitely access the one available at here right now.
More Tricks and Tips
Now that you have a better understanding on the rich features of this free image uploader, what you want to do with it is up to you. But considering the fact that some of you may still have puzzles while using it in specific scenarios, here lists some extensive reading for you.
Best photo sharing sites – it has never been easier for you to share photos online after you have known about the free photo sharing sites reviewd in this article.
Free image uploading sites – still wondering how you could possibly upload images online for storing or sharing with others easily? Check out the free image uploading sites here.
Free image sharing website – learn about even more websites that grant you the privilege of preserving and sharing images at no cost.
Websites like Photobucket– Photobucket is a popular photo hosting site among internet uers. It lets you store and deliver images in the form of URL without any cost. But it does have restrictions on the size of images. In order to upload images online without worrying the size and other limits, we have explored several better alternatives.