Snagit is a popular image screen capturing tool. With it, you can capture any part of your screen may it be customized regions, scrolling webpages and  active windows. You can also use it to edit screenshots and save files online through cloud storage. Besides, Snagit also comes with other features like video recorder, web capture and image capture. However, this tool has a free and paid version. Only the paid version possesses all the helpful features on this tool.This is the main reason why majority of people are constantly in search for Snagit alternatives. If you're looking for a free alternative solution which provides the same essential functions as Snagit but not come with overwhelming options, then you could check out these great alternatives below.
Top Free Programs like Snagit for Taking Screenshot
1. Free Screenshot Capture

This is an online screenshot application. To use it, you need to go to its page and click the "Take Screenshot" button and run Java applet to load this tool. It allows you to capture anything on the screen, including full screen, a region or an active window. It also has a delay feature for you to capture screenshot of pop-up menus in 5 seconds or more. Aside from taking screenshot, this tool also offers a quick image editor which will pop up immediately after you take a screenshot. You can add lines, texts, arrows to the screenshot and use the blur function to cover sensitive info. What's more, other than saving the screenshot on your PC, you can also copy it to the clipboard or directly email/upload/share it. All its features make it one of the great free alternatives to Snagit.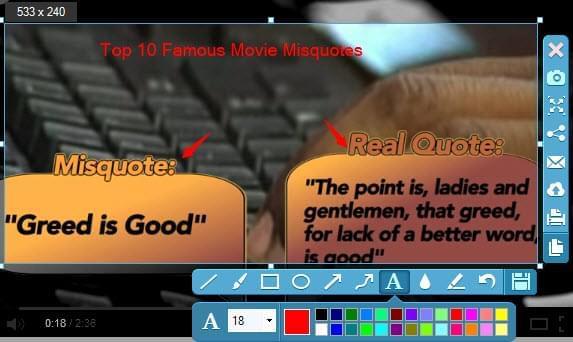 Pros: It provides necessary image annotation options and instant uploading and sharing functions.
Cons: It requires Internet access to load.
This tool also has a pro version which has more than 10 screenshot modes. It can grab desktop screen activity, webpages, media files, active window, menus, webcams and many more. Aside from that, this tool also provides quick editor and advanced editor for users to do some editing jobs on images to make them more intelligible. Similar to Snagit, it also features the function of screen recording. All the activities happening on your screen will be captured as HD video. During recording, you can even highlight or add some annotations on screen in real time. That's really an amazing additional tool.
2. Snipping Tool

When it comes to native OS applications, Windows has its own version of screen capturing tool called Snipping Tool. Although it doesn't come close to Snagit when talking about video and audio recording capabilities, it can effectively screenshot desktop screen. This Snagit free alternative also provides simple image editing options. It's worth mentioning that a new feature is added to this tool on Windows 10. You can set a delay time (1-5 seconds) to take a screenshot, which is indeed a great improvement.
Pros: It is convenient to use, available on Windows 7/8/10.
Cons: Its editing tools are too simple.
3. Jing

Jing is a free Snagit alternative presented with a very beautiful interface. It has the ability to capture anything visible on the screen and offers editing functions, from marking up screenshots to highlighting areas and inserting text boxes. Function of recording screen is also available on this software. But the videos are limited to 5 minutes.
Pros: It's free.
Cons: Video recording is limited to 5 minutes.
4. Greenshot

Greenshot is yet another free alternative to Snagit. It can quickly create screenshot of desktop screen activity, application windows and web pages. Not only does it feature the same capturing capability just like Snagit, but it also goes extreme with the ability to edit and share captured images. Greenshot doesn't require any subscription fee or registration payouts. However, it doesn't have a screen recorder like Snagit does.
Pros: It can do basic picture editing.
Cons: Its whole page capture does not work properly. It cuts edges, or leaves black background around edges.
5. PicPick

Similar to other programs like Snagit, PicPick is equipped with wonderful features. It is a full pledged screen capturing tool, but what makes it different is that tons of editing functions are presented on interface. It has color picker, color palette, pixel ruler, protractor, whiteboard and more. Various effects are also available from motion blur to brightness control. Besides, it is highly customizable and can deliver captured images to others with just few clicks.
Pros: It allows user to capture screen quickly and easily.
Cons: Its image editor is not as intuitive as Snagit.
6. Lightshot

In just two clicks, Lightshot promises to capture whatever is depicted on your screen. Furthermore, it has a powerful editor and several options to share your image via the internet. What makes this application unique? It also provides an image search engine for you to search any image you want. Aside from being free, Lightshot is compatible to all operating systems from Windows, Mac to Ubuntu.
Pros: It is easy to use.
Cons: Sometimes it freezes and does not work.
7. TinyTake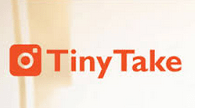 This is a free screenshot tool which has a lot of features to offer. It can capture anything on the screen of the computer, edit  the image, and share it over social media sites. Its editing options let users to add texts, shapes, lines, arrow and more.
Pros: It has an annotation tool.
Cons: It requires a MangoApps account to share image online.
8. EZVid

This tool is commonly known as a screen recorder. However, this can as well be used as a screenshot taker. It can capture anything on the screen provides simple editing and sharing options. Moreover, although this tool is said to be free, it requires users to donate at least $9 for the continuous development of the tool.
Pros: It can do basic picture editing.
Cons: It requires at least 9 dollars donation to use the app.
Conclusion
Tons of Snagit alternatives can be found online. From totally freeware to shareware, all are guaranteed to help you capture objects and images shown on your screen. Depending on your needs, surely one of the above tools will fancy your desire as they are all equipped with the excellent features that similar to Snagit. However, if you are looking for a program that is exactly like Snagit or even better than it, then Free Screenshot Capture's pro version is the best choice. It is indeed a great application that is worth trying, and you can get it easily by clicking the button below.