Taking a screenshot is important because it allows people to share what is exactly on their screen. Aside from this, there instances where in images cannot be downloaded on devices like android phones and tablets, with this, taking a screenshot is truly a big help. Actually, there are different ways on how to take screenshot on android. Continue reading to know them.
#1. Screenshot Android with Screenshot App

Apowersoft Screenshot is one of the best app you can use to take screenshot on Android phones. You can enjoy all its functions without rooting your phone. It can capture anything on the screen, even a full scrolling webpage. Apart from taking screenshot, this app also enables you to edit, upload and share screenshots or images directly on your phone. To use this app to screenshot Android phone, just follow the steps below.
Download and install this app on your phone.
Open the app and go to a webpage with its built-in browser. When the page is fully loaded, click the camera icon on the right bottom. Choose one screenshot mode from regional screenshot, full webpage screenshot and screenshot of the full-screen.
Then you can make use of its image editor before saving the screenshot to the Gallery. You can annotate the screenshot with lines, texts, arrows and so on.
Click the "Done" button on the top left. You will be given options of saving it to your phone (This app creates a new folder "Apowersoft Screenshot" under Gallery for storing all screenshots generated by it.) or uploading it to free cloud space provided by the developer. Or, you can also share it to other apps on your phone by clicking the share icon on the top right.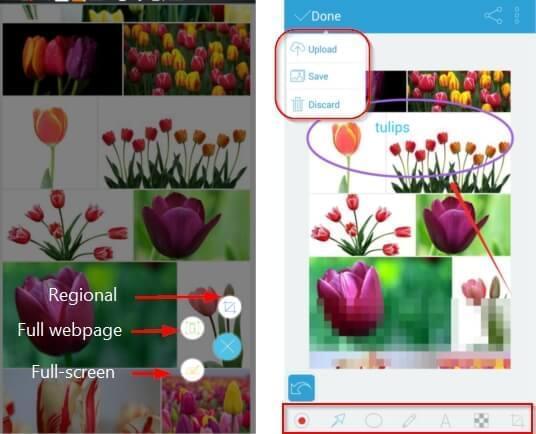 #2. Take a Screenshot – The Default Way
Taking a screenshot on android 4.0 or what they call Ice cream and Sandwich is just so easy. Long press the volume down and power keys at the same time. Right after doing the long press process, an animation on the screen will be seen which indicates that a screenshot is taken. The captured image will then be automatically be saved in the Gallery under Screenshots folder.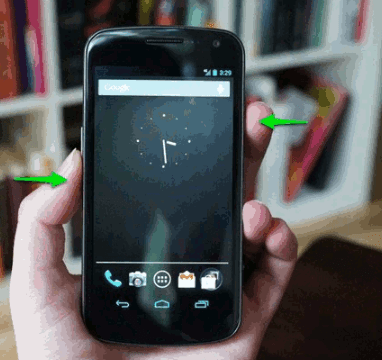 In addition to that, there are manufacturers of Android phones and tablets that build their own screenshot shortcut just like Samsung. This company made a shortcut of pressing on home and power keys in taking screenshots on Android phones and tablets they manufacture such as Galaxy Note and Galaxy SII. If in case you have other brand or phone unit and your Android version is lower than 4.0, you can check your tablet or phone's manual to know what the screenshot shortcut of your phone or tablet is.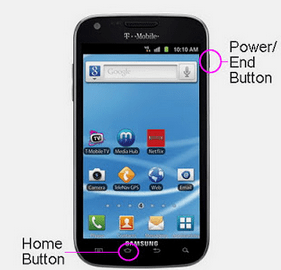 #3. Take a Screenshot Using Android SDK
Using Android SDK, users will be able to take screenshot on any android device. To know how to take screenshots on Android using this, follow the steps below: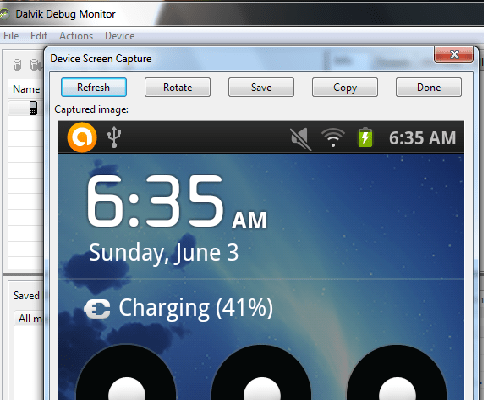 1. Install USB driver of your phone or tablet in your PC. You can have the installer in the internet or it might be in the box of your phone or tablet.
2. Set the Java SE Developer kit (plug-in to use). You can simply click go to Java site to have your plug in downloaded.
3. Set the SDK developers kit.You need to  download the kit first and install it in your computer.
4. Connect your phone or tablet in the computer.
5. Run the DDMS.BAT file and the Dalvik Debug Monitor will be launched.
6. Click on "Device" and then click on "Screen Capture" to take a screenshot.
7. Save the screenshot that has been taken taken.
#4. Using Alternative App

Aside from the ways given above, there are applications available in the PlayStore which can help you capture the screen of your phone or tablet. There are free and paid apps available. Moreover, in finding a good app for your phone or tablet, make sure to read on the user reviews. This will help you see and decide which one is the best application to use. A good third party application is Screenshot Ultimate. Aside from being able to screenshot the screen of an Android device, it can as well allows users to add texts, shapes, lines, and more on the image taken. Moreover, users can also share the screenshot on the internet using this app.
However, there are many apps that require the phone to be rooted in order to be use. Rooting your phone or tab allows users to download any application they want freely but it as well reduces the security that Google impart in the operating system. If in case you have decided to have your device root, make sure to ask an expert to do this for you. You might brick your device and you will not be able to use it anymore.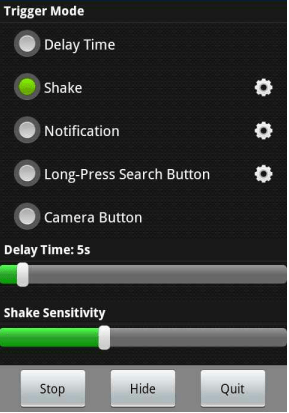 Those are the different ways on how to take screenshot on Android devices. You may satisfied with the default way if you just want to capture full screen. But if you need to annotate screenshots after you taken them, then it is highly recommended that you use Apowersoft Screenshot. Apart from taking and editing screenshots, it also supports uploading and sharing them directly.