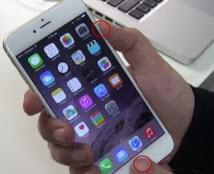 The iPhone 6's launch that took place recently certainly took the world by storm as it brought not 1, but 2 different phones, each one with a different resolution. The iPhone 6 has 4.7″, while the iPhone 6 Plus brings no less than a 5.5″ display. The display is not the only major change though, as the device is now powered by an A8 chip and an M8 motion co-processor which provide a much better processing power. Thanks to the retina display, your images or even the websites look stunning, and if you want to share them with your friends, then you can easily do that simply by taking a screenshot.
1. Using Key Combination (Easy Way)
Taking a screenshot on the iPhone 6 is very easy, you just need to go through a few steps. First of all, you need to turn on your phone by holding the power button located on the right side of your screen. After that, find the image or website you want to capture. Once that is done, press the "Home" and "Power" button at the same time, and this will automatically perform a screenshot containing anything you have on the display in that particular moment.
2. Using Apowersoft iPhone/iPad Recorder (Alternative Way)
This tool is simple but provides powerful functions. Once your iOS device and your computer are in the same Wi-Fi network, this program is able to wirelessly mirror your iPhone/iPad screen to Mac/PC via AirPlay without jailbreaking. This is a quite good alternative method in taking screenshot on Apple iPhone 6, since it will allow you to snapshot easily with one simple click. Below are the detailed steps of taking screenshot in iPhone 6 with this application.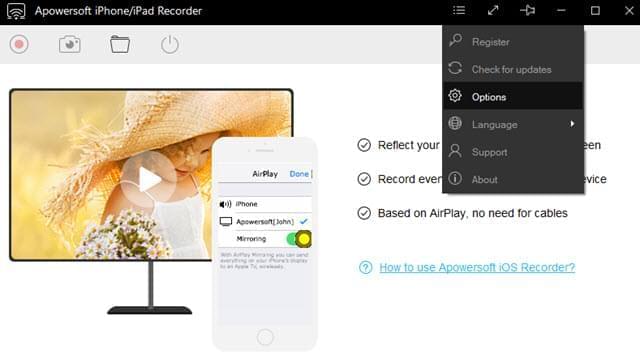 First of all, download and install this program on your computer.
Set your computer and your iPhone 6 under the same Wi-Fi network, and launch this application.
Swipe up from the bottom of your iPhone 6 screen to bring out the control center and click the "AirPlay" button.
Then, you will see your computer name on the AirPlay list. Tap on it and turn on the "Mirroring" button.
After that, your iPhone 6 screen will be immediately projected to the PC. Now, you can display what you want to capture on the screen, and tap on the camera icon to take a screenshot. The camera icon is located on the upper-left area of the screen mirrored on the computer.
Usually, when a screenshot is taken a new window will pop up with the screenshot (in PNG format) in it. You can also manually find it from the output directory you've set in the Options.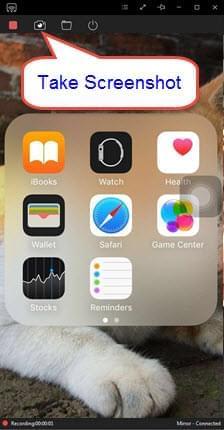 Other Benefits: In addition to mirroring and taking screenshot, you can also use it to record screen on your iPhone. What's more, there are settings for you customize the screencasts, such as video format (MP4, WMV, AVI, GIF and so on), audio input (microphone/system sound), output directory and many more.
Extra Tips for Sharing Screenshots
Upon the creation of a screenshot for your iPhone 6 or other mobiles, you may come up with the idea to share it to your social network. Also, by uploading the snapshot to a photo sharing site, you can easily deliver the graph via links. If you're willing to work it out on your computer, then there's nothing better than utilizing the Free Image Uploader, a web-based application that's understandable to all users at the first glance.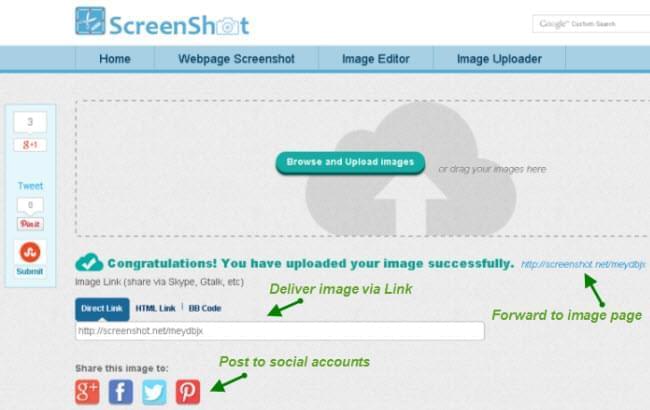 To start with, just pay a visit to the app's webpage which has no subscription or ads. Hit the "Browse and Upload Images" button and import your snapshots taken from mobile. Wait a short while till the loading completes and you will see a "Congratulations" notice.  On this page, you're empowered to share the image via links in three forms for delivering to forums, embedding into HTML page or sending via web messengers. You will also see social buttons which are just 1 click away to share iPhone 6 screenshots.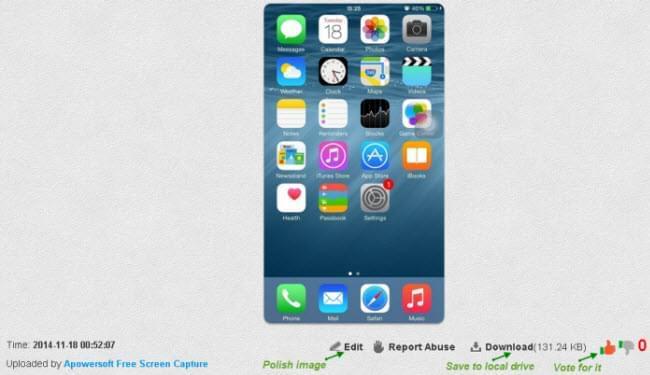 Furthermore, if you go to the page which stores your image by clicking the given link, you can access even more options like edit, download and vote. Friends or other people who got the image shared by you can also forward to this page and rate for it.
Conclusion
As you can see, there are different ways to take a screenshot on your new iPhone 6. You can use the default way to get a simple screenshot. Or if you want to take screenshot of your iPhone 6 on computer, you can use Apowersoft iPhone/iPad Recorder. Plus, it has more useful functions like screen mirroring and recording.