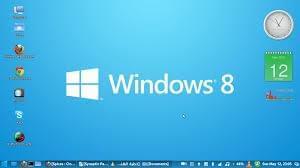 Windows is one of the most popular operating systems out there and with the latest version, named Windows 8, Microsoft tried to combine tablets and computers. Taking screenshots under this version of the operating system surely remains a necessity, but Windows 8 has changed the way of taking screenshot, making it much simpler and easier. In this article we will explore into multiple efficient approaches to taking screenshots on computer and devices that run Windows 8, letting users create screenshot images more productively.
I.  Best Solution to Take Screenshots in Windows 8
The best application you can use to take screenshots under Windows 8 is surely Free Online Screenshot. This tool features both web version and desktop one, making it very easy to capture live, high definition images of your screen. It's the fastest tool in the industry that allows you to grab hundreds of screenshots in a matter of minutes.
Not only that the application provides photo capture, but it also comes with video capture as well. In addition, it comes with a quick capture mode for people to grab an image on the spot. Moreover, it remains on top of the current window you are working on, so you can easily take a screenshot for the things you are engaged.
Despite the essential capture function, this tool is way more than a simple screen capture tool. It allows you to highlight your steps by adding commentary and annotations to the screenshot you took. The editing process also allows you to add numerous tags to an image. So this application can cover all your needs on visual communication with screenshots – it's the best screenshot editing suite as well. Moreover, it also lets users upload their images to free cloud space with security protection. It could be the best solution for people asking themselves how to take a screenshot on Windows 8.
II. Default Way for Win 8 Computers and Tablets
While Windows 8 is not offering many of the features that Free Screenshot software does, it still comes with a simple way to take screenshots. Unfortunately though, there aren't any editing tools included here, and you might need to download or buy those separately.
If you run a computer with Windows 8, then you already know that the classic way of taking a screenshot, mainly using the "Print Screen" key, then pasting the image in Word is not working under the modern OS. Windows 7 introduced the Sniping tool that allowed you to pick any area of your screen, take a snapshot of it then saving it to your hard drive.
Windows 8 still includes the Sniping tool, but it also added a good shortcut that makes the whole process a lot easier. You just need to click the "Windows" key+ the "Print Screen" key, and the snapshot will automatically be saved in your Pictures library.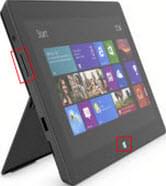 If you are using a Windows 8 based tablet, things tend to be similar. Many people still don't know this trick yet, but it really works for taking full screenshot without the assistance with any third-party tool. In this case, you just need to press the "Windows" and the "Volume down" buttons synchronously. The screenshot will automatically be saved to the "My Pictures" folder on your drive. You can then edit or annotate the screenshot by using the tool that comes with your tablet or find one on web. It's the simplest screenshot method but cannot let you customize the region. Also, you will have to look for another tool for further editing on the image.
III. Default Tool for Taking Snapshots on Windows 8

As you may already know that Windows 8 has a snapshot component called Snipping tool, which lets people easily deal with screenshots in easy and fast ways. Due to the great change in Windows 8 system, different from the previous platforms, you need to run it by going to Start screen, typing "snip" and pressing "enter". When you have seen the interface of this program, simply hit "New" and choose the options:
Window Snip This option is the most commonly used and lets people snapshot any active window. You just need to hover your mouse over a window and click to capture the screenshot for it.
Rectangular Snip It turns your cursor into a cross-hair so that you could drag an area to create the screenshot.
Full-screen Snip This gives you the same result as using "Print Screen" key.
 Free-form Snip You're allowed to draw a free-style shape around an object on your screen and to make a snapshot.
Upon the completion of a screenshot, you will be taken to an editing board to polish your image and save it. However, there's no option available to add text or other shapes. Also, there's no sharing function available. So if you're wondering such functions to make a better screenshot, just turn back to the first solution.
Conclusion
As you can see, there are numerous ways to save a snapshot of your desktop to your hard drive, but the most professional and popular one still remains Free Screenshot software, since it allows you more control as well as multiple editing features, making it the best choice for anyone that needs a complete solution for this task.