Facetime is a video telephony and VoIP software developed and released by Apple Inc. It is freely available on both Mac OS and iOS devices as long as they have front-facing cameras which supports live chat. Made available to the public in September 2010, Facetime has now become one of the most widely used video chatting applications aside from the well-known Skype and Facebook Messenger App.
Along with its popularity, there's also increasing demands to take Facetime screenshot. Some for preserving wonderful moments, others for quickly grabbing vital snapshots and saving visual parts of conversation. However, If you don't know how to do this trick or having difficulties capturing one, read on to this article and learn how to do it on your Mac or iOS device.
I. Take a Facetime snapshot on Mac OS
II. Take Facetime Screenshot on iOS Devices
I. Take a Facetime snapshot on Mac OS
If you want to save a screenshot of Facetime on your Mac computer without editing or sharing it, all you need to do is to start the Facetime video chat on Mac and then press the "Command" + "Shift" + "3" buttons synchronously to screenshot on Facetime in whole screen. But if you want to capture a customized region on Facetime, you can press the "4" button instead along with "Command" and "Shift" keys. Although this method needs no extra application or program, to capture a window using key combination during the chat is still a hassle. Thus, there's another way around.
Recommended Way – Using Apowersoft Mac Screenshot
This handy tool provides everything you need from taking screenshot on Facetime to making annotation, sharing screenshot and saving the file to free cloud space. Tons of editing options have turned this app a much more valuable one as compared with the default way of capturing Facetime snapshot. Also, you can use it to share your captured image after uploading. Interestingly using it is very simple,  just download it from below to take screenshot.
Once done with the installation, launch the program and then use Facetime as usual.
When you're ready to snap the Facetime video call, just press the screenshot hotkey or pull-down the menu bar and select "Regional screenshot".
Click and drag the part you wish to grab on Facetime and then release the mouse.
If needed, you can annotate the image by adding text, arrow and others.
After that, you are allowed to save the captured image to the hard disk, copy to the clipboard or even upload to the free cloud space provided by the developer.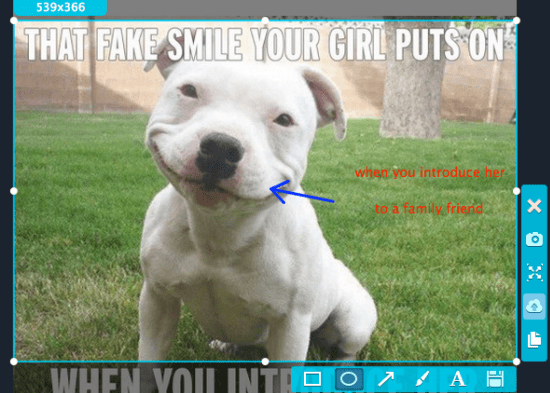 Now that you have the options available to choose from, in the following part we will discuss how to capture things straight on your iOS gadget. The tips cover taking Facetime snaps on your iPhone, iPod or iPad. Most people prefer to use Facetime on their Apple device because it is much more handy and expedient. Also, the beauty of taking Facetime screengrabs directly on your iOS device lies in the fact that you can easily share and upload it wherever you are.

II. Take Facetime Screenshot on iOS Devices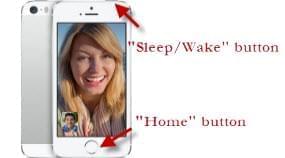 Saving snaps of Facetime using your iOS gadget is easy. There is a default method of taking screenshot on Apple mobile devices. Just open Facetime and start chatting with your friends or loved ones as usual, when you feel like the right time to create a snapshot, just press the "Home" button and "Sleep/Wake" button simultaneously. You will hear a click sound and see a quick white flash on your screen which indicates that your screenshot has just been saved to your camera roll.
Even though this method sounds to be simple, it cannot fulfill your needs on making quick edits after taking screenshot on Facetime. Therefore, you're supposed to polish or annotate your image within another app. Also, pressing the key combination is extremely inconvenient on small gadgets and you may miss the best moment to capture the things you need. Luckily, there's another method available to take Facetime snapshots.
Recommended Way – Using Screenshot Frame Maker

The Screenshot Frame Maker automatically takes your screenshots with a wide variety of iOS compatible device art. Aside from easily capturing  Facetime snapshots, this application allows you to edit your captured image straightly on your device. Moreover, with it, you are permitted to export the captured images one after another or in batch. You can preset the maximum width and height of the file so that each image uploaded to this site will be resized according to your setting automatically. Aside from that, upon the creation of screenshots, you can then share them through emails, photo streams, Dropbox, Twitter, Facebook within built-in options.
There are many ways on how to screenshot on Facetime. Whether on your Mac or Apple device, it does not require  in-depth technical knowledge on how iOS works. If you are having a hard time taking a snap using the default method, use recommended screenshot applications as they give not only convenience but additional features as well.