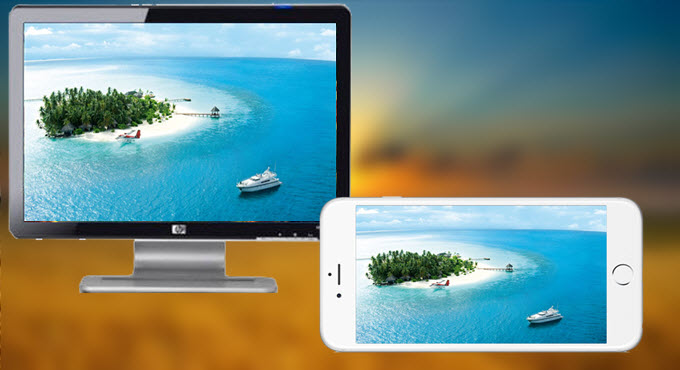 Mirroring iPhone to computer allows you to have a better visual experience for games, TV shows, large HD photographs, etc. And it also gives a chance for you to give others clear presentations or tutorials that are related to iPhone. On Mac, you may use QuickTime to mirror the iPhone. But on Windows, you may take advantage of other more efficient programs. So, in this post, some of the best mirroring tools are provided for you to mirror iPhone to PC.
I. Best Mirror Tool – Apowersoft iPhone/iPad Recorder

Actually, this program is applicable for both Windows and Mac. It requires no lighting cable and allows you to easily mirror your iPhone to PC via AirPlay without any lag. Whatever you do and hear on your iOS device will be immediately synced to your computer. The display will automatically change according to your iPhone orientation (portrait and landscape). You will definitely have the best experience in viewing your iPhone activities on PC. Aside from that, it also provides options of recording screen and taking screenshot of the iOS device.
Here are the detailed steps to mirror iPhone 6s to PC with this tool. You can also apply them to other iPhone models.
Download, install and open this application on your PC. You will see a very pleasant interface with a GIF image showing you how to connect your iPhone to the computer wirelessly.
Next is to set your iPhone and PC in the same Wi-Fi network. This is one important step you should notice.
Then, swipe up from the bottom of the screen on iPhone 6s to open the "Control Center" and tap on the "AirPlay" icon.
Choose your PC name on the "AirPlay" list and turn on its "Mirroring" button. After that, your iPhone screen will be projected to the PC instantly. From now on, no matter what you do on your iPhone, you will see them on the PC. And if your iPhone is in landscape mode, the mirrored screen will automatically change to the landscape display.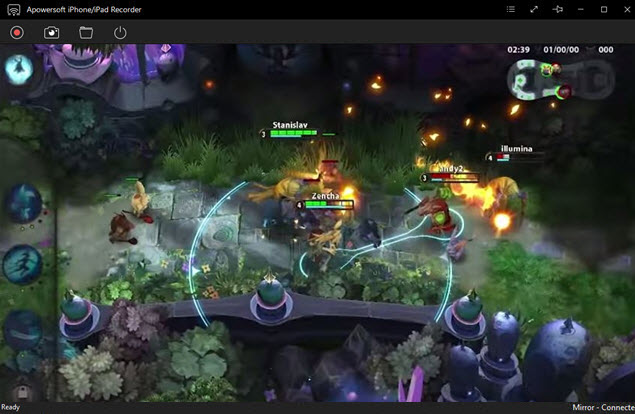 Tips: If you want to record iPhone gameplay, you just need to hit the red button on the top left of the projected screen. The video will be automatically saved to the local disk on the computer after you click the red stop button. You can also customize the saving path in the "Options" of this program.
II. Other Tools for Mirroring iPhone to PC
1. Reflector

This is another tool for you to mirror iPhone to computer. It is applicable for both iPhone and Android. Taking advantage of AirPlay, this mirroring tool allows you to view games, movies and demos from the palm of your hand. You will have 7-day free trial, and after that, you have to pay $14.9 to continue using it.
2. AirServer

AirServer is one of the great AirPlay receivers for Mac and PC. It not only allows you to mirror iOS device to PC, but also enables you to broadcast iPhone games and other videos to YouTube. There are also a variety of resolutions for mirroring, and it now even supports full 1080 X 1920 resolution for the iPhone 6 Plus. It charges you $14.99 after the 7-day free trial.
3. X-Mirage

Similar to the tools above, X-Mirage also takes advantage of the AirPlay and enables you to mirror iPhone to PC wirelessly. You can use it to project iOS apps, games, presentations and many more to the bigger screen. If you want to record activities on the iPhone, just hit the red record button. If it's in full screen mode, the record button will be on the right of the screen.
Conclusion
Those are the easy ways on how to mirror iPhone to PC. According to their features, it is highly advised that you use Apowersoft iPhone/iPad Recorder, because it has a very clear interface with instructions and empowers you to capture the iPhone screen as videos or images. You click the button below to enjoy its cool features.