QuickTime is a multimedia player that is developed by Apple Inc. This player can handle some formats of videos, pictures and sounds. This is a built-in player available for all Mac users. Although this tool can play any video formats, many Mac users are still asking themselves on about how to make QuickTime screenshot. Taking a screenshot on this player can help users in making demo, visual aids presentations, tutorials, and some other things they want to share with others. Actually, there are some ways which can help in taking a screenshot on QuickTime. You can review them below.
I. Recommended Way to Screenshot QuickTime
II. Default Way to Screenshot QuickTime
III. Other Ways to Take QuickTime Screenshot
Method 1: Using A Professional Tool – Recommended Way
Apart from using the keyboard shortcut and the built-in snipping tool on Mac, making use of a third party tool like Apowersoft Mac Screenshot is as well recommended as it is jump-packed with features and it's very easy to use. It can capture anything on the screen. Furthermore, this tool has editing options allowing users to enhance the screenshot taken from QuickTime player. Aside from that, you can also save the image on the free Cloud space provided by the site. Sharing directly on social media sites is also possible using this tool.
To know how to take a screenshot in QuickTime using this free tool, follow the steps provided below.
Download and install this utility and run it in your computer.
Open the movie or video you want to screenshot on QuickTime.
Click on the dropdown menu bar and select "Regional screenshot" or press the screenshot hotkey "Cmd+R".
Use the cross-hair to drag a spot on the QuickTime player and then release the mouse to see the screenshot.
The screenshot will be locked with the editing options and other icons. Edit the image if you want to.
You can then save the image in the free Cloud space, or as well save it to the computer hard disk by utilizng the functions located just parallel to the image editor.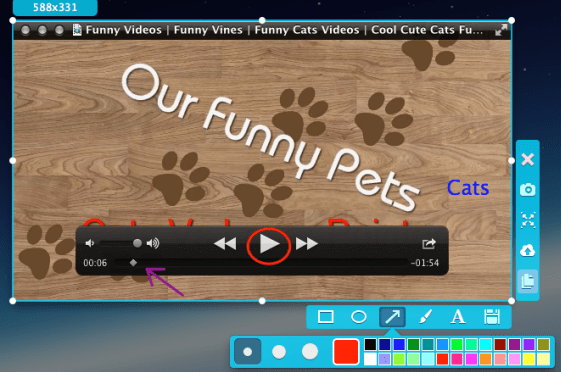 Method 2: Using the Keyboard – Default Way
In taking a QuickTime player screenshot, you can make use of the keyboard shortcut "Command + Shift + 4". In order to get a clear image, you'd better pause at the frame you want to capture. Then press those key combinations. You mouse cursor will turn into a very little crosshair. Click, hold and drag your mouse to select an area in QuickTime. Release your mouse to make the screenshot. The screenshot will be automatically saved to the desktop in PNG format.
Method 3: Alternative Ways
Grab
Aside from the keyboard shortcut, you can also make use of the built-in snipping tool on Mac to screenshot QuickTime. It is called Grab which is located under "Utilities". It can capture the whole screen, a part of the screen, or a single window.

To use this in taking a screenshot on QuickTime, review the steps below:
Open the video or movie on QuickTime player.
Play the video and pause on the part you want to capture.
Launch Grab which is found under "Utilities".
Click on "Capture" which can be found at the top part of the Grab interface. Choose on "Window" and you now have a screenshot of the QuickTime video.
Save the image in your computer. Repeat the steps until you finish taking your desired images.
Jing
This is another practical tool for you to screenshot on QuickTime. This is a reliable screen cap application that can provide good quality QuickTime screenshots anytime you want. Plus, this tool also provides simple image editing options for you once you've captured a screenshot. Apart from taking screenshot, You can also record videos with this application. But each video is limited to 15-min long. Anyway, as a free tool, it is a pretty good option to screenshot on Apple Mac.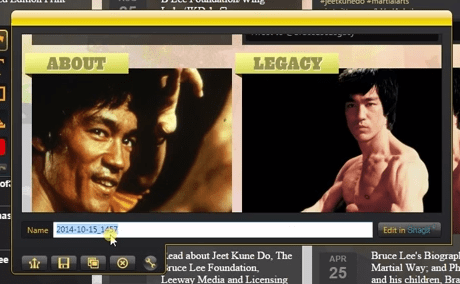 To use this app simply follow the steps:
Go to its main page, download and install it.
After that, open a clip or movie that you like in QuickTime, then pause at the frame you want.
Now click the cross-hair from Jing's sun-like tool.
Next, drag the cross-hair along the portion to capture and then release your mouse.
An image preview will be shown, now click "Capture Image", an image editor will appear, you can add lines and texts on the screenshot.
At last, click the diskette like icon to save the screenshot to your local file.
Those are the methods you can use in order to make a QuickTime screenshot. You can now screenshot any movie you want in as easy as A,B,C.