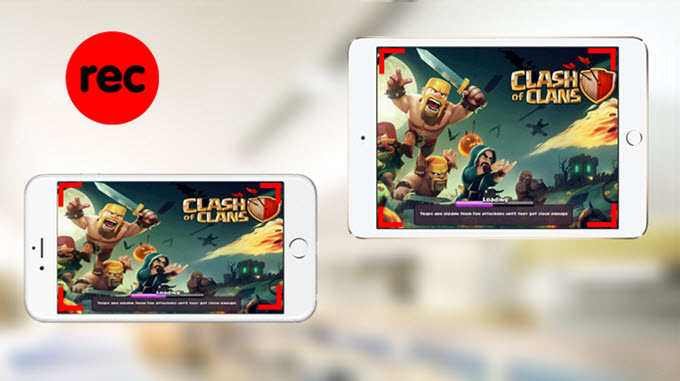 iPhone and iPad's performances have been increasingly improved in recent years. You will have the best experience in playing games on these iOS devices with no lag. It may occur to you many times to record those gameplays and upload the videos to websites like Twitch and YouTube. With game recordings, you can not only show others your excellent combat strength, but also give tutorials to teach newbies skills. But do you know how to record gameplay on iPhone/iPad? If not, you can learn some of the best ways to do it from this article.
Best Ways to Record Gameplay on iPhone/iPad
1. Use Apowersoft iPhone/iPad Recorder

This is one of the best tools for iOS devices on the Internet. It's able to mirror your iPhone/iPad to your Mac/PC screen flawlessly. Other than mirroring, you can also capture the iPhone/iPad screen as videos. To meet your different needs in recording, this application provides a variety of settings for you, including resolution (standard 720p and 1080p), format (popular MP4, AVI, WMV, GIF, etc.), audio input (microphone/system sound), saving path for files and many more. Apart from that, you can also take snapshot of the iOS device screen with just one click.
As you can see, this is a pretty cool game recorder for iPhone/iPad. You can follow the steps below to record a gameplay video with it.
Download this program on your Mac/PC and run it after installation.
Set your iPhone/iPad and the computer in the same Wi-Fi environment.
Then, open the Control Center on your iPhone/iPad, tap on the "AirPlay" button, choose your computer name on the AirPlay list and turn on the "Mirroring" option. For your convenience, there is also a GIF guide about this step on the interface.
After that, your iOS device's screen will be immediately projected on your computer. You can do some settings for the video to be recorded.
To record games, just click the red recording icon on the top left of the projected screen and start playing the games on your iPhone/iPad.
To finish recording, hit on the red stop button on the top left of the mirrored screen. Then, a new window will pop up with your gameplay video in it.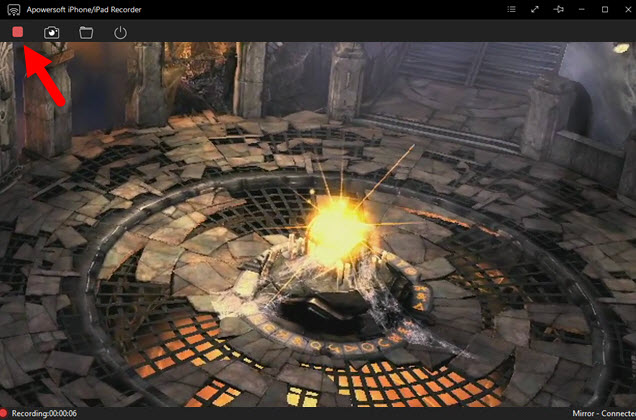 Tips: If you want to take screenshots of the gameplay, you can just tap on the camera icon on the top of the projected screen, and the screenshot will be saved to the local disk on your computer. Then, you can easily share it to your Facebook, Google+, Twitter, etc.
2. Use AirServer

This is another game recorder for iPad/iPhone. It is as easy to use as the tool introduced above. You can enjoy several benefits it provides, such as less lag which promises you more fluency during mirroring, split screen which enables you to turn iOS games into multiplayer experiences on big screen, and recording which allows you to keep your great battles as videos. It's a paid tool that gives you a 7-day trial.
3. Use Mirroring360
Mirroring360 is also a good application to record games on iOS devices. It requires you to create a Splashtop account, and after that, you will get a license key which expires in 7 days. When the trial version is over, you need to pay $14.99 for it. It also adopts the AirPlay tech to mirror iDevices and offers recording choice when the iPhone/iPad screen is projected. You can even project 4 devices simultaneously and choose resolution for the mirroring, which will be very useful in viewing and recording gameplays on the screen.
Additional tips about gameplay video editing
It's advisable to make further editing jobs if you want to make your video more stylish and unique. Some people may add some special effects on their gameplay video like filter, transition, text, etc. which make the video looks cooler. There's a powerful video editing program called ApowerEdit that comes with different editing options. You may check below to how to polish your gameplay video with this editor.
Click the button below to download and install ApowerEdit on your PC.
Open the program after installing and then add recorded gameplay video.
Right click the video and then choose "Add to Project".
Add preferred text, filter and transition to timeline based on your preferences.
Click "Export" > "Export video" to generate the video.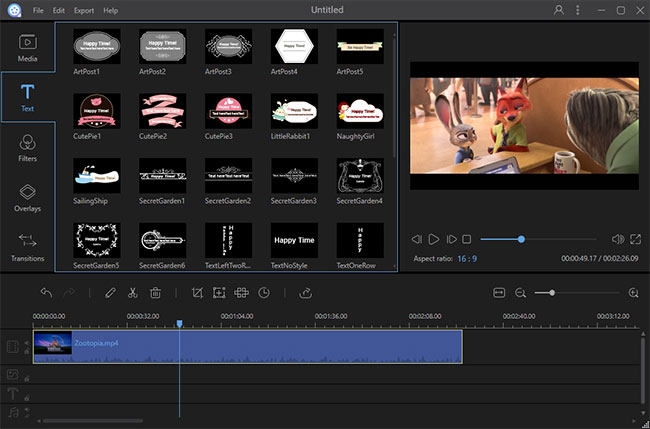 Conclusion
Those are the ways on how to record gameplay on iPad and iPhone. You can choose any one you like. But after testing, you will find that Apowersoft iPhone/iPad Recorder is the best. It has a pleasant interface with GIF guide which makes much work so easy. What's more, with this tool, your iOS device's screen will be mirrored to the computer without delay and you can have the best experience in recording gameplays.