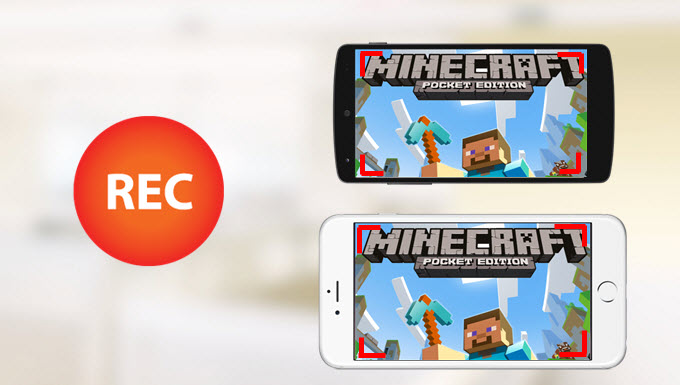 Minecraft is a popular PC game which allows users to create structures by breaking and placing blocks. Due to its popularity, its creator decides to come up with a lighter version which is known as the Minecraft PE (Pocket Edition). With this version, gamers can now play the game easily on their smartphones. As an enthusiast of this game, you must have wondered how to record Minecraft Pocket Edition and share the recordings to your friends. Recording this game also allows you to tell others some tricks and help them accomplish more tasks. So, this article provides some practical ways for you to record the game on both iPhone and Android.
I. Record Minecraft PE on iOS
1. Apowersoft iPhone/iPad Recorder

Apple is very strict when it comes to screen recording apps. But some developers still figure out some workarounds. One of the most popular ways is by using an application called Apowersoft iPhone/iPad Recorder. It's actually a desktop program that is compatible on both Windows and Mac OS X. This tool is able to sync you iOS device's screen and audio to PC/Mac and allows you to record the screen with just one click. For your video format requirements, this recorder also provides a lot of options like MP4, WMV, AVI, GIF, etc. In case you need Minecraft PE gameplay snapshots, you can just do it by hitting the camera icon on its interface.
To record Minecraft gameplay with this app, here are the steps to follow.
Download and run this Minecraft PE screen recorder on your computer.
Run both your computer and iOS device in the same Wi-Fi environment.
Swipe up from the bottom of your iPhone/iPad screen to bring up the "Control Center". Then, tap on the "AirPlay" icon in the "Control Center", choose your computer name in the "AirPlay" list and turn on the "Mirroring" button. After that, your iPhone/iPad screen will be immediately projected to the computer.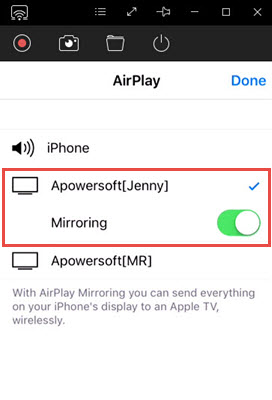 Now open Minecraft PE and play it on your iOS device.
In the meanwhile, to start recording the game, just click the red record button located at the left upper portion of the projected screen.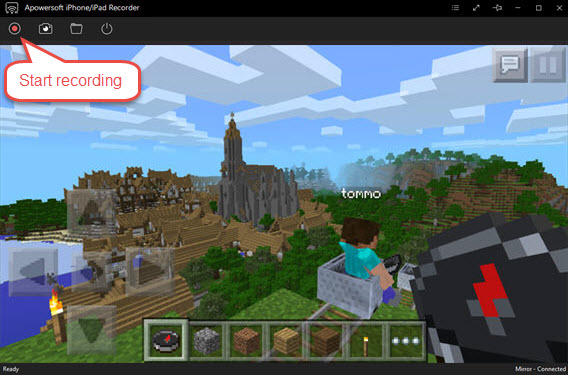 Once done, hit the red stop button (in the same position as the record button) to finish recording. And a folder will pop up with your recorded video in it.
2. Display Recorder

If you want a Minecraft PE recorder that can capture the game directly on your iOS device, then, you can use an app called Display Recorder which is available in Cydia App Store. However, it requires you to jailbreak your iPhone/iPad. Another disadvantage is that it can't record the device's internal sound, but only record the microphone. Therefore, to capture the system sound, you need to put your device in speaker mode.
II. Record Minecraft PE on Android
1. Apowersoft Screen Recorder

If you're using an Android device, then, it'll be much easier to record Minecraft PE. There are plenty of apps on Google Play Store, which enable you to record Android screen directly without rooting. And one of the best is Apowersoft Screen Recorder. It is free and able to record any activities on the screen without any lags. Aside from recording, this tool also lets you configure the recording settings, such as bit-rate, frame rate, resolution and orientation. It even supports front camera recording, which is very useful in making video commentaries while you're playing the game.
Here are the steps on how to record Minecraft PE with this tool.
Open this app, and then, go to Minecraft PE.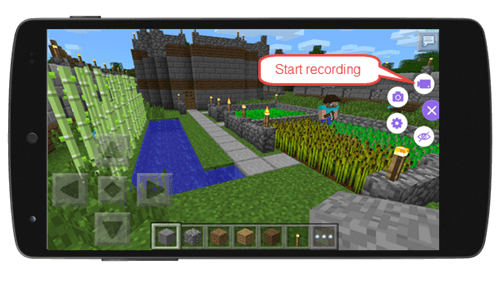 Tap on the overlay icon which floats on the screen to initiate the screen recording.
To end the recording, you can pull down the notification tray and tap on the stop button. Alternatively, you can also tap on the overlay icon and choose the stop button. After that, the recording list will pop up instantly with the recorded video in it.
2. Mobizen

Another well known screen recorder for Minecraft PE is Mobizen. It requires no rooting and is available on Google Play Store for free. So far, it is a decent app to use in spite of some claims of freezing and unresponsiveness. It also provides an overlay icon for you to record the game easily. What's more, it can mirror your Android device's screen to the computer if you've installed the app on both your mobile device and computer.
Conclusion
Those are the ways on how to record Minecraft PE. You can choose any one depending on your device and needs. But on iPhone/iPad, it's highly recommended that you use the first method, because it doesn't require you to jailbreak your iDevice and promises you definitely great quality in recording.