Instagram is a photo & video sharing and social networking application. This tool allows users to capture an image right from their mobile device, and then share it online at once. So far, Instagram caters massive amounts of images and videos shared by its users. Unfortunately, Instagram does not support direct downloading of images uploaded on its data base. That is why many individuals are wondering how to save Instagram pictures. There are many solutions suggested on the World Wide Web, and one of the best ways to grab photo on Instagram is by taking screenshot. Know more about this process as this post continues.
How to Save Instagram Pictures
Saving Pictures on PC
To save Instagram pictures, you can use a program called Free Screenshot Capture. This is a web-based screen capture application that is capable of capturing anything from your screen, let alone Instagram pictures. Aside from taking screenshot, this app has a built-in annotating tool that could help you add lines, shapes, texts, highlight, etc. It even has an image uploading tool in case you need to share your captured image with codes and links.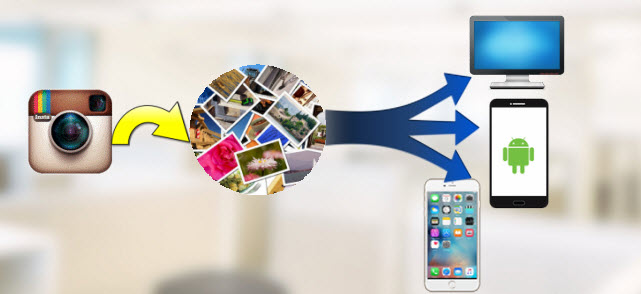 Here are the steps on how to save pictures from Instagram with this tool.
Go to Free Screenshot Capture's official page, and click the "Take Screenshot" button. Wait till the application appears.
Once it is launched, sign into your Instagram account and display the image that you want to capture on the screen.
To take screenshot, simply hit the "Camera" icon on the screenshot tool's interface. Next, click, hold and drag your mouse to select the image.
Release your mouse, and a screenshot preview of the image will be displayed together with an annotating tool which allows you to add annotations to the image.
In saving the screenshot, you can either save it on local folder, share it to various social media sites, or upload it to the free cloud storage provided by the developer.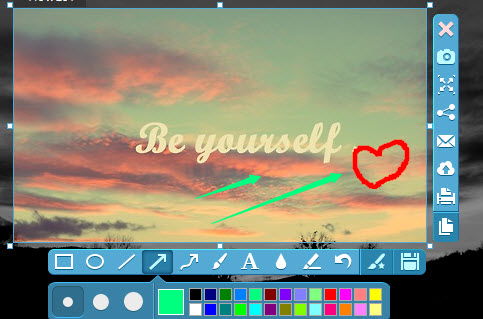 This tool also has a desktop version which is even more powerful. It has more than 10 screenshot modes, a robust image editor, a screen recorder and a task scheduler for taking automatic screenshots. You can download it now so that you can use it at any time.
Save Instagram Image on Android
Option one: Using Apowersoft Screenshot
If you are using an Android device, the best way for you to save picture from Instagram is by utilizing a mobile app called Apowersoft Screenshot. This is a free screen capture application that can be downloaded from Google Play. With this tool, Instagram fanatics can easily grab any shared image on Instagram by taking screenshot.
To capture Instagram image, all you need to do is to open the image that you need to save, and then press and hold the default key combo of "Power + Volume down/Home". If you are using Android 5.0 or higher, you can also tap this app's overlay icon to capture a screenshot of the instagam image. Once a screenshot is taken, you can use its instant editing functions to add arrows, lines, shapes, texts, mosaics, and crop the image as well.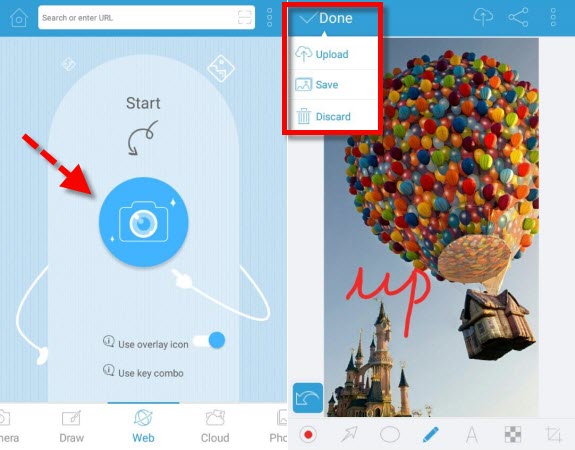 Option two: Using third-party alternatives
1. Photo Saver for Instagram

This third-party application enables users to download any Instagram photos that they like in decent quality. Photo Saver is currently available on Google Play for free. The features that users can expect from this app include the ability to save Instagram photos and videos, share downloaded images, and a search function. It's a fair application to use.
2. InstaSave

From the name itself, this app is designed to save Instagram images right into your own smartphone. This app has free and pro versions. With the free version, you can keep pictures from one's feed, save particular images that you want, grab trending images, and search photos through their specific tags. This tool works well, but the free version is full of pesky advertisements which are quite annoying.
Save Instagram Photos on iPhone
If you are using iPhone, and want to save pictures shared on Instagram. The easiest way for you to do it is using the phone's embedded screen capture function. To take screenshot, just open an Instagram post, then press the "Power + Home" buttons at the same time to trigger the screenshot. Once done, the captured image can be seen in the Screenshots folder under Photos application.
Conclusion
Those are the ways to save photos from Instagram. As you noticed, various solutions are shown in different platform so that you can choose which method suits you. However, to save Instagram image directly on your smartphone, it is advisable to use Apowersot Screenshot, because it is a free application that is loaded with useful functions (image editing, uploading and sharing) that could make your tasks easier.