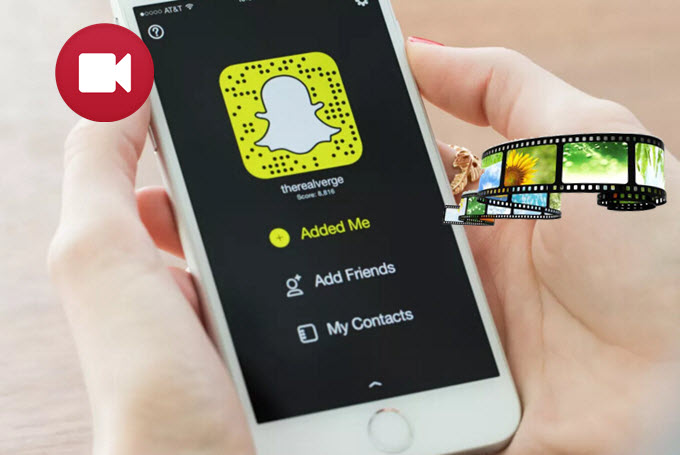 Snapchat is a popular video messaging app for users to send/receive videos, pictures and text messages, which will disappear in several seconds defined by the sender. In using this app, users tend to send some silly and funny "Snaps" of their own to their friends. And also, some of you may wonder how to save snapchat videos for viewing them one more time. In this case, this article provides a practical guide for you to do it on both iPhone and Android.
I. Capture Snapchat Videos on iPhone
II. Grab Snapchat Videos on Android
I. Use Apowersoft iPhone/iPad Recorder on iOS

There is no app for you to grab Snapchat videos directly on iOS devices, so you can save them by recording the video snaps. And Apowersoft iPhone/iPad Recorder is the best tool to do that. Once you've set your iOS device and your Mac/PC under the same Wi-Fi network, this tool can mirror iPhone/iPad screen to your Mac/PC without any lags. After that, you will be able to record or screenshot Snapchat videos and pictures. And the sender won't be notified. Plus, you can also customize the video's format (MP4, AVI, WMV, GIF, FLV and the likes), resolution (720p and 1080p), audio input (system sound/microphone), etc.
To record Snapchat video with this program, here are the detailed steps to follow.
Download and install this app on your Mac/PC.
Set your computer and your iPhone/iPad in the same Wi-Fi network. And then, launch this application.
Swipe up from the bottom of your iOS device, tap on the AirPlay button and choose your computer name in the AirPlay list.
After that, your iOS device's screen will be projected to your computer. Click the red button on the top left of the projected screen to start recording. At the same time, play the Snapchat video you want to capture on your iPhone/iPad.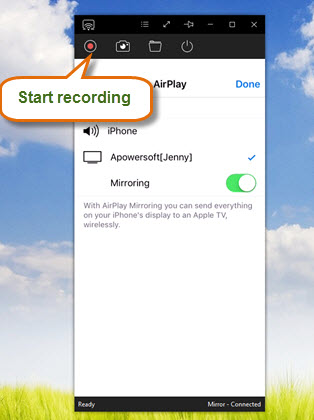 To finish recording, just tap on the red rectangular button on the top left to stop recording. A new window will pop up with your recorded Snapchat video in it. And the sender won't know that you've saved this video.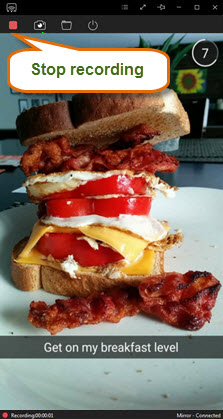 Tips: The above way enables you to save video from Snapchat on computer, but if you want to transfer them to your iPhone, you can use iTunes, Dropbox or Airmore. It's highly suggested that you use Airmore for it allows you to connect your iPhone to your computer without lightening cable. You can then transfer data (videos, music, images, etc.) between iPhone and PC without any hassle.
II. Use Screen Recorder on Android

To capture Snapchat videos on Android without notification, recording screen is also the better way. There are plenty of screen recording apps on Google Play for you to use. Among them, Apowersoft Screen Recorder is one of the best options. This app enables you to directly record anything happening on your phone's screen, as well as take screenshot. It also provides multiple settings for you, including resolution, bitrate and frame rate for the videos. You can even record the front camera so that you can add your facial expressions into the recordings.
Follow the steps below to learn how to save Snapchat video with this app.
Launch it and press the record button on its main interface. You can also utilize the overlay icon which floats on the screen all the time, making it more convenient to start recording.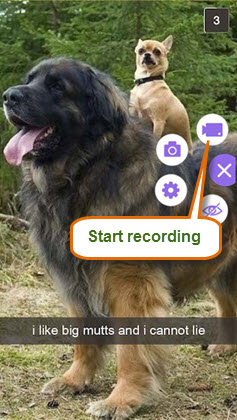 Play the Snapchat video you want to save.
Lastly, tap the overlay icon and press the stop button to finish recording. After that, the video will be automatically saved to the Gallery app.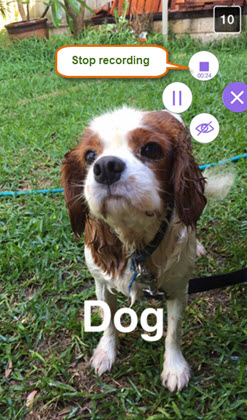 Tips: You can also take screenshot of Snapchat with this app's overlay icon. And the sender won't get notification, either.
Conclusion
This post gives a full instruction for you to secretly save Snapchat videos on both iPhone and Android. Those two tools are both easy to use and allow you to capture screen as videos or images in high quality.