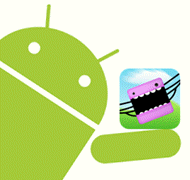 Screen Muncher is a screen capture application that is available for Blackberry devices. Aside from its ability to capture screen, this app is also known for its funny and cute cartoon design, which munch the screen every time you take a screenshot. Unfortunately, this tool is only available for Blackberry OS. If you want to capture in-app moments, certain Tweets, Facebook posts, recipes and maps on your Android phone, you can get an app that is similar to Screen Muncher. This article introduces you several choices, and you can definitely find your best Screen Muncher app for Android.
Best Screen Capture Apps to use
1. Apowersoft Screenshot

Just like Screen Muncher, this tool is free, and you can get it from Google Play. This mobile screen cap tool features two screenshot methods. One is the overlay icon which is available on Android 5.0 and higher. The other one is pressing the "Power" + "Volume down/Home" buttons at the same time, which is available on all Android versions. Aside from taking snapshot, this tool also has an embedded annotating function which allows you to add lines, texts, arrows, and many more. After editing the screenshot, you can directly share it to other apps on your phone or upload it to cloud storage provided by the developer.
To take screenshot with this Screen Muncher for Android, here are the steps to follow.
Download and install this app on your phone.
Open the app and click the "Start" button on its starter interface.
Now, to take screenshot, just tap the overlay camera icon or press the "Power" + "Volume down/Home" keys simultaneously for 2 seconds.
Then, the screenshot will be automatically loaded in the image editor. Annotate it as you like.
When you're done editing, tap "Done" > "Save" to store the screenshot on your phone. Or you can also directly share or upload it so that you can access it on computers.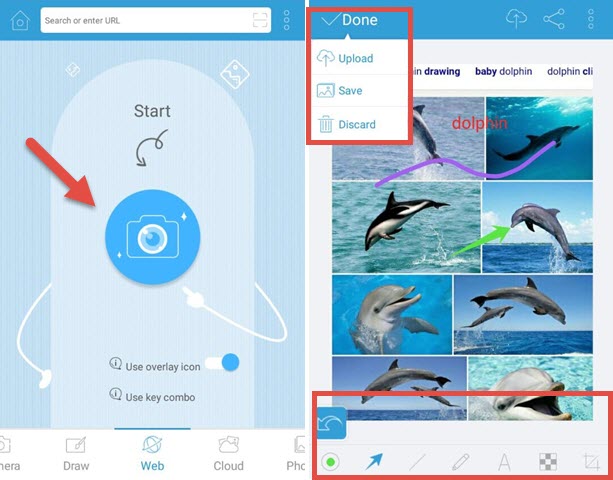 2. Super Screenshot

Another screen muncher on Android is Super Screenshot. This is a free mobile screen capture app that you can download from Google Play. By using this Screen Muncher alternative, you can easily take screenshot by simply pressing the "Power" + "Volume down/Home" keys. It also features an image editor, which can be used for resizing, scribbling, adding texts, filters, etc. Plus, it offers an image sharing function for easily sharing your captured picture to different social media sites. However, it does not have other trigger modes aside from key combinations.
3. Screenshot

This tool provides screen capture capabilities just like what Screen Muncher does. With this app, you can easily take snapshot of your phone's screen using its overlay icon or simply shaking the device to trigger the screenshot. Apart from taking screenshot, this app is also equipped with a basic annotating tool for drawing lines, texts, and shapes. Once you're done, you can send your captured photos to other apps by using the tool's instant sharing function.
4. Screenshot Snap Free

This Screen Muncher app for Android is capable of capturing your screen by simply pressing the Android default key combination ("Power" + "Volume down/Home" keys). You can also get editing functions like drawing arrows, shapes, adding texts, zooming, cropping image, and many more. Aside from these, this app also allows you to set the edited photo as background image. And it supports sharing captured image to numerous social sharing sites. The only drawback that this tool has is the annoying watermark which can only be removed by its paid version.
Conclusion
If you want to download Screen Muncher for Android, you can choose any one introduced above. However, to have a complete screenshot experience, it is advisable to use Apowersoft Screenshot. This tool is packed with different useful functions (instant editing, uploading and sharing) aside from taking screenshot, and you can use it anytime for free.