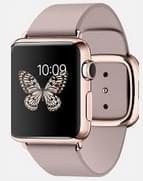 Apple Watch is the most personal product Apple has ever made. It has two sizes of 38mm and 42mm; and three collections of the Apple Watch Sport, the Apple Watch and the Apple Watch Edition. It can be wirelessly connected to iPhone so as to perform many functions like calling and texting. Aside from those functions, Apple Watch can also monitor your heart rate, show your location or a route on a map, receive emails and so on. It has so many cool features that you may be eager to share with other people. One of the best ways to realize this need is by taking screenshot on your watch. This article will tell you how to screenshot on Apple Watch.
Steps for Taking Screenshot on Apple Watch
Where to View the Screenshot
Make the Screenshot Appear on Apple Watch
Share/Upload Apple Watch Screenshot
1. How to Take a Screenshot on Apple Watch
Apple clearly recognizes that how important it is for users to take screenshot on Apple devices and share them to social networks. So you can easily grab screen on an Apple Watch. It is as simple as doing it on an iPhone. Here are the steps for you to get start.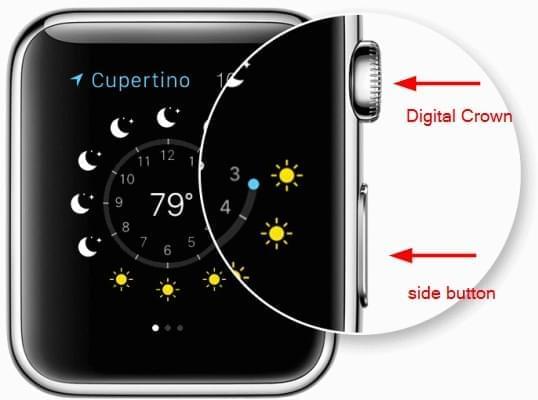 Display whatever you want to capture on the screen.
Press the Digital Crown and the side button at the same time. The screen will blink white and you will hear a camera shutter sound which indicates that the screenshot is taken successfully.
2. View the Screenshot
If you look in the Photos app on your Apple Watch, you will find that the screenshot you've taken is not there. So, where is the image? Actually, it was sent to the associated iPhone. To view the screenshot, you need to open the iPhone's Photos app. And you'll find it right there in the Camera Roll.
One thing you should note is that Apple Watch screenshots are in a relatively low resolution due to the device's small display. So they will look be in inferior quality when being viewed on your high resolution iPhone.
3. Make the screenshot appear in the Apple Watch Photos app
If you want to see the screenshot on your watch, here is a solution. Open the Apple Watch app on your iPhone and select "Photos". Here you can choose to sync an album with your Apple Watch. And the images in that album will display on your watch. Therefore, next time you take a screenshot on Apple Watch, the screenshot will accordingly appear in the Photos app on your watch.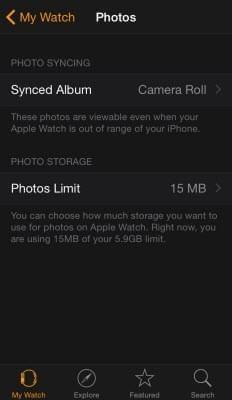 4. Share and Upload Apple Watch Screenshot
Since the screenshot is saved to your associated iPhone, you can easily share it to any other applications you previously installed. Aside from sharing, you can also upload it to an image hosting site which will give your several links to the image so that you can embed the screenshot in blogs and forums. Here is an image hosting site for you — Free Image Uploader. This application is ready to use below.
Tap "Browse and Upload images" > "Choose Existing", then select the Apple Watch screenshot to upload. You will be given links to this screenshot when it is uploaded. Use them to insert the screenshot in blogs.
This post gives you a comprehensive guide on how to take a screenshot on Apple Watch, as well as share and upload it. Now you can share interesting stuff and provide tutorials to others any time you want.