Zenfone 2 is the latest smartphone produced by Asus in 2015. This 5.5-inch phone comes with high-end specs, 1028p display and a clean UI that is aesthetically pleasing to people. Its dual-SIMs feature also attracts a lot of people. It is one of the most competitive phones in the market in 2015. Aside from this model, Asus also produced several other models in this Zenfone series in recent years. There are Zenfone 4, 5 and 6. Just like on all other popular phones, people usually need to make screenshots share them to their friends. Aside from showing off the high-resolution screen, screenshots are also helpful for collecting beautiful wall papers, saving interesting conversations and reporting malfunctions of apps. This article will give you a comprehensive guide on how to take a screenshot on Asus Zenfone 2/4/5/6.
1. Utilize Handy Screenshot App
2. Use Physical Key Combination
3. Utilize the Recent Apps Key
4. Make Use of the Quick Settings Panel
I. Apowersoft Screenshot

With this free tool, you are able to take screenshot in other apps, as well as grab any area of a webpage on your Zenfone. Other than taking screenshot, this app also has an advanced image editor for you to edit any images on your phone. You can add lines, arrows, texts and mosaics to any images on your phone. There's also an option for you to upload images to the cloud so as to save memory storage on your phone, you can choose to upload some pictures with this app. It only takes a click to upload the image without registration. Here are the steps on how to screenshot a webpage on Zenfone 2/4/5/6 with this app.
Download and install this app on your phone.
Open it and go to a website with its built-in browser. Click the blue camera icon at the right bottom of the page. Three screenshot options will appear as illustrated in the screenshot below. The one on the top is for capturing a region, the middle one is for grabbing a full webpage screenshot, and the last one is for taking screenshot of the current visible contents. Let's take the last screenshot option for example. When you press on it, you will be directed to the image editor directly.
Mark your screenshot with drawing tools at the bottom. You can add lines and arrows to emphasize an important region or use mosaics to cover sensitive info.
Tap on the "Done" button on the top left to save the edited image on your phone. You can then find it in a folder called "Apowersoft Screenshot" under Gallery.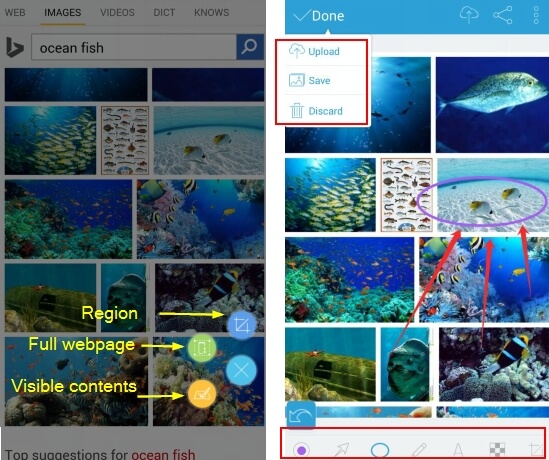 II. The Standard Android Method
As Asus Zenfone 2 and previous versions run Android OS, you are able to take a screenshot by using the Android standard method of pressing the "Power + Volume down" buttons simultaneously. There will be a camera shutter sound and an animation on the screen, indicating that the screenshot is taken successfully. To see the screenshot, just go to the Gallery and find it in a "Screenshots" folder.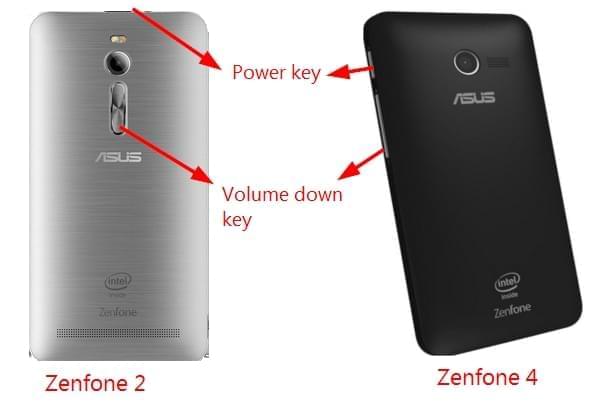 However, this way may be a little awkward to perform as the Volume buttons are set on the back of Zenfone 2 like LG G3 and G4. So Asus provides other better ways for you to screenshot on Asus Zenfone 2/4/5/6.
III. Take Asus Zenfone 2 Screenshot with Recent Apps Key
On some Asus tablet, you are able to take a screenshot by long pressing the recent apps key. Now it is available on Zenfone phones, too. It is the double-collapsed rectangular button at the bottom of the phone. To grab a screenshot with this key, you need to enable it first.
Go to the settings page on this phone, and scroll down to "Asus customized settings". Tap on the "Recent app key" and choose "Tap and hold to capture screen" when a pop up appears.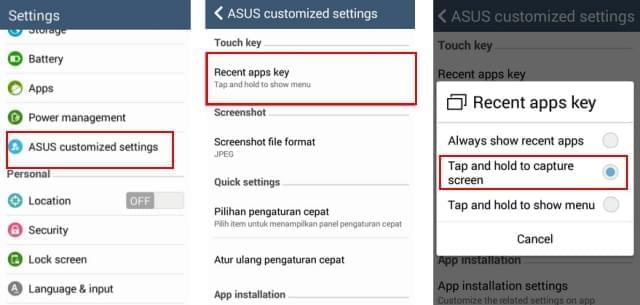 Once it is enabled, display what you want to screenshot on the screen, and then long press the recent apps key until you see an animation on the screen. The screenshot made in this way is also saved to the Gallery.
IV. Screenshot from the Quick Settings Panel
This method is only for you to screenshot Asus Zenfone 2. It is not available on Zenfone 4/5/6. You need to do some settings before you make use of this method.
Pull down the "Quick settings" menu and tap on the edit icon on top, which is the first one from the left. Scroll down the tools list and find the "Screenshot" option. Check the box besides it. But notice that you can only have 4 tools enabled. So, you need to disable another tool when you check the "Screenshot". After that, tap "Save", and go the screen you want to capture, pull down the "Quick settings" panel and tap on the screenshot icon. A screenshot of the current screen will then be captured. Find it in the Screenshots folder in Gallery.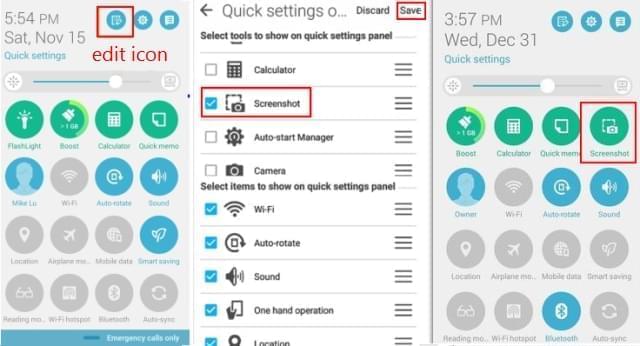 Extra Tips for Uploading Screenshot on Asus Zenfone 2/4/5/6
Uploading images to cloud not only enables you to access them on different platforms (computers, tablets and phones), but also save your device more storage memory. If you need a free cloud space to store your images on your Zenfone, Free Image Uploader is a good choice. Once you've uploaded an image here, you will get links to it, which gives you the convenient to insert the image in blogs and forums. The uploader is ready to use, just click the "Browse and Upload images" button below to start your uploading.
Conclusion
This post gives you an overall tutorial on how to screenshot Asus Zenfone 2/4/5/6, as well as upload the snapshots to free cloud. Asus has made it much easier to access this function, so you can use any of its built-in options as you want. If you need more functions like editing and instant sharing, then Apowersoft Screenshot will be helpful. As for uploading screenshots, Free Image Uploader is always there for you.