Microsoft Edge is the default browser for Windows 10, which is made to replace the old Internet Explorer. This latest browser features new functions like a reading mode, annotating tool, and Cortana which is a digital assistant. No matter you want to show others the cool features of this web browser or need to keep contents on webpages, taking screenshots is the best solution. In this case, this article will tell you how to screenshot in Edge browser.
1. Screenshot any region in the browser

In taking Microsoft Edge screenshot, it is advisable to use lightweight and easy-to-use app called Free Screenshot Capture. It is a web-based screen capture application that can help you capture anything on the screen. This app features a simplistic interface, a quick image editor that enables you to add lines, shapes and texts, and instant uploading and sharing options.
Here's how to take screenshot in Microsoft Edge.
Simply go to the page of this application, and click "Take Screenshot" to launch the screen capture tool.
Once the tool is launched, just open the page that you need to capture from Edge.
Click this screenshot tool and hit the camera icon on its interface. Then your mouse cursor will turn into a blue crosshair.
Click, hold and drag your mouse to capture a region on the webpage, and release the mouse.

After that, the quick image editor will show up. You can add annotations to the screenshot as you like.
Hit the save button to keep it on your PC. Or, you can also upload it to the free cloud space. Once it is uploaded, you will get links to it, which you can use to insert the screenshot in forums.
Pros: It has a user friendly interface, various annotations and image sharing and uploading options as well.
Cons: It is a web-based application, so it won't work without network. However, it has a desktop version that you can use, instead.
Free Screenshot Capture's PRO version has even more cool functions. It comes with more than 10 screenshot modes, a task scheduler for taking automatic screenshots, and a screen recorder which you can use to make videos. Try this incredible app now by clicking the button below.
2. Capture Full Page in Edge
If you want to print screen in Microsft Edge full webpages, you can use Webpage Screenshot Capture. This is an online-based application that is capable of taking screenshot of full webpages with their URLs. When a full webpage screenshot is generated, you can set your preferred image quality and format (PNG, JPG, BMP, etc.). You can either save the screenshot on local disk or upload it to cloud storage provided by the developer. To use this app, just copy the URL of the page that you want to capture from Edge, and then paste it into the address bar, and then click "Take Screenshot" to go. The application is readily to use below.
Pros: Capable of capturing scrolling web page via its URL.
Cons: It can't capture a specific region on the webpage.
3. Default Way to Take Screenshot
If you need a simple workaround to capture the current webpage on Edge, you can use its default screenshot function which can be found under the "Make a Web Note" function. To take screenshot with this function, all you need to do is to go to the page that you want to screenshot. And click the "Make a Web Note" icon located at the top right of the browser.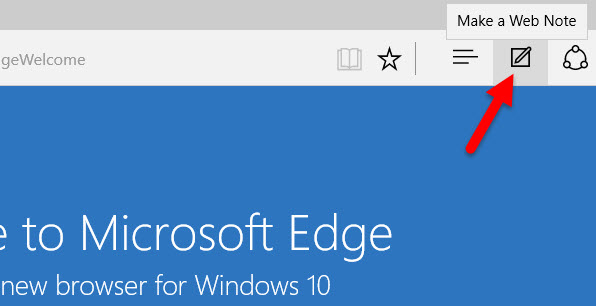 Once you've clicked that button, a purple menu will then appear, expanding a list of options. If you want to take an annotated screenshot, you must annotate it first before taking the screenshot. To draw something, just click the pen or the highlighter. To take screenshot, simply click the screenshot icon and drag your mouse to take a screenshot. The screenshot will be instantly copied to the clipboard after you release the mouse.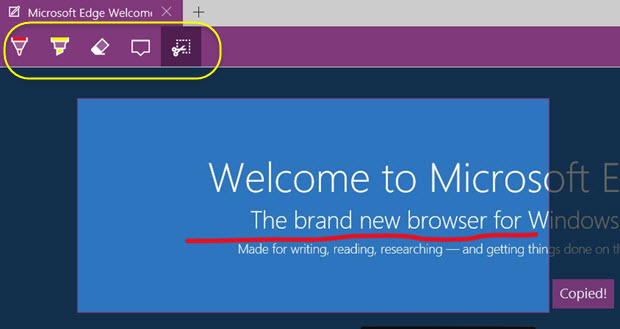 Pros: It's a built-in function that is easily accessible.
Cons: Annotating options are limited and it captures only the visible things.
Conclusion
Those are the ways to screenshot Edge browser. And it is highly recommended to use Free Screenshot Capture's Pro version for it has more powerful functions that enable you to capture anything in Microsoft Edge, including contents beyond the screen.