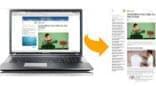 Taking screenshot of webpages is important for web developers, web designers, blog gurus, and even for normal users. Fortunately, the ability to capture screenshot is easy with the help of dedicated keyboard buttons as well as Windows shortcut commands. All you need to do is to hit the key or press several combinations at once, then you can capture what's depicted on your computer screen.
However when you want to screenshot full web page, it requires a certain amount of talent as well as patience because you need to capture one section at a time then combine it into one. To deal with this problem, users can improve the overall efficiency by using convenient, efficient as well as free webpage screenshot tools. Check the video as well as the reviews for liable solutions after the jump.
I.Best Solution-Webpage Screenshot Capture Tool
II.Other alternative apps for capturing webpage
I. Best Solution – Webpage Screenshot Capture
If you don't want to install additional programs on your PC, Webpage Screenshot Capture is what you need best. With it, you don't have to install anything because it is an online-based application that does everything in the cloud. This tool can capture webpages via URL and it gives you abundant editing options such as annotating, highlighting, inserting texts and all others. Furthermore, it allows you to set specific image size and quality according to your needs.
Using Webpage Screenshot Capture is very easy that even novice users wouldn't find it hard or complicated. All you need to do is:
Click the URL field of Webpage Screenshot that located above.
Simply paste the URL of the website that needs to be captured on the blank search bar.
Click the "Take Screenshot" button on the right.
Webpage Screenshot Capture will automatically grab the entire web page in seconds.
It will generate an page with the webshot, then you can save your file on hard drive or use the same tool to share it online.
II. Other Alternatives to Screenshot Full Web Page
For those who want a more specific and lightweight apps meant to capture full webpages without spending a dime, check out this list below. These tools are 100% free to use, some requires additional plug-ins while others are browser add-ons that needs to be incorporated on your internet viewer.
Webpage Screenshot 

For Chrome fan boys, you can use the extension called Webpage Screenshot to screenshot entire web page easy and effectively. This tool can capture any webpage on the internet in both vertical and horizontal mode. Aside from its powerful screen grabbing features, you can equally use it to annotate, edit, blur sensitive area, create PDF, make thumbnails and all others without installing additional applications.
Using it is very easy. First off you need to install it on your Chrome Browser and a small camera icon will appear on your toolbar. Just click the camera icon to start capturing webpages.
Screengrab 

Firefox is filled with amazing add-ons that can screenshot entire webpage and one of the popular screenshot extensions on Firefox is Screengrab. This tool can capture full webpages and it allows you to upload, save, print, email or export the then saved screenshot.
After installing Screengrab Firefox Extension, just right click the website that needs to be captured and click "Take Screenshot" on the list of available options. You can capture the entire webpage or visible parts depending on your desires.
Capturefullpage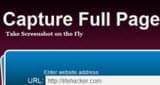 Another online app that can screenshot whole web page is Capturefullpage. Compare to other applications, Capturefullpage doesn't have fancy features but only a dedicated website capturing tool. You cannot edit captured images, send it to social networking sites, store it on cloud drive, etc.
Although this website lacks information on how to use its services, being an online screen capturing site is a clear giveaway. Just copy the URL of the website you need to take image at and paste it on the blank search bar. After which, clicking the "Take Screenshot" button on the right will directly save the page.
Web-capture.net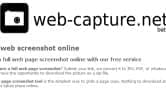 Web-capture is an online tool created to easily capture entire web page without the need to install third party programs on your computer. Moreover, it can convert grabbed images into different file formats online. However, it is still in beta phase meaning bugs and errors might occur from time to time.
To screenshot webpages, paste the link on the blank search bar and choose your desired file format on the right. Hit the "Capture Web Page" button below and wait until grabbing process completes. You could also bookmark the site for easier access.
Shrink the Web

The next way to capture the entire webpage is an app called Shrink the Web. This site allows users capture webpage and make screenshots in thumbnail views. It also has an easy to use platform, and eye relaxing blue and white color. Moreover, this app also has other functions like image cropping, saving, and uploading.
Finally, there are many ways on how to screenshot full web page. You could use browser extensions or online tools that need no installation on your computer. Though, bear in mind that browser plugins are known to slow down your computer and that ads as well as malwares are common problems. On the other hand, the Webpage Screenshot Capture doesn't comes with advertisements and malwares. Furthermore, this tool gives you an extra option to save captured images on the cloud by simply registering a free account.