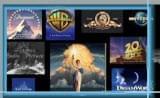 There are a lot of advantages for you to take screenshot of films. For example, it allows you to record your favorite scenes in the films. It makes you recall the whole movie easily when viewing the screenshot of it. Some people also use this method to share hilarious scenes of a comedy with your friends, or keep some particular frames for a presentation or for any other uses. This article will provide several ways for you to take a film screenshot.
The following video will show you how to use Free Online Screenshot to capture film screenshots.
I. Various Ways to Screenshot Film on Windows
II. Methods to Capture Film Screenshot on Mac

I. Methods of Creating Film Screenshots on Windows
1. Use Keyboard Shortcuts
As we all know that using the "Print Screen" or "Alt + Print Screen" key(s) is the simplest way to capture screen on Windows. However, the screenshots taken in this way are either in full screen or complete windows which need to be cropped. This way is suitable for you to quickly capture a film scene and preserve it to your computer.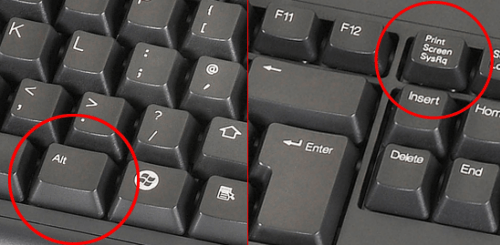 Pros: Simple and no need to install extra programs.
Cons: Image captured this way are in clipboard as default and you have to save them using other tools like Paint.
2. Employ Comprehensive Screenshot Tool for Windows
The best way to snapshot film is by using a third-party screenshot tool called Free Screenshot Capture. This application enables you to capture anything visible on the screen. It also provides basic annotating options for adding texts, arrows circles and so on. With this tool, you can email or share the screenshot to your social accounts directly. This application also allows you to upload the screenshot to the free space provided by the developer.
To know how to capture a film frame with this tool, you can follow the steps below:
Play your desired film and pause at the frame you want to capture.
Go to screenshot.net and click the orange button "Take Screenshot". Run Java applet to load this screenshot application.
When starter interface of this tool pops up, hit the camera icon. Then your mouse cursor will turn into a cross-hair. Drag your mouse to capture the area you want, and release the mouse to confirm the film screenshot.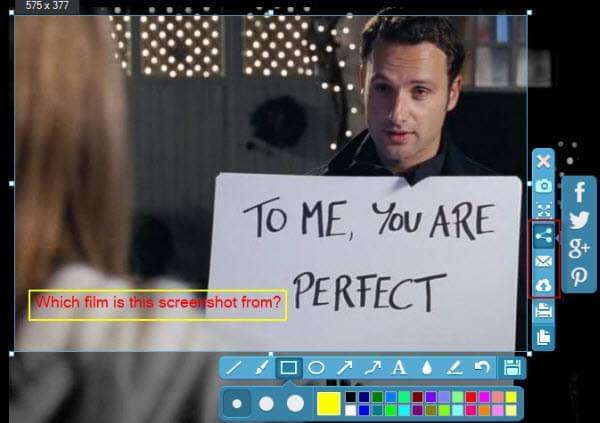 You can make use of the annotation options on the toolbars and then save it to your local drive by clicking the disc button.
This program also comes with a desktop version for you to use without internet.
Pros: You can take, annotate, and upload/share a film screenshot in an instant without installation.
Cons: No option to re-edit the screenshot once you save it.

II. Ways to Screenshot Film on Mac
1. Use Keyboard Combinations
Unlike Windows, Mac OS allows you to capture any part on the screen. You can capture the whole screen by pressing "Command + Shift + 3", grab a specific part by clicking "Command + Shift + 4", and screenshot an active window by hitting "Command + Shift + 4" and then pressing the "Spacebar". All the screenshots will be saved to the desktop. This method is viable for making film screenshots. But the screenshots created in this way are just raw images. If you need to annotate or share the screenshot, you'll have to turn to another program.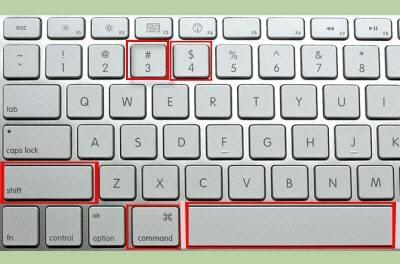 Pros: No need to install any other program.
Cons: It is inconvenient to press three keys together at the same time. If you need to edit the screenshot, you'll have to use another program.
2. Utilize Free Screenshot Program for Mac

Monosnap is a free screenshot tool. It enables you to capture full screen, part of the screen, or a selected window. This program is equipped with an image editor which has many annotating options, such as pen, line, arrow and blur. It also allows you to upload screenshots to the server provided by Monosnap's site as long as you have an account and log in.
To screenshot film with this application, you need to:
Play your desired movie and pause at the scene you want to screenshot.
Open this screenshot program. Click the lighting icon on the menu of this application. Choose "Capture Area" and drag your mouse to capture the film scene.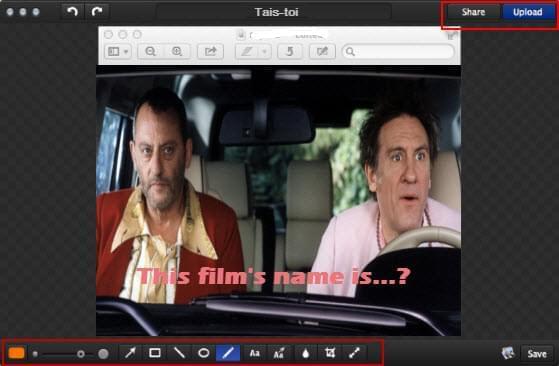 Annotate the screenshot with the options underneath it and save it to your local disk.
Pros: It offers you multiple annotating tools and free Cloud space.
Cons: You have to install it on your Mac.
3. Use Built-in Mac Utility
Another way to screenshot film aside from the methods mentioned above is by utilizing Mac screen capture utility called Grab. This is a default Mac program that is comparable with the Windows Snipping Tool. In capturing film with this program simply look for Grab in "Utilities" and open it. In order to make screenshot click "Capture", and choose a capture mode that you prefer like "Selection", Window", "Screen", or "Timed Screen".

Pros: It's free and easy to use.
Cons: It does not have an annotating tool.
Using keyboard shortcuts to screenshot film is indeed simple and doesn't need extra programs. But this way lacks features like annotating, uploading and sharing which are usually very useful. Professional screenshot tools can not only take high quality screenshots, but also offer other useful functions like annotating and sharing.