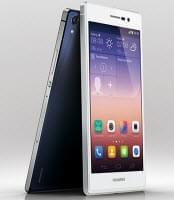 Huawei smart phone is one of the best-selling phones, which enjoys numerous loyal users. When using Huawei phones, some users may want to capture the screen to share their game achievements, distinctive phone themes or problems they meet. Therefore, they would like to take Huawei screenshot. But many of them have no idea about how to do yet. In order to help these users, there're three solutions suggested as follow.
1. Optimal solution – Using Apowersoft Screenshot
2. Default solution – Pressing Power button& Volume down
3. Alternative solution – Using Phone Manager
4. Rooted solution – Utilizing Screenshot it
Solution 1: Best method – Using No Root App
The best way for you to capture screenshot on your Huawei device is by Apowersoft Screenshot. This is a free app that can be downloaded from Google Play store. With this tool users can now take screenshot of any applications and games on their Huawei screen. It also features an inner browser for you to capture regional or entire webpage. Other features that you can get from this app include image editing, uploading and sharing.
To use this app, here are the steps to follow.
Download this app and install it on your Huawei device.
Once it is installed, open it and click the "Start" icon. This will activate the screen cap tool.
After that, you can go to the app that you need to take screenshot of.
Press and hold "Power" + "Volume down" buttons simultaneously for 2 seconds. A flash around the edge of the screen will confirm that a screenshot is successfully taken. Then you will see the screenshot shown in this app's image editor. You can utilize the options available in the editor before saving your screenshot.
Tap "Done" on the top left, you can either save it on your Huawei storage or upload it to a cloud storage provided by the developer.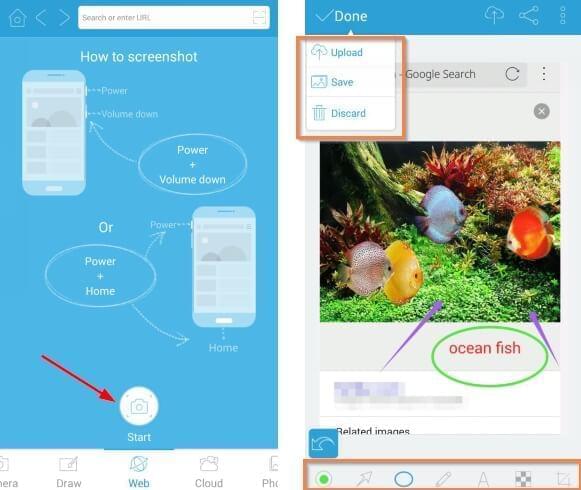 Solution 2: Basic method – Pressing Power button and Volume down button
Like most Android phones, it's feasible to take screenshot by pressing "Power" button and "Volume down" button simultaneously. Once the screenshot is taken successfully, its thumbnail will be shown in the status bar. You can make use of this way to screenshot on Huawei and save any desired scene happening on your mobile to your gallery.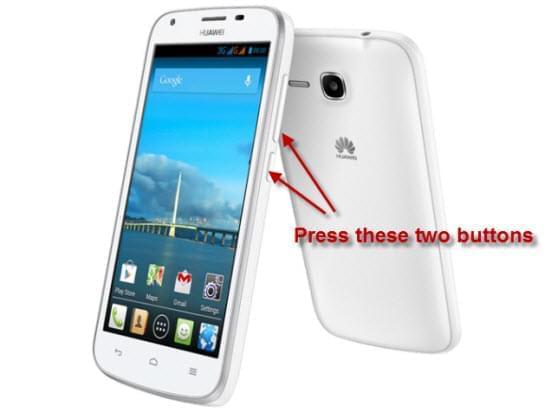 Although this way is convenient, editing options are not available. When you want to make a tutorial of using apps, it fails short to help you to make the screenshots intelligible. The following solutions may make up this disadvantage.
Solution 3: Alternative method – Apowersoft Phone Manager
Apowersoft Phone Manager is an extraordinary tool which is compatible with Android and iOS. It allows you to sync, backup and restore phone data. In the meanwhile, it can project phone screen on PC, then you can use its screenshot function to capture the screen image. Follow the steps below to screenshot Huawei screen.
Download and install Apowersoft Phone Manager by clicking the button below.
Launch this phone manager then connect your mobile to computer.
Once connection is completed, you will see your phone screen displayed on your PC display.
Click the camera icon to take screenshot on your device, you can then select the options of "Copy to clipboard" or "Save to local drive" on the drop-down menu.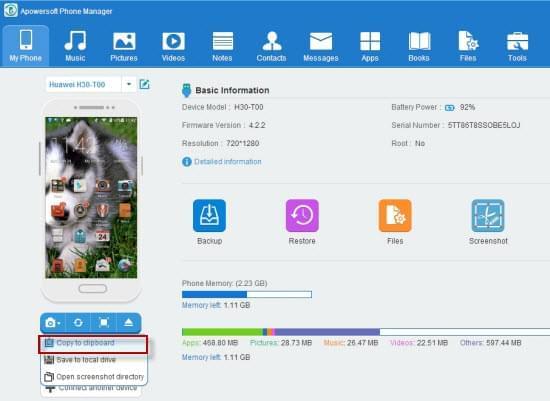 If you want to share or edit the screenshot instantly, there's a web-based application named Free Image Uploader serviceable. Navigate to its site, then browse or drag the screenshot to image blank. After uploading, it allows you to share the images to social media directly, like Facebook, Google+, etc. And the image can be embedded to forums and blogs with provided image link. Besides, you can use its online edit tool to edit images.
Solution 4: Rooted method – Screenshot it
This method is quite useful for those who have rooted their phones. It could help you to screenshot your Huawei screen and save it as JPG or PNG file. In addition, this application features the functions of cropping, annotating and sharing the screenshots. Here're the instructions of using this Huawei screen capture tool.
Firstly, download this app from Google Play and install it on your phone. Secondly, open it and customize screenshot settings, you can choose output format of the screenshot (PNG or JPG) and the way to perform screenshot (shake phone or tap screenshot button). Lastly, shake your mobile or press Screenshot button to capture the screen image. When the screenshot is taken, a dialogue will pop up where you can crop, share, draw and save your Huawei screenshot.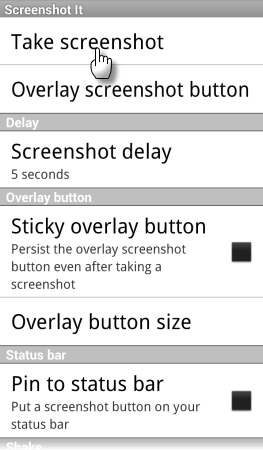 Conclusion:
This post gives you four method for taking screenshot on Huawei phones. As you can see, the first solution of using Apowersoft Screenshot is the best way, because this app not only allows you to take screenshot, but also edit/upload/share the image. Another important thing is that it doesn't require rooting your phone.