Have you ever wondered how you could possibly take a snapshot on your iPad so that you can share with friends your latest record in Temple Run or the level you've achieved in Angry Birds? Fortunately, the built-in capture capability and additional screenshot apps have turned the screenshot process so convenient for Apple devices including iPhone, iPod and iPad. Check out the following options to snapshot iPad.
Option 1: Pressing the Home and Sleep Buttons on iPad
The most commonly known way to make screen capture of anything you view on iPad is probably to press down the sleep/wake and the home buttons at the same time. That way, you can create a picture of anything displayed on the screen easily with no third-party screenshot tool required. To be specific, you can simply follow the guides below to screenshot iPad.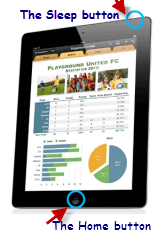 Navigate to app or window that you desire to capture. Next, hold down the Home and Sleep/Wake button simultaneously to snapshot the screen that being displayed. The Sleep/Wake button locates on the top right of your iPad and the Home button is on the bottom of it. Then you will see a flash on it and hear a camera shutter sound which indicates that the screenshot has been successfully taken. Once it's done, you'll find the image within the Camera Roll. Next, you're allowed to share the image among friends and family members via email, text messages, or popular social networks such as Facebook and Twitter.
It's definitely true that the default choice by pressing the Home and Sleep button to take a screenshot on iPad is fairly easy. However, one of the downsides is that this method only workable to snapshot the whole screen on iPad. Besides, this method lacks additional features such as annotations. In this case, you can make use of the following professional screen capture apps that available on iPad.
Option 2: Using Third Party Screenshot Apps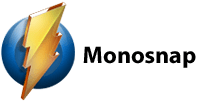 Monosnap – It's a full-featured yet simple application that specially designed for users who desire to snapshot the entire iPad screen or a portion of it. It's compatible with multiple platforms, such as Windows, Mac, iPhone and iPad. To much your convenience, it not only enables you to take screenshot on iPad with ease, but also gives you the ability to annotate the screenshots by adding highlight, text, shapes and blurry effects. After making quick edits, you can save it in your mobile or copy to the clipboard in one click.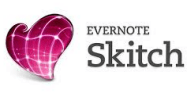 Skitch – It's a screenshot app available on Windows, Mac OS X, Android and iOS devices. Equipped with many basic and advanced features, Skitch is more than a screen capture tool, it also provides plenty of options for users to make annotations and quick sharing. Added to that, it also has a built-in webcam allowing for taking photos and annotating with text, arrows and more if necessary. Anyway, Skitch is an ideal screen capture tool.
Now that you have learned how to screenshot iPad in details by pressing keys on iPad and another more comprehensive way to do the trick within, you can decide which one to use by evaluating the upsides and downsides as described.