Nowadays, smartphones are at their hype. Many users tend to share everything that they have on their screen. Some of them need to screenshot the lock screen to share various lock patterns, lock screen backgrounds, and other modifications done with the lock screen. But not everyone knows how to capture the lock screen. To help out in this case, a brief guide on how to screenshot lock screen will be provided after the jump.
I. Best Way of Using Screenshot App
II. Default Way of Using Key Combo
III. Alternative Way of Using Phone Manager
1. Use Apowersoft Screenshot

To capture a lock screen, the finest way to do it is by using an efficient application called Apowersoft Screenshot. This program is a screen capturing app that is perfectly designed to meet all of your screenshot needs. By using this tool, you can capture anything on your phone, as well as the lock screen. It offers two ways to take a screenshot. You can either tap its overlay icon or press the key combination of "Power + Volume down/Home". This app also comes with an image editor which you can use to crop any images and add lines, shapes, texts, mosaics to them. Moreover, this app even has a "Draw" function that enables you to create sketches with fingertips. All of these functions can be used without any limitations and annoying ads.
To know how to take screenshot of lock screen, here are the steps to follow.
Get and install the app by clicking the download button above.
Once it is installed, open the app and then tap the "Start" icon located at the bottom center of the screen. Press "OK" and tap "Start now" to run the screenshot app on the background.
Press "Power" key to lock your phone, and then press the "Power" button again to display the lock screen.
After that, the tool's overlay icon can now be seen on the lock screen. In order to take screenshot, tap the overlay icon or press the "Power" + "Volume down/Home" buttons at the same time.
A screenshot preview will be shown in this screenshot app's image editor as soon as you unlock your device. From here you can add annotations as you like.
To keep the image on your phone, just tap "Done" > "Save" on the top left. You can also upload the image on cloud storage or share it to different social media sites.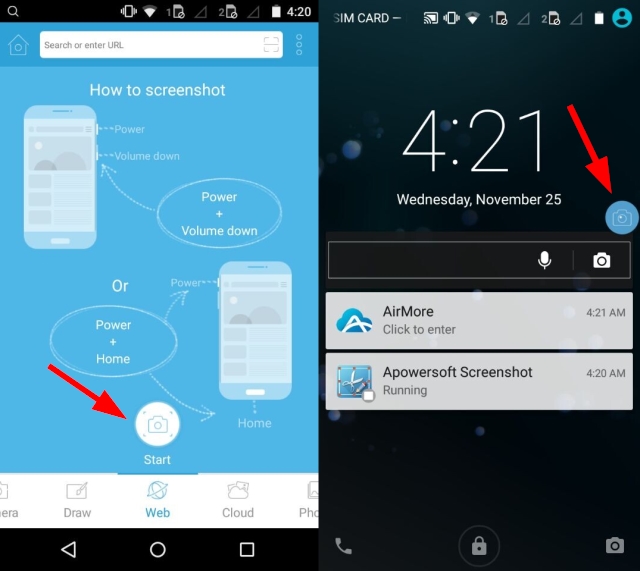 2. Press Screenshot Key Combo
Another way to capture your phone's lock screen is by using the device's default screenshot function. This function is available on all smartphones running Android OS. To screenshot lock screen on Android simply press and hold the "Power" + "Volume down" buttons simultaneously, or press "Power" + "Home" keys on Samsung phones. Hold these keys until you notice a flash along the edge of the screen. The captured screenshot will then be saved on the phones Gallery app. However, this function is limited to capturing screenshot and no other useful functions (editing, uploading, etc.) are included.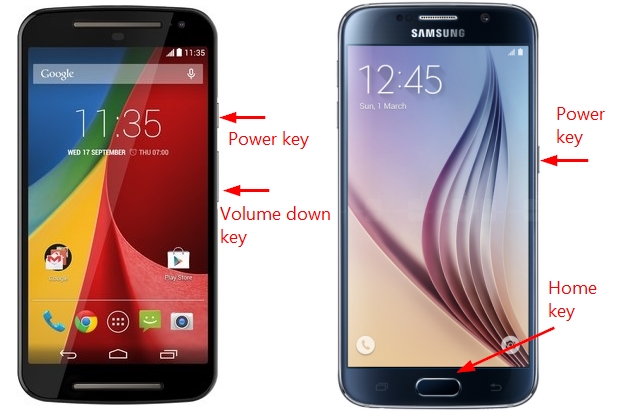 3. Alternative Way to Take Screenshot

If you want to take screenshot of your lock screen and then manage your phone files as well, then try this alternative application called Apowersoft Phone Manager. This is a powerful phone managing program that can handle any applications and data stored on your devices. It can also be used in setting wallpapers, changing ringtones and backing up data. Plus, it has screen mirroring and screen capture function, too.
With the help of this tool you can take a screenshot of your lock screen on PC easily. And here are the detailed steps.
Download and install this app on both your PC and phone by clicking the download button above.
When the app is installed, open the app and then connect your smartphone to your PC via USB cable. Wait till your device is detected. Once detected, all of your phone's info will be displayed on the program's interface along with your screen projected on the left.
Now bring out the lock screen on your phone. Hit the "Camera" icon and click "Refresh screen" on this tool's interface.
Then, the lock screen will be displayed on this tool's interface. Simply click "Save to local drive" and the screenshot will be saved automatically.
To open the captured screenshot, go to "Settings", click "Directory", and then hit "Open Directory". You can also change the saving path there.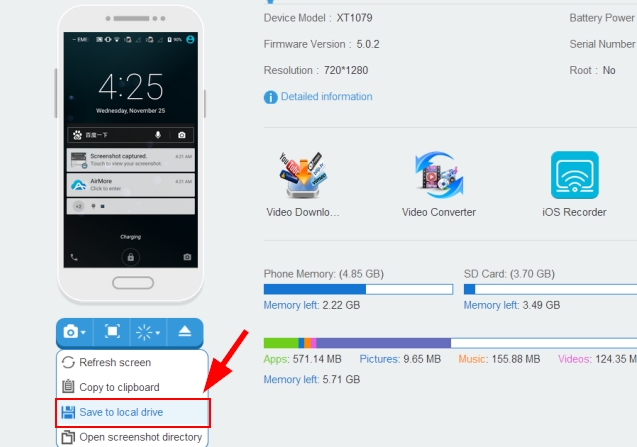 Those are the ways on how to take lock screen screenshot. Each of these methods has its own advantages. However, to make it quick and efficient, it is highly recommended you use Apowersoft Screenshot. Aside from taking screenshot, this tool is also equipped with different functions to fulfill all of your screenshot needs.