There are many reasons for you to take a screenshot of a movie, especially your favorite one. You may need a screenshot of a movie to insert in your presentation, to show others an awesome scene in the movie, or to create your own thumbnail when you upload a film on YouTube. This article will tell you how to take a movie screenshot in several ways.
How to Screen Capture Movie
Screenshot Movies with Keyboard Shortcuts
"Print Screen" on Windows

As is known to all, the most common way to take screenshots on a Windows PC is to press the "Print Screen" key. It is also applicable to taking screenshot of a movie in either window mode or full screen mode. To capture a frame of a movie, it is advisable that you pause the movie when the frame you want appears. If you are using a Windows XP, then you need to play your movie in full mode. After that, hit the "Print Screen" key, go to "Paint" ("Start"> "Accessories"> "Paint"), and press "Ctrl+V" to paste the image on the board. Click the save button on the top menu to preserve it to your local disk.
Key Combinations on Mac

When you want to screenshot the whole screen on Mac, the default way is pressing "Command+Shift+3". To create movie screenshots, you just need to present the scene you desire on the screen, and press those keys simultaneously. After that, the screenshot of that movie scene will be automatically saved on the desktop as a PNG file. You can use some editing programs to modify the graph.
Advantage: You don't need to install any software.
Disadvantage: You have to resort to other programs if you want to crop the image or add some annotations to it.
Screenshot Movie with Free Screen Capture on Windows
It is an online application, so you don't have to install anything extra stuff on your PC. You may check the tutorial video below for intuitive instructions or read into detailed guide beneath the video.
It allows you to screenshot anything on the screen. Aside from taking screenshots, this app also enables you to edit the screenshot when it is confirmed. When the screenshot is created, you can also upload the screenshot to the Cloud run by the developer or click the share button to post the graph to your social network. If you upload it to the Cloud, you will receive a direct link, a HTML link and a BB-Code link to the image so that you can share them easily in blogs and forums. Anyway, to screenshot movies with this tool, you need to follow the steps:
Play your movie, and pause when your target scene comes out.
Go to screenshot.net, hit the "Take Screenshot" button and run Java applet. When the application is loaded, the interface of this app will pop up.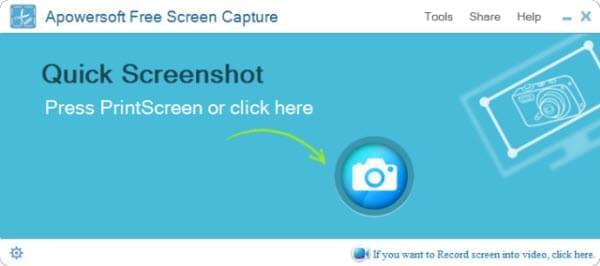 Click the camera icon on the interface of this app, and then your mouse cursor will turn into a crosshair, drag your mouse to select the scene in the movie and release your mouse to confirm the screenshot. You can add annotations to the screenshot by using the editing options on the horizontal toolbar.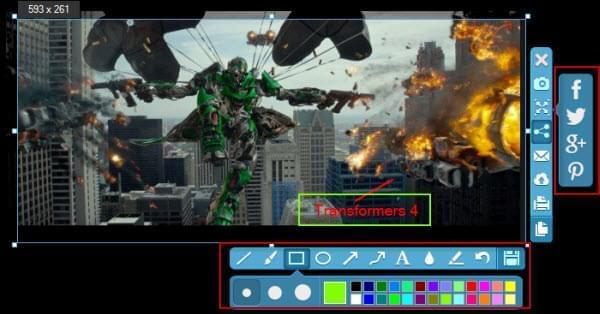 When everything is done, hit the save button to store the movie screenshot to your local disk.
This app also has a desktop version for your offline use.
Tips: If you want to screenshot movie in full screen mode, you just need to press this app's screenshot hotkey when you watch the movie in full screen mode. On this app, there are two default shortcuts for taking screenshots, namely "Print Screen" and "Ctrl+Q". You can also set your own hotkey to take screenshots: click "Tools"> "Options", and then customize the hotkey.
Advantage: It enables you to take screenshot, annotate and share the image at one time.
Disadvantage: The social network options are limited.
Snapshot movies with Monosnap on Mac

As for Mac users, Monosnap is a good choice for taking screenshots of movies. It is a free program which enables you to take a screenshot in three modes (full screen, part of the screen and a selected window). You can also customize the screenshot hotkeys to make it more convenient to take a screenshot of the movie that you are watching. Other than taking screenshots, this app also provides editing options and cloud storage.
Advantage: It allows you to take screenshots, edit and share the image in one click.
Disadvantage: You have to install it.
Summary
This post tells you several ways on how to take a movie screenshot. One is by using the keyboard shortcuts, the others are by using third-party tools. As we can see, it is wise for us to use these third-party screenshot tools because they offer bunches of extra practical functions like editing, uploading and sharing.