Another line of smart phone that we have in the market today is Alcatel One Touch. These smart phones were manufactured by Alcatel-Lucent and TCL Communication. So far there are different models that came up from this line, including One Touch Evolve, One Touch Fierce, One Touch Idol, etc. Capturing screenshot on Alcatel One Touch is essential for it allows the users to save an important post, private message, share game play achievements, capture a certain application, and many more. But do you know how to screenshot Alcatel One Touch Evolve, Fierce, Idol, and other models? Actually, there are different ways to do that and some of the efficient ones are shown after the jump.
Capture Screen with Handy Tool

Apowersoft Screenshot is a light-weight yet full-featured app for capturing screenshot on Android phones. You can capture screenshots in other apps without rooting your phone. Or, you can also use its built-in browser to capture a region or the visible contents of a webpage, even the whole page with contents beyond the screen. Apart from taking screenshots, you are also able to edit any photos and screenshots on your phone. What's more, this app provides free cloud space for you to store images, as well as direct sharing within the image editor. You can follow the steps below to learn how to screenshot Alcatel One Touch with this app.
Download and install it on your phone.
Navigate to a webpage you want to capture with its built-in web browser and click the blue camera button on the right bottom.
You will be given three options to take a screenshot. The first one is for capturing a specific region, the second one a full webpage, the third one the present full screen. For instance, you choose the last one.
A screenshot of the current full screen will appear in this app's image editor. You can annotate it with arrows, lines, texts, etc.
Click the "Done" button on the top left, and tap on the "save" button to store the image on your phone. You will find the graph in the "Apowersoft Screenshot" folder under Gallery. Alternatively, you can also choose to upload it to the free cloud space so as to save storage memory of your phone.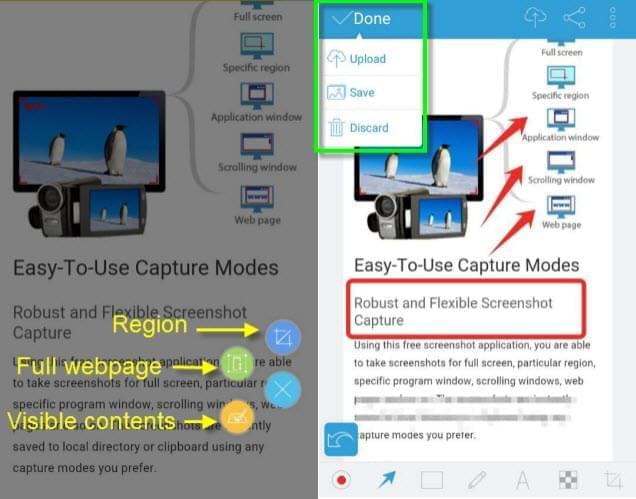 Tips: To take screenshot in other apps, you need to press the "Start" button on the front page of this app. Then take screenshot in other app by pressing the "Power" + "Volume down" buttons at the same time, or tapping on the overlay icon if you're using Android 5.0 and higher. After 2 seconds, you will see the screenshot in this app's image editor.
Default Way to Screenshot Alcatel One Touch
Just like what other Android devices have, Alcatel One Touch also has a default print screen function that is included in its system. So the users can easily take screenshot on their smart phones by just pressing the set key combinations. To make an Alcatel One Touch screenshot, all you need to do is to press and hold "Power + Volume down" buttons at the same time. There will be a white flash on the screen, indicating that a screenshot is taken. To view the captured images, simply go to the phone's "Gallery" application. Though this method works well, it is limited to taking screenshot and has no editing and sharing functions.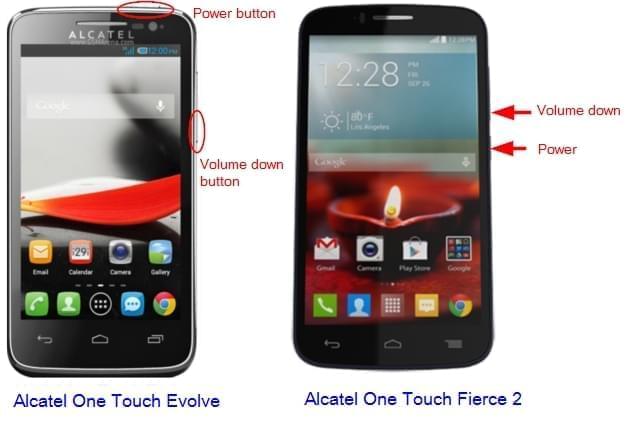 Use Other Mobile Applications
Screenshot Easy

Another way to screen capture Alcatel One Touch is by using a mobile application like Screenshot Easy. This tool can be downloaded on Google Play Store for free. It has many ways for you to trigger the screenshot function like overlay icon, notification icon click, shake and button combo. If you're fond of physical button, then you can trigger screenshot by holding "Power" button and "Volume down" button for 2 seconds. Plus, Screenshot Easy also allows you to edit the screenshot and share it directly.
Screenshot

This is another app that you can use to take screenshot on Alcatel One Touch. You can get this app from Play Store. This tool enables you to preview the screenshot, add mosaic and texts to it. It also has a simple interface which is great for first time users. To capture screen with this tool you must press and hold "Power + Volume down" all together for moment till a flash along the edges is shown. The screenshot will be saved to the "Screenshots" folder in the "Gallery" app.
Screenshot Snap Free

This app comes with a lot of useful functions. It's also a good app for you to screenshot on Alcatel One Touch Fierce, Evolve, etc. Aside from taking screenshot, you are also able to edit the screenshot with lines, texts, etc. When the screenshot is done, you have options to save it to your phone or just share it to social media sites like Facebook, Google +, Twitter, Picasa, etc. In order to take screenshot with this mobile app you can do it by holding the "Power" key and "Volume down" key simultaneously. The captured photo will be automatically saved under "Screenshots" folder located at the Photo Gallery app.
There are a lot of different ways on how to take a screenshot on Alcatel One Touch. Anyway, it still depends on users' preference on which method and tool they choose. The default method is always handy, but has no additional useful functions. So, it's highly recommended that you use Apowersoft Screenshot for it allows you to capture full webpages and provides editing, uploading and sharing options.