Dell wins an overwhelming majority of users for its favorable customer service and the most affordable prices as compared with other brands of computers. However, one thing that Dell Users still complain about is that they have no idea on how to capture screen as image at ease. Though some of them may choose to press "PrtScn" or "Fn+PrtScn" keyboard shortcuts to snapshot on a Dell desktop and laptop PC. However, the method of taking screenshot by pressing "PrtScn" lacks additional features like making annotations, capturing the part that extends beyond the screen, etc. To deal with it, you can check the following solutions on how to take a screenshot on a Dell.
I.Capture Dell Screen with Professional Tool
II.Utilizing free yet powerful screenshot utility
III.Using Windows built-in screenshot tool
IV.Making use of browser extensions
I. Professional Application to Capture Dell Screen
If you need a more accurate and accountable means to take screenshot on Dell, then Screen Capture Pro is the one you are looking for. This professional screen cap tool is designed and created to meet all of the users screen capture needs. In taking screenshot with this app, you can take advantage of its 10 capture modes, 2 image editors, and a task scheduler, which can rarely be seen together in one program. Plus it provides various options to save and share your captured screenshot.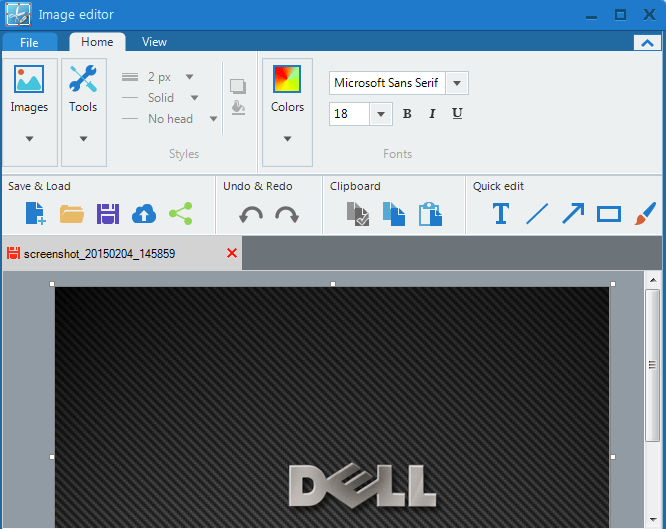 To use this program simply follow the steps:
1. Download the Screen Capture Pro by clicking button below.
Download
2. Once installed, open something that you want to capture such as a program, video clip,game, etc.
3. After that, choose one capture mode, and pick the picture editor that you prefer.
4. To take screenshot, just hit the camera icon and wait till the picture preview appeared along with the editor that you've chosen.
5. Now if you wish, you can start adding lines, text, shapes, and effects.
6. To save the captured image on local disk, simply click the diskette like icon.
II. Web-based Tool to Screenshot on Dell
Of the many available screenshot programs, Free Screenshot Capture is our preferred method for it's specialized in capturing webpages. As you'd expected, it is a rich featured screenshot tool that is available for taking screenshots, annotating screenshots, applying special effects, as well as sharing screenshots on various social media sites. It offers a means of capturing screen with a few clicks of mouse or keyboard shortcuts on all versions of Windows OS that run on your Dell computer. With it, you can feel free to take a screenshot of a specific region, whole screen, webpages or even active windows.
To know how to take a screenshot on a Dell computer with this screenshot application, just read on the guides below:
Go to the screenshot.net and tap "Take Screenshot" button.
After the pop-up application appear on your screen, click the camera button or the "PrtScn" hotkeys to take a screenshot.
Once you have chosen the area for screenshot, you can annotate it if necessary.
Hit "Ctrl+C" to copy it and then paste to clipboard or press the save button to store it to your local folder.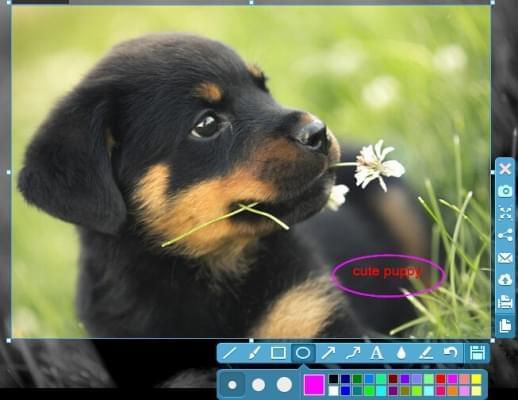 Upon the capture of screenshot, you'll be given plenty of options including instant-uploading option to Cloud space. After the screenshots are uploaded, you will receive three kinds of image links for inserting into post, blog or sending via email, instant messages.
III. Windows built-in Screenshot Tool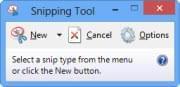 Compared with the traditional method of pressing "Fn + PrtScn" to take screenshot on a Dell laptop, Snipping Tool is perhaps less well known to Windows users. It's a simple yet effective screenshot utility that comes with Windows Vista/7/8. If your Dell computer runs on Windows Vista or 7 operating system, you just need to click "Start" on the taskbar and tab "All Programs" button. Then, you can find "Snipping Tool" in "Accessories" folder. While if it's Windows 8 OS, click "Start" again and search it in the search bar. Now you can select the screenshot mode you want from the drop-down menu of "New" button and start capturing screen on Dell.
IV. Browser Extension to Take a Screenshot on a Dell
ScreenGrab (Firefox)

Among all Firefox extensions for taking screenshot, ScreenGrab is the one that enjoys great popularity for its convenience. With it, you can capture anything you see on the webpage, whether it's a selected region, visible portion or even the complete web page. All these can be done within a few clicks. Using it, you just need to install this add-on to your Firefox. After that, an icon will appear on the top right of the browser. Now you can click the icon and select which region to capture. Once the screen is captured, you can select your desired image format and folder, and then save it on your Dell computer.
Awesome Screenshot (Chrome)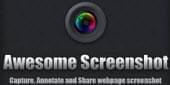 Awesome Screenshot, a versatile screenshot extension for Google Chrome, makes it easy to capture the visible part or even the whole scrolling web page. If you want to know how to screenshot on a Dell laptop or desktop PC with this Chrome extension, just follow the guides. Install this add-on to your Chrome, then hit the lens icon to capture screen. Once the webpage is captured, you can annotate the screenshot with arrows, texts, lines, circles and others. Moreover, it allows you to save the image to local disk directly or send to your friends with the shareable link.
All the methods that introduced above works great to screenshot on a Dell, Snipping Tool is fairly convenient to use, however, it provides very limited editing options and additional features. As for browser extension, it's simple to use but only applies to taking screenshot of web pages. Free Screenshot Capture can meet your needs of taking screenshots, annotating, uploading and sharing images.