iPhone 5s is the 4th generation smartphone made by Apple. This high-range mobile phone features a stunning 4″ touch display with latest technologies, such as Touch ID fingerprint reader and others. For most people, taking screenshots on iPhone is indeed important because they use it to save game scores, quickly capture web pages, save protected images, capture iPhone menu, etc. Luckily there are many ways on how to snapshot on iPhone 5s, check them out below.
Method One: Default Key Combination
Use Physical Buttons
The easiest way to screenshot Apple phone is through the use of physical buttons. This method is so easy to perform that even novice users wouldn't have a hard time figuring things out. All you need to do is to simultaneously press the "Sleep/Wake" button which is located on top and the "Home" button which is the circular knob in front of your device. A white flash will appear on the screen and you will hear a camera shutter sound which signifies a successful screenshot on iPhone 5s. The captured image is automatically saved to your "Camera Roll" in "Photos".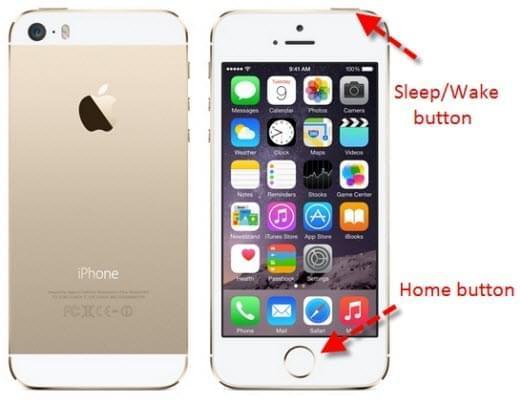 Pros: This method doesn't require specialized iPhone accessory nor third party apps.
Cons: The TouchID might kick in if you are trying to print screen your lock screen.
Utilize Assistive Touch
What if you have a broken home button or a badly damaged sleep/wake button? What if your Touch ID always mistakenly identifies your gesture as something else rather than doing print screen? How do you screenshot on iPhone 5s? This is where the Assistive Touch comes very handy. Just go to "Settings > General > Accessibility > Assistive Touch", toggle the button and make sure it is on.
Go back to your home screen and you should see a transparent grey square, this is the floating assistive touch icon. When you're ready to take a screenshot, just press the Assistive Touch icon and tap "Device > More > Screenshot". Just like in the physical button technique, the image is saved to your "Camera Roll" in Photos app.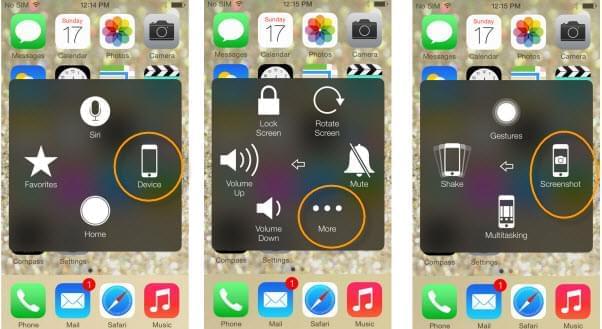 Pros: This technique will not ruin your physical keys if you often take screenshots.
Cons: For some people, an extra icon floating around is unappealing and it requires more than one tap just to take screenshots.
Use Third Party Application

For users looking for a more convenient and advanced way to print screen iPhone 5s, Skitch might be the best solution. It is equipped with many functions. It can take photos and visit your Camera Roll. Other than those, this app also provides a map function and a web search function. You can take screenshot of anything within this app. After taking screenshots, users can equally edit the image by inserting arrows, texts, rectangular, etc. When the screenshot is done, you can store it to your Evernote account, email it or send it to other apps on your Phone.
Pros: Skitch features a bunch of annotating as well as editing tools.
Cons: You can only take screenshot within the app.
Conclusion
Clearly, there are many ways on how to take screenshot in iPhone 5s. If you only need to take screenshots occasionally, using your iPhone's physical button will easily do the trick. But if you are a heavy print screen user, following the assistive touch method will surely save your buttons from wearing out quickly. Lastly, there are applications you can install such as Skitch for an easier and more feature-filled iPhone screenshot taking method.