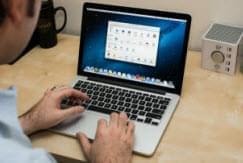 The MacBooks are basically Apple's version of a laptop. However, when compared to a Windows based laptop, they are a lot faster and more reliable. There are different Macbook models you can buy, from the powerful MacBook Pro to new MacBook Air Retina, which is thinner and also a lot easier to use. Taking screenshots on a MacBook is essential especially when you need to share an image of your screen to a colleague at work or send a snapshot of your favorite game to your friends. As a result, knowing how to make screenshots on a Mac will help you quite a lot.
I. Best Solution for Screenshot on MacBook
II. Guide of Using Keyboard to Screenshot on MacBook
III. Other Alternatives
I. Professional screenshot tool for your Needs
Though the most basic screenshot taking functions are incorporated in this operating system, if you want to access more complex functions, such as flexible capture, sharing and uploading with ease, it's better to try and find a professional snapping tool. The best screenshot tool for Mac OS X is surely Apowersoft Mac Screenshot. This utility is also compatible with the Apple Macbook Retina 2015. Aside from the basic as well as more complex functions described above, it also allows you to grab active windows, menus (even drop-downs), but also videos. You can get it by downloading it from below.
The screenshot application will also help you enhance your images using different special effects as well as many markup tools. This is great for annotations since you can customize images in the way you want. As you can see, Apowersoft Mac Screenshot is very powerful and provides a wide range of screen capture features to its users.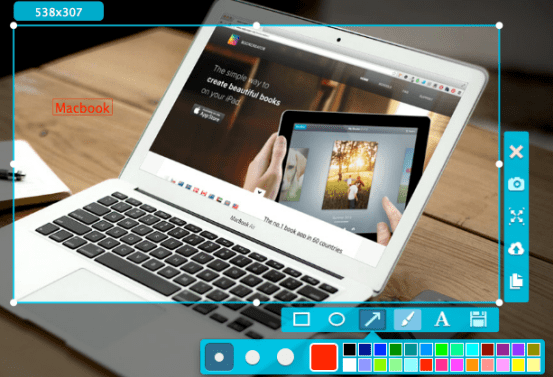 II. How to take screenshots on MacBook Using Keyboard
Apple's OS doesn't clearly state how you can make a screenshot with its default way, but you can easily figure out this trick by following the guides below. In fact, taking a screenshots on a MacBook is quite simple, and can be done in different ways, as follows. If you want to take a screenshot of the whole screen, you need to press the following keys: "Command" + "Shift" + "3". Once you press this combination, you will hear a camera sound which informs you that the screenshot was taken. If you want to take a screenshot of a selection, you need to press: "Command" + "Shift" + "4". Your cursor turns into a small reticule which you can move it anywhere on your screen and select the area you want to include in the snapshot. On top of that, you can also take a screenshot of the currently selected window, just by pressing "Command" + "Shift" + "4", and, after that, pressing "Space".

What's great about MacBook is that they also allow you to save screenshots to the clipboard. In order to do that, you need to perform any of the actions above, depending on the screen area you want to capture, while holding down the "Ctrl" key. After performing this action, the screenshots will automatically be saved on your clipboard and you can paste it in any open application or document with ease.
III. Other Alternative Screenshot Solutions
Aside from the methods above, there are also other tools you can use, and some of them are available online. They might not have the amplitude of Apowersoft Mac Screenshot, and all those wonderful features, but they do help you in other aspects.
1. Webpage Screenshot Capture
Webpage Screenshot Capture is an online application that is used to take full webpage screenshots. It is available on all browsers and any systems. When you want to take a screenshot of a full webpage, you just need to copy its link and open this application in your browser and paste link in its URL address box. After that, click "Take screenshot". You will get a preview of the full webpage screenshot. You can choose its format from PNG, JPG, BMP, etc. Lastly, click "Save image as a file" on the right side of the preview. Alternatively, you can also choose to save it on the free cloud space provided by the developer so that you can access it on any devices with Internet. You can have a try now.
2. Paparazzi
Paparazzi is a small tool for capturing webpage screenshots on Mac OS X. It's able to take screenshot of a full webpage just with its URL. You can also set a fixed size for the screenshot and save it as a PNG, JPEG, TIFF, or PDF image file. Its latest version supports Mac OS X 10.6.8 or later. It's free and accepts donations.
As you can see, there are lots of ways for the question regarding "How do you screenshot on a MacBook". Be it the tools already included in the operating system, or applications that were specifically designed to provide you with complex screenshot grabbing functions, you can easily get the job done within minutes. You can even access screenshots functions through browser extensions or dedicated websites online, so stay assured that whenever you need to take a screenshot on your MacBook, there will be numerous ways of doing it, so you just need to find the right one for you.