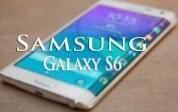 The newest smartphone from Samsung has just been released. Tagged as the Samsung Galaxy S6/S6 Edge, the latest addition to the Galaxy family was unveiled last March 1 in Barcelona Spain. The Galaxy S6 packs a powerful process, newly designed glass and metal housing, curved screen variation, efficient sensors, amazing camera, and many more.
Just like past Samsung Galaxy smartphones, you can take screenshot on Galaxy S6. This is important if you want to save a game score when creating mobile tutorials or demos, take note of special messages as well as data, easily capture images and so on. Luckily, it is very easy to screenshot on your Samsung Galaxy S6, and there are many ways to do this. Whether you want to use the phone's default method or utilize third party apps for a more efficient screen grabbing technique, discover them all below.
I. Make Use of Apowersoft Screenshot

This app is a free handy screenshot tool for Android OS. It allows you capture screenshot in other apps without rooting. This app also has a built-in web browser in which you are able to capture any region on a webpage, even a full scrolling one. Certainly, function of image editing is also available on this app. It can edit any images, photos and screenshots on your phone. What's more, when you are done editing, you can directly share the graph to other apps on your phone or upload it to free cloud space provided by the developer. In order to take screenshot on Samsung Galaxy S6 with this app, you can follow the instructions below.
Click the button above to download and install it on your Galaxy S6.
Enter this app and go to a page you want to capture.
You will see a blue camera icon on the right bottom of the webpage. Tap on it and you will be given three options to screenshot the webpage: capture a region, capture the whole webpage or capture the current full screen. For example, you choose to screenshot a region. You will be given several options to deal with the screenshot.
Tap on the first icon to enter the image editor. Mark your screenshot with lines, texts, arrows, etc.
Lastly, tap on the "Done" button on the top left and click "Save" to store the image on your phone. You can find it in a folder called "Apowersoft Screenshot" located in Gallery.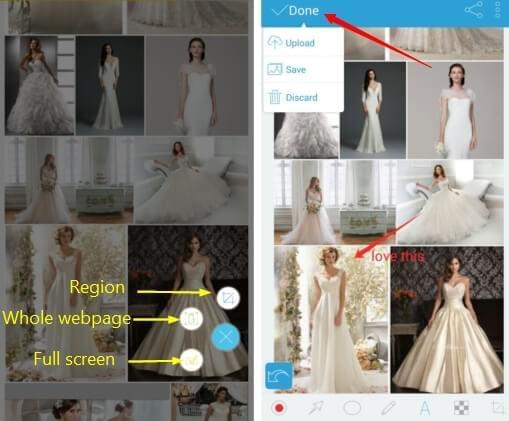 Tips: To take screenshot in other apps with this tool, you must tap on the "Start" button on this app's front blue page. Then you are able to snapshot in other app by pressing the default key combinations of "Power" + "Home". The screenshot will then be automatically opened in this tool's image editor.
II. Default Ways to Make the Galaxy S6 Screenshot
1. Pressing "Home" and "Power" buttons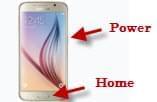 Probably the most popular and easiest way to snapshot on Galaxy S6 is through the use of physical buttons. Pressing the "Power" button on the side and the "Home" button on the front will immediately capture whatever it is that is depicted on the screen.
With this method, you don't need to install additional programs or applications just to screenshot on Galaxy S6. However, do note that pressing the physical buttons on your phone may lead to abrupt wear and tear. Moreover, for users with small hands, reaching those knobs may not come easy.
2. Swiping the Screen to Trigger Screenshot
Another way to make a screenshot on your Samsung Galaxy S6 and S6 Edge is through the use of its built-in sensor. Unlike the use of buttons, this technique requires no pressing of switches. You only need to swipe the screen with your hand until the image is captured. Here follows the detailed steps:
Make sure that "Motions and gestures" are enabled on your S6.
Go to the settings menu and turn the "Motion" feature on.
Enable the "Palm swipe to capture" option by toggling the button on.
When everything's set, prepare the screen or image you want to capture.
Slowly swipe your screen across the display from left to right or right to left.
Upon successful capture, you will hear the screenshot sound and see a brief white flash on the screen.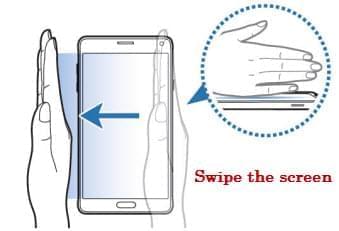 Using this feature to screenshot in Samsung Galaxy S6 makes them a real stand out amongst other smartphones. It is not only convenient but amazingly techy as well. However, not every attempt with swipe to screenshot is successful. The sensors of S6 might not always work 100% of the time. Also, turning the "Motion and gesture" feature on can quickly drain your battery.
III. Screenshot Samsung Galaxy S6 on Computer
Apowersoft Phone Manager is an all-in-one mobile managing tool that is capable to screenshot any mobile screen displayed on PC. Aside from the ability to quickly take screenshots on S6, it can likewise manage, transfer, view, backup and restore mobile files on both Android as well as iOS smartphones. You can also use it to project your mobile screen on PC in real time. On top of its amazing features, it offers three ways to connect your phone; via USB, Wi-Fi or 2D code scan.
To take screenshot on Galaxy S6 using Apowersoft Phone Manager, all you need to do is to download the application on your computer or launch the online version then:
Connect your S6 to PC and after successful device recognition.
Click the "My Phone" icon on top.
On the left pane just below your mobile phone, you will a camera icon.
Just press this icon when you're ready to take S6 screenshots.
After which you have an option to copy the image on clipboard or save it on your hard drive.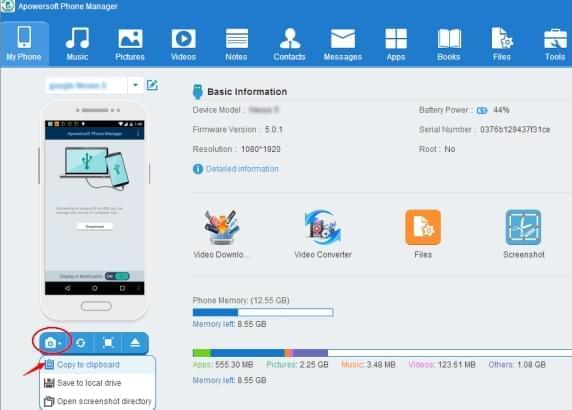 With this program, taking screenshot on Samsung Galaxy S6 has never been this easy. Also, you'll get to enjoy several useful features such as the ability to smoothly transfer files, send and receive SMS directly on PC, call your contacts using your computer, and many more. Yet, bear in mind that using the online version of Apowersoft Phone Manager requires a fast and stable internet connection.
IV. Additional Tip to Share Galaxy S6 Screenshots
After you have taken your screenshot in S6, you may want to share them online through social networking sites, hosting websites, email or cloud storage. To this end, Free Image Uploader will come very handy. This website can share your images to social networking sites in just seconds. Moreover, you can use it to directly edit images as well as secure them online. The Free Image Uploader is an online app that needs not to be installed and it comes absolutely free with no registrations or accounts required.
There are many ways on how to screenshot Samsung Galaxy S6/S6 Edge. The default methods give an easy, fast and convenient way to take screenshots. And if you want to edit screenshots or capture full webpages, Apowersoft Screenshot is the optimal choice.