As you would have expected, Samsung Galaxy S5 comes with tons of innovative and advanced features, New Galaxy users may take some time to go through the overwhelming new features, but taking screenshot on Samsung Galaxy S5 is definitely an essential function you need to access now and then. For instance, screenshots may come in handy for sharing the high score you have achieved in games or the funny jokes you have seen on your mobile. For whatever reason, you can consider using the following four effective methods to do this trick.
Utilize Apowersoft Screenshot

This is a light-weight app but comes with a lot of useful functions. It provides a web browser for you to easily take screenshot of webpages. This app also allows you to capture screenshot in other apps and open the screenshot in its own image editor. With this image editor, you can crop and annotate any screenshots and photos on your Samsung Galaxy S5. What's more, when you finish editing an image you can directly share it with friends or upload it to free cloud space. To take screenshot on Samsung Galaxy S5 with this app, just follow the steps below.
Download and install this app on your Samsung Galaxy S5.
Open this app and go to the webpage you want to screenshot. Click on the blue camera icon on the right bottom. You can then press on the topmost button to capture a region, tap on the middle button to capture a full webpage or click the last button to grab the current screen.
Once a screenshot is captured, you can use its image editor to mark the screenshot with arrows, lines, texts, etc.
When you're done editing, click "Done" > "Save" to store the screenshot on your phone. You can find it in the "Apowersoft Screenshot" folder in the Gallery.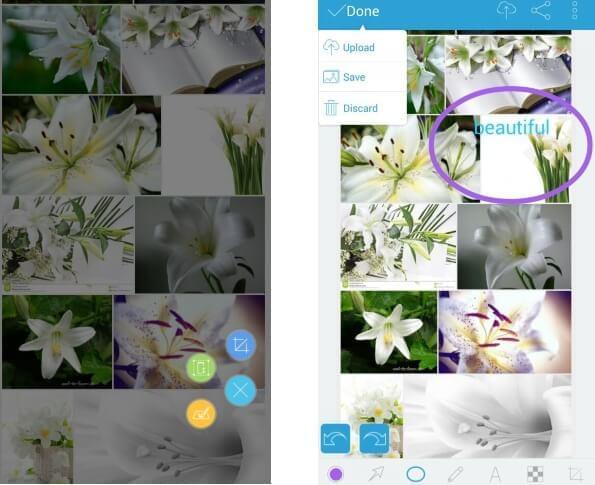 Method Two: Pressing the "Home" and "Power" buttons
Perhaps the most commonly well-known way to take screenshot on Android devices is by using the key combination of the "Home" and "Power" button combination. This simple trick is likewise feasible on Samsung Galaxy S5. Simply go through the steps below:
Navigate to the app, image, chat or anything you want to capture on screen.
Press the "Power" and the "Home" button at the same time.
Once it's done, you will see the white flash around the screen and hear the camera shutter sound which indicates that the screenshot is successfully taken.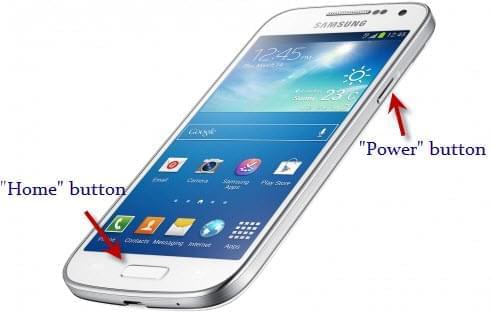 After that, you can view the screenshot in the "Gallery" app on your mobile. From there, you can email the screenshot, send via message, or even post it to social network sites like Facebook.
This method is simple enough for users to make snapshots, however, you may not be adapt at pressing the two buttons at the right time. Thus compared with this method, the following method which comes exclusively with newer Samsung devices is a little-known fact yet more convenient way to screenshot Samsung Galaxy S5.
Method Three: Using hand-Swipe
Samsung has made the screenshot functionality much easier to handle in its newer versions of mobile. In Samsung Galaxy S4/S5, screenshots can be done by using the hand-swipe feature. Before you start to use this hand-swipe method to take screenshot on Galaxy S5, you need to make sure that the Palm Motion feature is enabled on your device. To do this, just go to "Settings" > "Motions and gestures" and tick the "Palm swipe to capture" box.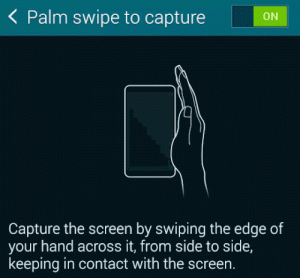 Once this preparation is done, you can check out the detailed guide on how to make Galaxy S5 screenshot as follows.
Browser to the specific screen you may desire to capture. And, make the palm of your hand erect over the mobile screen. Then just simply swipe the edge of your hand from right side to another of the mobile screen. After that, a white frame will flash on the screen to confirm the screenshot. Now, you can access the screenshot in the "Screenshots" folder in the gallery.
Taking screenshots on GalaxyS5 has never been a hassle by using above two methods. However, they only work fine on capturing the entire mobile screen, those who want to make some quick edits need to make use of additional image editor to accomplish it. To deal with this issue, you can consider using third-party professional screenshot tool like Screenshot Ultimate.
Method Four: Using Phone Manager (Extra Solution)
In an event that you are not satisfied with the above solutions, then you can use this extra tool in taking screenshot on Samsung S5, which is the Phone Manager. This application will help you to take screenshot easily with few clicks, without a need to press multiple buttons at the same time. Upon using this program, your device will be mirrored to the Phone Manager's interface so you will have a bigger view of your S5 screen. This will provide comfort, since you can clearly see the portion of the screen that you want to capture. Moreover, this application will also help you in managing your files stored on your Samsung S5 such as, music, pictures, videos, contacts, messages, apps, etc.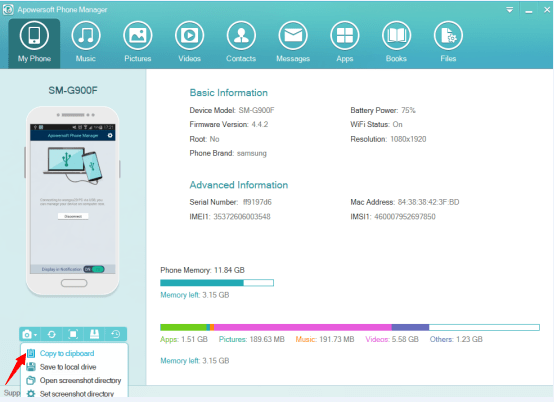 To use this application, here are the steps to follow:
1. Click this button to download.
2. Once installed, open the tool and connect your Samsung S5 to the computer via data cable.
3. Next is to open your phone's USB debug mode to continue with the connection.
4. After that, your S5 will be synced with the Phone Manager, and the information of your device will also be displayed.
5. Now, go to the area or phone app that you want to capture.
6. To take screenshot simply click the camera icon then choose whether you want to save the capture screenshot on "Clipboard" or "Save it to local drive".
7. And when you're done click "Disconnect".
Note: Aside from connecting your Samsung S5 to Phone Manager via data cable, you will also have an option to connect it via Wi-Fi. You can visit this page for the instructions.
Additional tips for sharing screenshots on Galaxy S5
Taking screenshots gives you the possibility to preserve the pics or content you like for inserting to documents or keeping in mobile for future usage. However, there are times that you may wonder how you could possibly share the funny jokes or troubleshooting a problem with remote relatives, friends or others. Whatever the purposes are, you can make use of Free Image Uploader to share the screenshots taken on Samsung Galaxy.
Free Image Uploader, as its name suggests, is a free application available for uploading and storing photos in the Cloud space. To use it, simply navigate to the webpage of this image uploader and hit the "Browse and upload images" button to choose the image files for uploading. Then you can select the mobile screenshots taken on computer. After uploading, several kinds of image links are provided for sharing.
Direct link – it works for sending via Skype or other web messages.
Html link – it's applicable for inserting to HTML page.
BB code – this is quite useful for adding images to forum or blogs.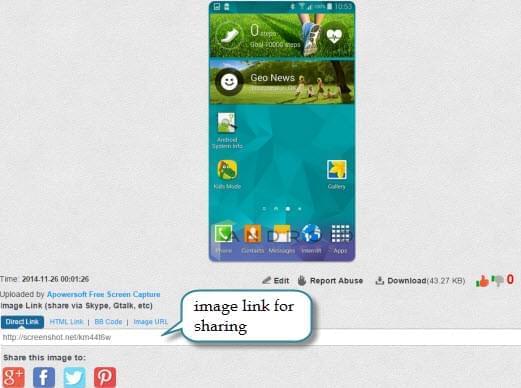 In addition, sharing screenshots via social networks such as Facebook, Twitter is likewise feasible with a click of the options provided below the uploaded image.
Above are the four desirable ways to take Samsung Galaxy S5 screenshot, you can select the one you like based on your needs. If you just want a raw full-screenshot image, then the default way enough. However, if you are looking for more functions such as capturing full webpages, making annotations, uploading and sharing via social networks, Apowersoft Screenshot is definitely what you need.