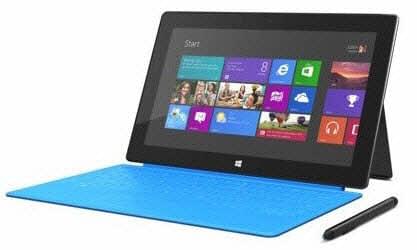 Many Microsoft fans are quick to adopt the tablet plus keyboard experience that the company delivered with the Surface. Microsoft took the whole thing to the next level with the release of the Surface Pro 2 and 3, making improvements to battery and performance. The new system also came with the upgraded Windows 8.1, perhaps, you've already upgraded to Windows 10. One thing that users still regularly complain about, though, is how confusing it is to take a screenshot on Surface Pro 3 or 2. This is a feature that many people consider as essential, especially if they want to to share notes and information with others. Surface Pro 2 and 3 do support the X86 programs that include screen capture among its features, but there are issues to be found there, especially when desktop scaling has been set at 100%. You may check the video demo before reading the textual instructions.
Those types of issues can be covered by free and efficient solutions, which we will break down for you in the following parts:
I. Best Way to Screenshot on Surface Pro
Free Online Screenshot
One of the best screenshot programs for Surface Pro is Free Online Screenshot. It supports all Windows versions (Win XP/7/8/10) It's available for taking snapshots of documents, video frames, application windows, menus and many others. Besides being able to capture screenshots on all Surface models, this tool also gives you the option to edit, store and share those images effortlessly.
Features of Free Online Screenshot:
Absolutely free with no additional requirements or advertisements.
A perfect integration of screen capture, image editing, uploading and sharing.
High level of flexibility.
Free cloud storage for saving and sharing images.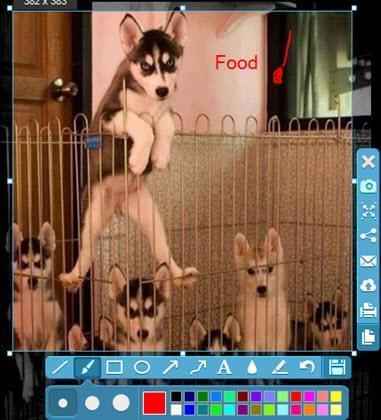 Advantages
This is more than just a tool to capture screenshots, it also gives you the option to store all of the images you take in the cloud at no additional cost.
Disadvantages
The online version provides limited capture modes and unable to capture entire webpage.
For those who desire to capture full webpage or pursue more powerful functions, you can download and use the desktop version of it. Compared with the online version, it provides more screenshot modes, including the webpage capture mode. Besides, it supports built-in task scheduler for capturing images and has an advanced image editor, screen recorder and more. It's a perfect program you can use to screenshot on Surface Pro 3 and 2. You can give it a shot by clicking the download button below.
II. Taking Screenshot on Surface Pro 2/3 and RT Directly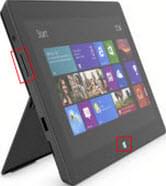 You may not be aware that there is a technique that is free to use on Surface tablets. You just need to press the "Windows" and "Volume" buttons at the same time. And a screenshot of the whole screen will be automatically saved to the "Screenshots" folder in the "Pictures" library. This is a simple way to take screenshots when there is no keyboard at hand.
Advantages
No keyboard or software is required.
All versions of Surface support this method.
Disadvantages
Full screenshots are the only option.
There is no way to directly edit or share the images that you take.
III. Microsoft Software that captures Surface screenshots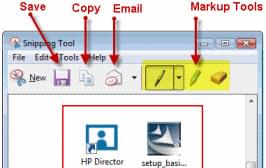 Microsoft delivers a Snipping tool that allows you to take screenshots in Windows 7/8/10, but it's not a tool that many people are aware of. Click the "Start" button and type "snipping tool" into the search box. It will soon pop up and you can just click on it to open it. It's a very handy tool that helps you print screen on Surface Pro 3 and 2.
Snipping Tool offers you 4 screenshot modes:
Free-form Snip – Use your finger, mouse, or tablet pen to draw a shape around an object on the screen.
Rectangular Snip – Use the same methods to draw a rectangular shape.
Window Snip – Select a browser window or dialog box to snip.
Full-screen Snip – Captures the entire screen.
Advantages
Supports all Surface models, as well as any device running Windows 7/8/10.
Free and easy to use.
Disadvantages
It has only a few editing options.
The snipping tool creates bothersome blank spaces and frames in the images.
Will not capture the mouse cursor on the Surface screen.
IV. Online Apps That Perform Surface Screenshots
There is a number of different online tools that work well on Surface, including Webpage Screenshot Capture. API and online interfaces are both included, as well as a number of great features that make it a powerful screenshot tool. It is considered to be the best option to capture full webpage screenshots. Here are just a few of its best features:
Customization of image format and quality – users get to control the quality and format (JPG, PNG, etc.) of the screenshot.
Free cloud storage – store screenshots online so that you can access it at any place as long as you have Internet access.
You can now follow the steps below to capture a full webpage screenshot on Surface 2 or 3.
Step 1: Go to the webpage you want to capture and copy its link.
Step 2: Paste the link into the URL box above and the click on "Take Screenshot".
Step 3: Save the image on the free Cloud space provided by the site by clicking on the "Save Online" button. Or you can also choose to save it to your local disk.
Advantages
Fast, free and reliable with zero restrictions.
Disadvantages
Only works for taking screenshots of full webpages.