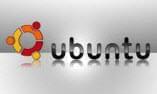 Developed by Canonical, and widely regarded as one of the most popular Linux flavors for desktops, Ubuntu is an operating system based on the Debian platform. It changes from the previous Gnome desktop environment to Unity. It openly embraces the ideals of free software availability to all people,  this is great for those who are encouraged to learn about its working. There are several reasons why taking a screenshot in Ubuntu, some for sharing the excellent performance in gameplay, others for better illustrating the technical problem they have met in Ubuntu. Whatever the reasons are, simply check out the following methods and choose the desirable one based on your needs.
1. Screenshot Ubuntu by pressing keyboard shortcuts
Similar to taking screenshots on Windows OS, the simplest way to take Ubuntu screenshots is to use the "PrtScn" button present on your keyboard. Pressing this button alone will capture the entire visible screen. If you desire to capture a certain window, then simply press "Alt" + "PrtScn" buttons together. This default way of taking snapshots is definitely easy, however, it's not applicable for customizing the region you want to capture, not to mention other advanced editing features.
2. Use the Gnome-screenshot utility
The Gnome-screenshot utility is part of the Gnome Desktop Environment and it can be used to take screenshots with a greater degree of customizability. It provides two ways to screenshot in Ubuntu, which include taking snapshots via desktop utility and capturing via command line mode. Using it, you can take screenshot via desktop utility by following the steps below.
Launch the utility by going to "Applications"->"Accessories"->"Take Screenshot".
Select the screenshot mode you want (the whole screen, a window or a specific portion of the screen). You may also set the effects or delay in capture.
Click on the "Take Screenshot" button to capture the screen / part of screen.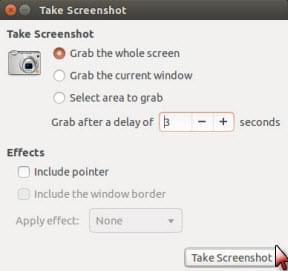 Besides, it also allows for taking screenshot via command line.
For capturing the entire screen, simply open your terminal and type in "gnome-screenshot" in the command line. Then, adding the "-w" parameter after the command captures just the current window; "-d n" will create a delay of n seconds before capturing the screen.
For capturing part of the screen, simply adding the "-a" parameter and then executing the command will change the cursor so you can choose a specific area of the screen.
Compared with the former method, the method of using Gnome-screenshot utility gains more popularity. It's easy to use for beginners to screenshot via desktop utility. And for experts, they may have rapid access to take snapshot via command line.
3. Use GIMP to screenshot in Ubuntu
GIMP, which shorts for GNU Image Manipulation Program, is a free image authoring and photo retouching software utility. It supports a number of OSs, including Ubuntu Linux, and can be localized to several languages. It can also be used as an Ubuntu screenshot tool that features taking screenshot of any selected area, active windows or entire screen. Similar to the Gnome utility, it supports taking screenshots with delay. Learn the detailed steps to do this trick from below:
Launch GIMP and go to "File"->"Create"->"Screenshot".
Choose to capture a single window (with/without window border), the entire screen (with/without mouse pointer) or a specific region of the screen.
Add a time delay in the screenshot if required.
Click on the "Snap" button to start capturing.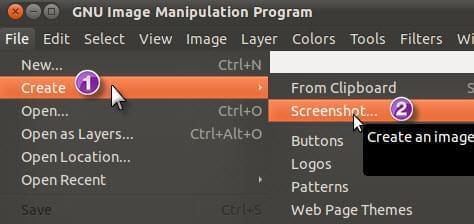 Taking a screenshot of your current screen is well and good with the three methods we have just mentioned above, but sometimes, you might have to capture a scrolling webpage which extends beyond the current screen. You can obtain such a screenshot of a scrollable webpage in Ubuntu through the use of specific software.
4. Screenshot Scrollable Web Page in Ubuntu
Webpage Screenshot Capture is one of the best online tools that can be used to capture a scrolling webpage screenshot in Ubuntu. Now, it has gained a reputation of being one of the best webpage screenshot tools available for Ubuntu due to its simplicity and functionality. As on how to Take a webpage screenshot using this tool, you can check the steps below:
Enter the URL of the page you want to capture in the URL bar above and click on the "Take Screenshot" button.
Wait for the process to complete, after which a preview of the webshot will be displayed on the page.
Choose your desired image quality and image format (PNG, JPG, BMP, GIF).
You can save the webshot locally on your computer, or on the dedicated cloud service provided by screenshot.net.
Conclusion
Whether you are a beginner or a Red Hat hacker, when it comes to using Ubuntu, you will need to take screenshots for one purpose or another. Knowing multiple ways of how to take screenshot in Ubuntu will come in handy if one method fails due to external factors. Especially Webpage Screenshot Capture, which enables you to take whole page screenshot, edit and share them online.