Windows Media Player is one of the most popular media players for multimedia entertainment. It's mainly because WMP comes with Windows system as default and keeps updating with innovative functions. Though there're some rival player tools provide wider supports for media formats, more flexible skin settings and others, WMP plays it role perfectly and has accumulated numerous fans who like to enjoy videos in peace. There're also times we may see a scene in the video and want to capture a still image from that video in Windows Media Player. Regarding such needs, we will discuss several methods to make WMP screenshots, so if a solution does not work, you can continue down the list.
1. Standard Way (Using Keyboard)

If you run Windows Vista or 7, then the standard way to take a WMP screenshot is to play your video in full screen, pause the playback when it comes to the desired scene, and then press the "PrtScr" button. After that, open the "Paint" application and press "Ctrl+V" to paste the image. Save it and the process is completed. Windows 8 users are provided with an even easier option. They just have to press the "Windows + PrtScrn" combination and the images will automatically be saved in the Screenshots folder. But you may also edit the image with options available in "Paint".
With this method, unfortunately, you don't have any option to select the area to screenshot, you will just make a full-screen snapshot, something that might not appeal to all users. Also, there're no other options available for you to deal with the screenshot. However, this means is quite simple and does not rely on third-party tools.
2. Best Way (Using a Nifty Tool)
If you don't mind installing a tool to snapshot Windows Media Player video, then the Free Screen Capture will be the best choice. This tool is easy to use, you just install and open it, then choose to take a screenshot during the playback of a video. It can capture any region on the screen. You are also able to annotate the screenshot the moment you've taken it.
To use this application, you need to go to screenshot.net first, click on the "Take Screenshot" button and run java applet to load this tool on your PC.
Now play a video, navigate to the scene you like and pause the playback.
Press "Ctrl + Q" or "Print Screen" to activate screenshot mode. You will see your mouse turns into a cross-hair and you just need to hover it around the playback window and then click to create a snapshot. Alternatively, you may also drag a region on the video to make a screenshot.
Release your mouse to confirm the screenshot, you will see tool bars on two sides of the screenshot, letting you edit, preserve and share the image.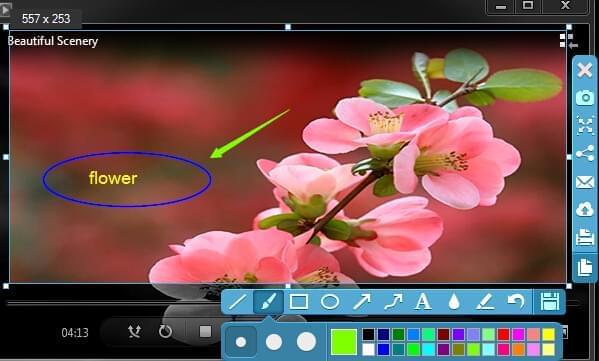 What makes this tool stand out is the fact that it will automatically detect application windows, so it won't have a problem figuring out exactly what portion of the screen you want to capture. Of course, if you want to select the desired area of the screen, you are free to do so. What's more, this tool also has a pro version which comes with 10 screenshot modes, an powerful image editor and a robust screen recorder. You can enjoy those advantages by downloading it now.
3. Accurate Way (Through WMP Settings)
Windows Media Player does let you snapshot it in Window mode, but it cannot be simply done. You can forward to the main interface, navigate to "Tools" – "Options" – "Performance" and then uncheck "Use overlays". Make sure the options under "Legacy video renderer" are checked.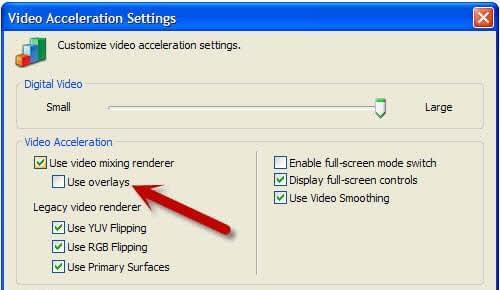 Also, don't forget to check "Use video mixing renderer" and finally click "Ok" to close the window. Now you're able to use "PrtScr" key to snapshot the video without having to play it in full screen (Otherwise, the video will turn out to be blank in the snapshot). However, you still have to paste it into "Paint" for cropping the screenshot. So this method is more convenient than the first one, but still too basic.
Taking Windows Media Player screenshots is not that difficult if you have the proper tools. If you follow the methods described above you won't have a problem taking a snapshot of the people you talk with while chatting with them.