Taking screenshot enables you to communicate with others graphically on the Internet. A screenshot can always explain things more clearly than words. Normally, to take a screenshot on your PC, you just need to press the "Print Screen" key. Screenshot taken in this way will be copied to the clipboard on Windows 7 or saved to the Pictures library on Windows 8. However, there are many people complaining that they can't get a screenshot by pressing that key. In this case, this article comes up with several solutions to the "Print Screen" not working problem.
Solution One: Use Key Combination to Print Screen
As you can see on the keyboard of most laptops, each key on the topmost row has two functions — normal function and special function.While the latter has to be activated by "Fn". Take one Toshiba laptop keyboard for example. There is a key combining "Print Screen" function with "End" function. When you press that key only, you are performing the "End" function. When you press that key together with the "Fn" button, then you activate the "Print Screen" function. Many laptop users are oblivious to the "Fn" button and assume that the "Print Screen" key doesn't work on their laptops. Actually, it does.

Pros: It is simple and you don't need to install extra software.
Cons: It only enables you to capture a whole screen without any annotations.
Solution Two: Utilize Screenshot Tools
1. Free Screenshot Capture
This application is a full-featured online screenshot tool with a very friendly user interface. It is capable of capturing any region on the screen, including full screen, active window and any specific region on the screen. It also comes with an image editor which gives you the option to add instructions or blur personal information the moment you take a screenshot. Moreover, this application provides multiple ways for you to deliver the screenshot. You can save it to your local file, copy it to the clipboard, email it, share it to your social accounts or upload it to the free space run by the developer. It is truly a great alternative when you come across the situations of "Print Screen" key not working or cannot make effective annotations.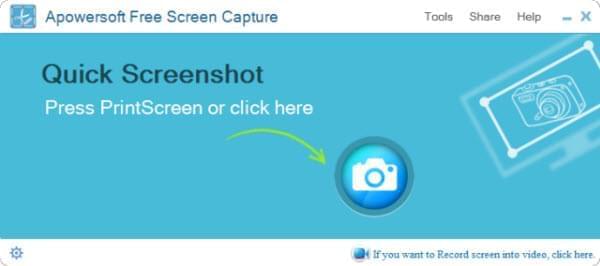 It also has a pro version which contains more functions, including multiple screenshot modes, screenshot scheduler and so on.
Pros: It is light-weight but with full features. You can capture any parts on the region.
Cons: The online version needs access to the Internet.
2. FastStone Capture

This is a combination of screen capture tool and screen video recorder. It has a wide range of screenshot modes, including full screen, scrolling window, menu, rectangular/free hand/ fixed regions. This program also has a built-in editor which gives you an option to annotate, resize, and crop the screenshot. When a screenshot is done, you can choose to send it to editor, file, clipboard or email it directly. This is another choice you can consider when print screen button not working happens on your computer.
Pros: It's a powerful tool that can capture screen and record screen.
Cons: It charges you $20 and needs installation.
3. Screenpresso

Like FastStone Capture, this tool is also an integration of screen capturer and screen recorder. It allows you to screenshot region, previous region, full screen and scrolling window. Image editor is also available on this software. You can crop, resize and annotate the screenshot with lines, arrows, texts and the likes. When you have finished editing the screenshot, you have options to save it to your local drive, upload it to ScreenpressoCloud, or share it to your social networks as you like.
Pros: It's a combination of screen capturer and video recorder.
Cons: Users might get confused with its interface layout.
Conclusion
Those are the solutions to the issue of "Print Screen" button not working on your computer. The method of using "Fn" + "Print Screen" key is practical but far lame when compared with professional screenshot tools. And among the screen capture tools introduced above, Free Screenshot Capture is the best for its intuitive interface and flexible accessibility.