Nowadays, GIF becomes more and more popular. People love using GIFs to share funny things, because motion images express more than static pictures, take less size than videos and are easy to deliver. There must be times when you are eager to share interesting GIFs with others online. Just like static images, GIF images can be uploaded to image sharing sites, too. And also, uploading them to web space can save much of your PC memory space. Actually, there are a lot of GIF uploading sites. And this article will tell you how to upload an animated GIF on some of the best ones.
1. Free Image Uploader
This image uploader is an online image uploading and sharing tool. It is absolutely free for you to use, and does not require an account to get access to its uploading function. Then how to upload a GIF on this site? All you need to do is go to its page, drag and drop your GIF into the certain area for uploading it. Once the GIF is uploaded, you'll get links to embed it in blogs, forums and social networking services like Reddit. On the page of your GIF, you also have options to share the dynamic image to Google +, Facebook and Twitter. The last thing worth mentioning is that there are some other useful functions on this site, which are Webpage Screenshot and Image Editor.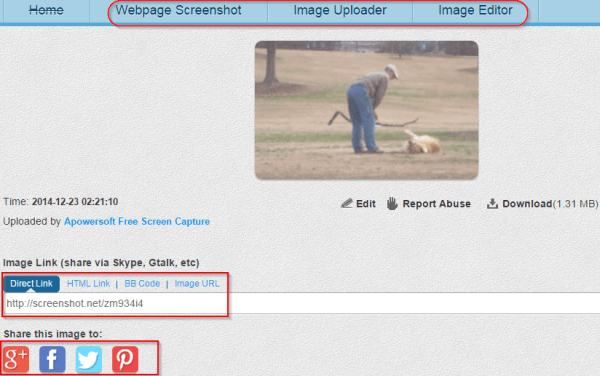 2. Giphy
Another good site to upload animated GIFs is Giphy. When you navigate to its home page, you can either log in with an account or just directly click "Upload" to start uploading a GIF. When the image is uploaded, you can hit the "SHARE" button and check its links underneath the GIF preview. You are also able to share the dynamic image instantly to your Facebook, Twitter, Tumblr, and Reddit.
3. Gfycat

This tool is especially made for uploading GIFs. Just like the former uploader, this site also has a "Sign in" option which needs an account and a direct "Upload your .GIF" option which allows you to upload an animated GIF without an account. To upload a GIF on this site, you just need to click the "Upload" button and select your target GIF to go. Once the image has been uploaded, you will receive some information of the image, including a Gfycat link, a GIF link, the image's iframe and JS Embed codes.
4. Imgur

This is one of the most popular image uploading and sharing sites. It allows you to upload image without registration, too. When the GIF is uploaded, you will get multiple links to it, including Image Link, Direct Link, Markdown Link (for Reddit comments), HTML link, BBCode link and Deletion Link. Similar to other uploaders, this site also allows you to share the uploaded image to various social networks.
5. Photobucket

It is another great place to upload GIF online. This site also offers editing, slideshow and Story features. However, you must sign in to access those services. That means you can't upload any image without an account. This site offers you Free and Plus accounts (paid). The Free account comes with advertisements and only 2 GB storage for image and video uploads. The Plus account users can enjoy ad-free experience and have different upload capacities (20-500 GB) depending on how much they paid.
Conclusion
The post gives you a brief guide on how to upload a GIF on some of the most popular sites. And it is suggested that you use Free Image Uploader, because it not only lets you upload and share images online, but also allows you to take screenshot and edit pictures without spending a cent.