Nowadays, iPhone is one of the most popular smartphones in the world. You can do so many things with this phone. One of the most common things is taking photos. People love taking photos to memorize the wonderful moments they ever had. Sometimes, they need to upload those photos to share them with their friends or just transmit them to iCloud for saving up mobile memory space. Actually, there are many ways on how to upload pictures from iPhone. This article will numerate some tips for you.
I. My Photo Stream
When you take a photo on one of your Apple device, "My Photo Stream" makes the photo automatically appear on all of your other devices. To upload photos using this function, you need to firstly activate it on your iPhone. Go to "Settings > iCloud > Photos", and turn on "My Photo Stream". You are allowed to upload a maximum of 1000 photos with this tool, and the photos will be stored on the iCloud server for 30 days.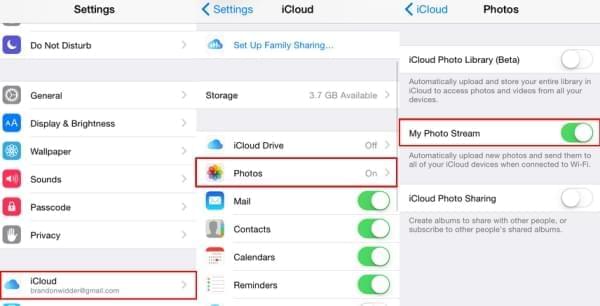 II. Free Image Uploader
This is another way for uploading photos from iPhone. It is an online image uploader which provides free cloud space and you can keep your iPhone photos there as long as you want. After uploading, you will get a link to the photo, which lets you embed your photo into blogs and forums. Here are the steps for you to use this online service.
Tap the "Browse and Upload images" button in the application below. After that, you'll be given options to take a photo or just select an existing one to upload.
The photo will be automatically uploaded as soon as you tap on it. Once the uploading is finished, you will get a link to it. Hit the link, a thumbnail of the picture will then appear.
Tips: You can also bookmark the page of this uploader, so it will be more convenient to access this online service.
III. Other apps for Uploading Photos from iPhone
1. Dropbox

Dropbox mobile app can automatically upload photos taken on your iPhone. This feature is called "Camera Upload". You can turn this function on by going to its settings. This feature enables you to upload iPhone photos to your Dropbox account. The photo uploaded will also be synced to other devices if you've installed this app on them.
2. Snapfish

This is another mobile app you can use to upload photo from your iPhone. If you have installed this app, you can then open it and log into your account. After that, tap the navigation bar to select and upload photos from your iPhone. Next, hit "UPLOAD" at the bottom and choose or create a new album for your selected photos. A blue status bar will show you the uploading progress.
3. Picup

If you came across the situation that you failed to upload a photo to Imgur or other sites. That's because that file-attachment uploads in websites don't work in Mobile Safari. Then you can use Picup to solve this problem. Picup allows you to upload any file type from your iPhone to webs, making it effective and easy for you to know how to upload photos from iPhone to image hosting sites.
4. CameraSync

This app enables you to upload photos and videos from your Camera Roll to your Dropbox, FTP server, Flickr SkyDrive and Box.net account. You can also resize your photos before uploading so as to accelerate the sync. However, you not allowed to pick what photos you want to upload. This app just simply syncs all your photos to your service.
Note: If you need to upload a lot of photos, you'd better do it using Wi-Fi. Because using Wi-Fi will be faster and cost less than using cellular data.
Conclusion
This article provides several ways for you to upload photo from iPhone. You can use the simplest way of My Photo Stream, but it has volume and time limits. Apart from this way, the online application Free Image Uploader and some other iOS apps are also good ways to upload photos from your iPhone. It's your option to choose any one of them.