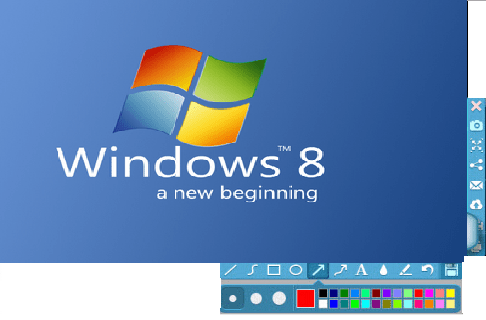 Since Windows 8 operating system is released, more and more people choose this system for its great performance, security enhancements and improved tech support, etc. And in your daily use of computer, you may need to show others what appears on your screen, so it is pretty wise to send them a screenshot. Actually, there are plenty of screenshot solutions available to you, in order to choose the best one to fit your needs, please look through this article that concentrates on evaluating free screenshot software for Windows 8.
Part 1.Key Features of Eligible Screenshot Tool
Part 2.Reviews of Best Tools for Taking Screenshots
I. Valuable Things to Look in Screenshot Tool for Windows 8
When choosing the best screenshot tool, obviously, you may think that the screen capture feature should always come first. Right, among the different features, capturing the desired images should be the predominant function. We may also look for extreme functions like editing to produce satisfied screenshots. Below we have concluded the most valuable standards for an eligible tool:
Capture Screen in different modes: As we have mentioned above, this is the number one criteria we should consider. A good screenshot tool enables you to capture full or part of screen, whole webpage, application windows and so on.
Ease of Use: This is also important for many users, including experts and newbies. No matter how many functions the tool may have, people need to control over them in a short time. So a good tool should be easy to use and also present a friendly user-interface.
Edit and share: People who need to express their ideas clearly with an image may also need editing options. By making comments or annotations, it will be even better to provide sharing options that allow us to send images out instantly.
Help & Support: Good software developers will deliver all the help and support for users. For many customers, the considerate help & support service also becomes one of the necessary conditions, especially on the software market.
II. Reviews of screenshot windows 8 freeware
#1 Free Screenshot

This screenshot windows 8 freeware is dedicated to taking screenshots in full screen, active windows, whole webpage or any part of your screen, therefore, users can grab whatever they want on computer screen. Also, the developer's site has an online app called webpage screen capture. Both tools come with various editing options to draw shapes, add text, blur or highlight effects. Moreover, there's a specially designed uploading option which comes with free Cloud space while most other freeware just don't have.
Pros: Easy-to-use capture and editing options, free space for uploading and sharing images.
Cons: It does not come with an image manager, which is found in other software titles.
#2 Snagit

There're many reasons that you can like this comprehensive software, because of its bundled capture and edit features. With Snagit, taking a screenshot on Windows 8 is just like a breeze that you are allowed to choose one proper capture mode to grab whatever you want. Moreover, its powerful editing function enables you to polish your image with a variety of eye-catching effects.
Pros: Powerful capturing and editing features.
Cons: Expensive license fee.
#3 PicPick

The most obvious benefit of this screenshot software for windows 8 is that it offers you a ton of different options, for both taking screenshots and editing your photos. It lists all features up on the interface that you can capture the entire desktop, active windows or elected areas at your first glance.
Pros: Customizable hotkeys, FTP server, and a built-in image editor with different features.
Cons: Bulky main window.
#4 Jing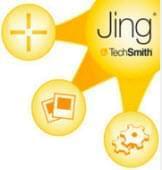 Similar to PicPick, Jing makes capturing images on your computer screen quite simple. It can be minimized to an orange icon on your desktop that is ready to capture what you want at one click. You can easily specify a region and click the button to make a screenshot. Plus, you also have the editing options and can upload images to a free screencast.com account.
Pros: Attractive interface, share images instantly.
Cons: You cannot download images from your screencast.com account unless you pay for it.
#5 Screen Capturer

This free tool can be used by simply downloading it from the Screen Capturer website and installing it in your computer. By using the "Print Screen" key, a new window will appear giving users the options in capturing the screen. It can capture full screen, a single window, or a part of the screen.
Pros: Free and easy to use.
Cons: This tool has no editing options.
#6 Greenshot

Another free online screenshot is Greenshot. This tool does not need installation as well, and it does not require users to register any account. This tool has several screenshot modes for you to choose: Full screen, Window, Region, etc. Furthermore, it also has a built-in image editor which allows you to annotate the screenshot with lines, arrows, texts and so on. You can also share the screenshot directly with this program.
Pros: This can be used instantly.
Cons: This tool has no features of uploading the image in the internet and /or sharing them over social media sites.
#7 Snipping Tool

If all you want is taking basic screenshot on Windows 8, you can try the Snipping Tool which comes with Windows 8. Better than using keyboard combination to print screen, it lets you capture full screen, active window, free-hand screenshot and rectangular screenshot. You are also able to make basic annotation to the image with the pen it provides.
Pros: Free application which comes with Windows 8 as default.
Cons: Basic capture tool which cannot capture images in a polygon shape or other flexible regions.
#8 Skitch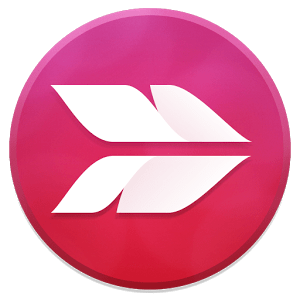 Another freeware that you can use is Skitch. This is a well-know screen cap tool for Mac OS that is now available for Windows 8 users. Aside from taking screenshots, this tool is also equipped with various functions such as editing tools to annotate, crop captured image, add water marks, resize, and many more. Plus it also has a sharing function with is beneficial in sharing captured images on email, or different social media sites.
Pros: It is easy to use, and has a built in editor.
Cons: It lacks erase feature.
#9 TinyTake

An additional tool that we have is TinyTake. This screen cap program is packed with different features such as: a reliable screenshot function, an image editor to add simple annotations, and a sharing feature that allows you to share your captured image over social media sites. Aside from these, you can also record simple video with this app, which is useful in making video presentations.
Pros: It enables picture editing.
Cons: A MangoApps account is required to share captured screenshot online.
#10 Lightshot

And the last tool that we have is Lightshot. This is a browser plug-in that is capable of taking screenshots instantly with just few clicks. Lightshot features a handy interface that can be triggered by hitting the feather-like icon located at the upper right portion of the browser. It also has a built-in picture editor for adding simple annotations, and a cloud space storage.
Pros: Easy to access.
Cons: This plug-in cannot work individually.